Michigan football's Mike Macdonald expected to leave U-M for the Ravens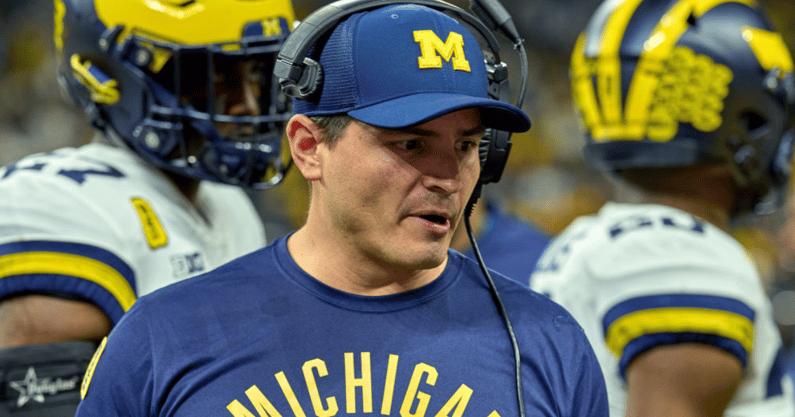 Barring a change of heart or an 11th-hour event, Michigan defensive coordinator Mike Macdonald will return to Baltimore to be the Ravens' D.C.
RELATED
Mike Macdonald emerges as potential Ravens D.C.
ITB Extra: Coach Shakeup On The Recruiting Trail
Several sources have indicated Macdonald has spoken with Ravens coach John Harbaugh about an opening on his staff. Harbaugh released last year's coordinator, Wink Martindale, in the offseason. He's also closing in on an extension that will keep him in Baltimore through the mid-2020s.
Per reports, the Ravens have put in requests and spoken with New Orleans Saints defensive backs coach Kris Richard and Cowboys defensive pass game coordinator Joe Whitt. Jacksonville Jaguars defensive line coach Joe Cullen was another to get a look.
But the Baltimore Sun reported yesterday Ravens defensive line coach Anthony Weaver and Macdonald were the two leading candidates. As we reported weeks ago, several teams expressed interest in the Michigan D.C.
The Ravens, though, make the most sense. John Harbaugh told his brother, Michigan head coach Jim Harbaugh, Macdonald would have been next in line for a promotion should anything ever happen with Martindale.
Macdonald led U-M to an outstanding one-year turnaround on defense. He spent seven years with the Ravens before coming to Michigan on John Harbaugh's recommendation, rising up the coaching ladder.
He quickly made his mark at U-M. Michigan finished the season eighth nationally in scoring defense, allowing 17.4 points per game. They were 20th in total defense (330.9) and 11th in red zone touchdowns allowed (45.71 percent). 
But unless something changes, Macdonald won't be around for a second year. As of this week, he hasn't been on the road recruiting for Michigan. Former G.A. Dylan Roney has added "outside linebackers" to his profile and has been recruiting for U-M, and in Macdonald's territory. 
Jim Harbaugh, too, has been flirting with NFL teams. If he stays — and we still believe it's headed that way — secondary coach Steve Clinkscale and new defensive line coach Mike Elston would be among those in line to take his place. 
Clinkscale had it in his contract when he came from Kentucky, in fact, that he'd be in line as co-coordinator if the defense met certain criteria. He was likely in line for a promotion. Harbaugh could even go the co-coordiantor route like he did on offense this year. Sherrone Moore joined Josh Gattis in calling the offense for U-M, which worked well.
Watch for more on this development in the hours to come.