College Football Revamped Sim: What if Hassan Haskins ran every play vs. Ohio State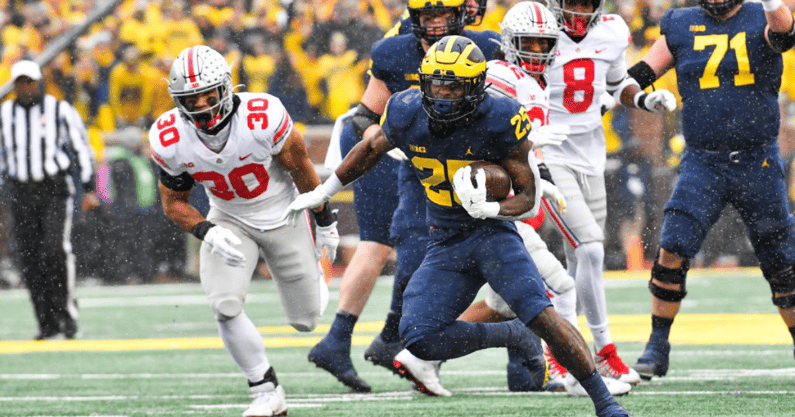 Michigan defeated Ohio State on Nov. 27, 2021 thanks to five touchdowns and 169 yards from Hassan Haskins. The Wolverines' balanced attack was on display, but they won the game up front and on the ground.
But…what if Haskins ran *every* single play? We take a look into this alternate universe scenario using the College Football Revamped mod on PlayStation 3.
Throughout the offseason, we will be playing out and simulating different Michigan football scenarios throughout the doldrums of the summer. Haskins' dominance of OSU is first up in the series with other editions to be revealed in the summer. Due to a firmware update on PS3, updated rosters are not yet available for the 2022 season. We hope that will be remedied so we can turn our attention to next year.
Throughout the broadcast, our Anthony Broome will react live and discuss what happens in real-time. In addition, we will also take questions on all topics while the game is taking place.
Watch below for a look at what Michigan was able to pull off with Haskins carrying the heaviest possible load.
How Hassan Haskins thinks Ohio State handled the weather in 2021
Haskins spoke on ESPN 102.5 The Game's "Darren, Daunic and Chase" in Nashville earlier this month and relived the memory. He said the Buckeyes had the game lost the moment they stepped on the field.
"I've never experienced anything like that," Haskins said. "That moment was a moment that I'll never forget, and I'm glad we got done. Me and my teammates, we were prepared. I feel like we were the more prepared team, and it showed. Actually, I could tell by the coin toss. It was a little cold out there, but in my mind I couldn't feel the cold. But I had seen in their eyes, they were already defeated. We just went out there and showed that we can get it done."
Haskins was a 2021 second-team All-American from the AFCA and third-team selection from the Associated Press. The two-time All-Big Ten honoree was voted an alternate captain by his teammates in 2021 and appeared in 37 career games for the Maize and Blue. His 2021 season was his best, starting all 14 games at running back and gathering 270 carries for 1,327 yards and a program-record 20 touchdowns. Haskins also had 18 catches for 131 yards on the year. Now, he looks to bring it all to the professional level.
Where to find The Wolverine's Michigan content
Subscribe to our YouTube channel for live podcasts, In The Trenches with Chris Balas and Doug Skene, Michigan football and recruiting content and more.
All of our shows on The Wolverine are available on Apple Podcasts, Spotify, Google and Podbean. Be sure to subscribe and leave us a five-star review!