Michigan OL Andrew Stueber officially declares for 2022 NFL Draft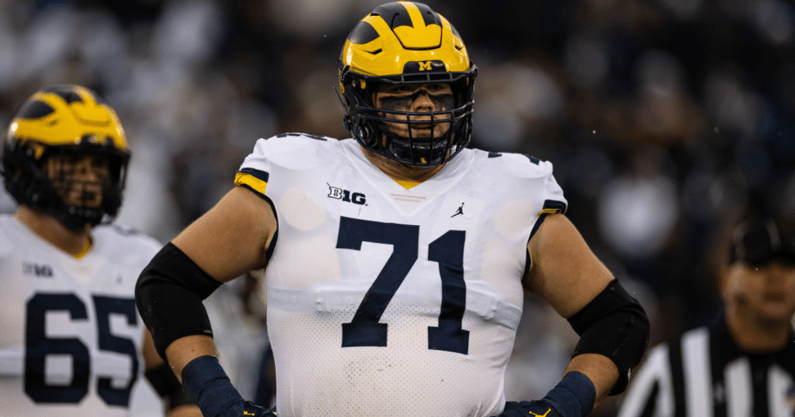 Michigan Wolverines football right tackle Andrew Stueber has declared for the 2022 NFL Draft. This was an expected move, since he had already accepted an invite to the Reese's Senior Bowl, but the 6-7, 338-pounder made it official in an Instagram post Thursday afternoon.
"It's been an honor to play football at the University of Michigan," Stueber began in his statement. "I will forever remember Saturdays in The Big House with the most dedicated fans in the world.
"Thank you to my family and friends for always believing in me and cheering me on along the way. I would not be here without your endless love and support.

[Michigan head] Coach [Jim] Harbaugh, thank you for believing in me and giving me the opportunity of a lifetime. Thank you, [offensive line coach and co-offensive coordinator Sherrone] Moore, for your mentorship, guidance and commitment to making our offensive line the best in the nation.
"To the strength staff, the athletic training staff and the entire football coaching staff, thank you. I am grateful to all of you. You have helped me become the athlete I am today.
"To my [Michigan] teammates, you have become family on and off the field. We are brothers forever, and I am so proud of all that we have accomplished, especially this year.
"To my offensive line, it was an unbelievable ride, and I can't wait to see what you all accomplish in the future.
Concluded the Michigan standout: "It has been a lifelong dream to continue my football career and to play in the NFL. I am ready to move one step closer to that dream by declaring for the 2022 NFL Draft."
RELATED
• Where Michigan football players appeared in latest full 2022 NFL mock draft
• Michigan football, the 3-2-1: Thoughts on U-M's revised 2022 schedule
The Darien, Conn., native had one year of eligibility remaining since the NCAA deemed 2020 a free season for all athletes.
Stueber started 22 games at Michigan, playing both right guard and right tackle in 2020 before settling in at the latter position this past season as part of a Joe Moore Award-winning group up front.
Stueber was a second-team American Football Coaches Association All-American in 2021, and earned first-team All-Big Ten honors from the coaches and third-team recognition from the media. He graded out as the fourth-best pass blocking tackle in the Big Ten, per Pro Football Focus (PFF), yielding just one sack and 11 pressures in 14 games of action.
He was projected as a fourth-round pick in a recent mock draft simulation.
Stueber is one of two Michigan starting offensive lineman to depart the program this season, with center Andrew Vastardis being out of eligibility after six seasons in Ann Arbor. Redshirt sophomores Trente Jones and Karsen Barnhart are expected to battle for Stueber's starting right tackle job.