Phil Steele projects Michigan football offensive line to be nation's best once again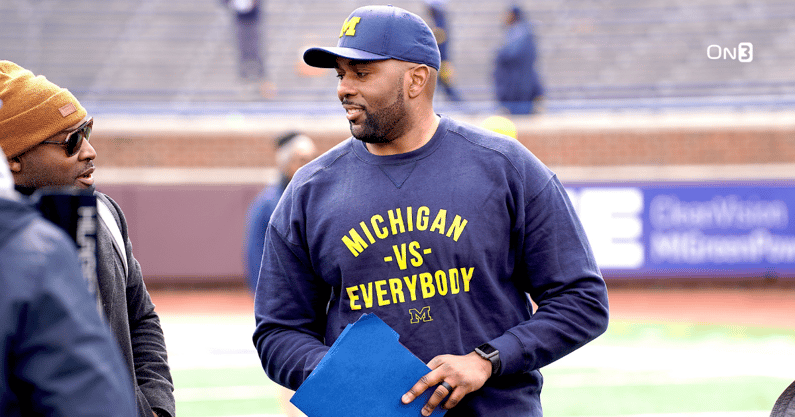 Michigan Wolverines football's offensive line enjoyed a stellar season in 2021, earning the Joe Moore Award for the nation's top group. Position coach Sherrone Moore has been promoted to having play-calling duties, and two starters will be different, but expectations are high once again. In fact, college football expert Phil Steele expects the Michigan offensive line to be the country's best again, he revealed in his 2022 preview magazine.
"The Wolverines won the coveted Joe Moore Award last year and will battle to become the first ever repeat winner," Steele wrote. "They lose two starters but add Virginia transfer Olusegun Oluwatimi (second-team All-American) at center and he joins 14 [very highly touted players] on the unit, including second-team All-Big Ten left tackle [graduate] Ryan Hayes. They average 316 pounds and have 87 career starts."
RELATED
• Michigan football: How disaster in 1984, 2020 set up success in 1985, 2021
• Michigan football boosters launch 'Champions Circle' NIL collective
That Michigan's offensive line is projected to be the best in the Big Ten, let alone the nation, is significant, considering there are several high-level units in the conference, including two others that Steele has in his top four. Ohio State checked in No. 3 behind Georgia, and Wisconsin is just behind them at No. 4. Oregon, Utah, Baylor, Oklahoma, Notre Dame and Auburn round out the top 10, in that order. Other Big Ten teams to appear in the top 67 are Maryland at No. 31, Michigan State at No. 51, Northwestern at No. 52, Iowa at No. 56, Illinois at No. 62 and Nebraska at No. 67. Michigan plays all of those Big Ten teams except Northwestern.
Michigan led the country with 34 tackles for loss given up last season, 10 less than No. 2 Air Force despite playing 14 games. The Wolverines yielded just 14 sacks, which was tied for the fifth-best mark in the land.
Hayes, senior left guard Trevor Keegan and junior right guard Zak Zinter are returning starters.
Center Andrew Vastardis and right tackle Andrew Stueber were key pieces on the line and will be tough to replace, but Michigan has the horses to be even better this fall. Oluwatimi was one of three finalists for the Rimington Award last season, and graded out as the third-best run blocker at his position per Pro Football Focus (PFF).
Michigan has two hungry seniors that have waited their turn at right tackle — Karsen Barnhart and Trente Jones. The latter came out of the spring as the leader, but Barnhart is not to be counted out. He battled a minor injury in the spring and should be playing at a higher level during fall camp and the season.
Jones was used as an extra blocker at times last season, switching jersey numbers and lining up on the end of the line, and he was impressive. In a small sample size, he ranked second among Michigan offensive linemen with both a 74.2 run-blocking rating and a 75.7 pass-blocking grade.
Why Phil Steele is credible regarding Michigan offensive line
In an exclusive interview last summer, Steele talked about the Michigan offensive line in a positive light despite many having their doubts about the group heading into the season.
"I'm going to draw one big circle on the offense, and that's the offensive line. Last year, they lost four NFL Draft picks, they had 17 career starts returning. Both starting offensive tackles — Jalen Mayfield and Ryan Hayes — missed the last four games with injuries, so this was a banged up offensive line that was inexperienced.
"There were big plays. Remember the Minnesota game — a lot of big runs. But if you take away the three biggest runs they had on the season, they only averaged about 3.5 yards per carry. So this is an offensive line that's definitely much more experienced than they were heading into last year, and I think that's where you're really going to see the rest of the unit thrive off of, the fact that the offensive line is going to be much improved."
The offensive line was a big reason why he believed the entire Michigan offense was going to be "improved — no doubt."