Michigan football roundtable: Revised expectations, J.J. McCarthy, and more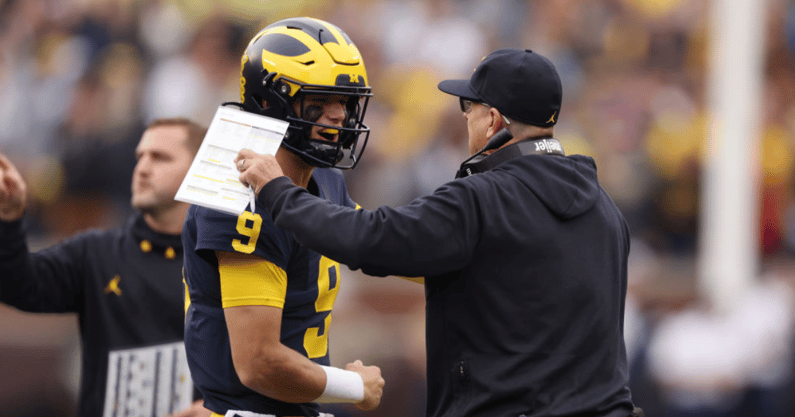 Michigan faces Iowa today in what will likely be one of the biggest tests pre-Ohio State, a road game in an incredibly tough environment. The Wolverines are a 10.5-point favorite, but as head coach Jim Harbaugh said, "that's where top 5 teams go to die" — and yeah, Michigan is a top 5 team.
RELATED: Inside the fort: Michigan football injuries, intel, hoops, and more
RELATED: Michigan football, the 3-2-1 – Recruiting thoughts, portal, more
Here are our revised expectations for this team, thoughts on sophomore quarterback J.J. McCarthy and more after four games.
What's your revised expectation for this Michigan team, if anything, heading into the meat of the Big Ten schedule? Record going into OSU?
CHRIS BALAS: The goal this year was to get to Columbus with a chance to win the Big Ten East with a victory. That hasn't changed. The Wolverines could stumble once — that was the preseason prediction — and still have that opportunity. Given the way Big Ten teams on the schedule have played so far, it would be a huge disappointment if that didn't happen.
Iowa is the biggest test. No matter what folks think, this Hawkeyes team is more than capable of pulling off a home upset today. Better teams than this Michigan squad have gone into Kinnick Stadium and been beaten … blown out, in fact. U-M should win all its home games, though Penn State appears better than expected.
In short — nothing has changed.
CLAYTON SAYFIE: No reason for a revision. Michigan is undefeated, No. 4 in the country and has all its goals in front of it. I thought the Maryland game would be a bit of a challenge, and it was, but the Wolverines prevailed. I remain that Michigan will be 11-0 heading into the Ohio State game. This weekend against Iowa is one of a few big hurdles standing in the way of that happening.
ANTHONY BROOME: I don't know that my expectation has changed all that much. In order for this season to be considered a success, they have to go into the Ohio State game with a chance to go to Indianapolis the following week. That should be the annual expectation around these parts. This group has the goods to get there, but it might take a little bit more time to round into form. If they get past Iowa, I expect them to be 11-0 going into the OSU game.
How has J.J. McCarthy performed compared to your expectations?
CHRIS BALAS: Right about what we expected for an extremely talented sophomore who has started a few games. But today's test is the big one, right? This Iowa defense feasts on inexperienced quarterbacks, trying to force them into making game-changing mistakes. They're going to disguise their defenses and try to bait him with different looks.
Last week was his first test, and he completed 70 percent of his passes. He could have had a great game if he'd connected on a few of his deep balls. At the same time, lose either of the two fumbles he put on the ground or the pick that should have been, and the narrative is completely different.
Today will be telling.
CLAYTON SAYFIE: He's exceeded them, but still has a lot to prove. The first three opponents were brutal, with all due respect to them, and McCarthy shined. When the competition got tougher last week, he was a bit up and down, but that's no surprise for a young signal-caller in his first full game (almost half of his snaps for the season came against the Terrapins). He's still growing in the decision-making department, something senior Cade McNamara thrives in.
Once he gets to where he needs to be in that area, he could be an elite college football player.
ANTHONY BROOME: McCarthy has been about what I expected to this point. There is no question his skill-set raises the ceiling of the Michigan offense and gives them a QB week-in and week-out that can make all the throws. There are going to be growing pains. He is not Bryce Young or Trevor Lawrence right out of the box. There are a lot of little things he still neds to iron out, but he will get there. He is the first Michigan quarterback with a first-round caliber toolbox in almost two decades. 
Who are Michigan's best hopes for improved pass rush in October?
CHRIS BALAS: All eyes on two guys — Eyabi Okie and Derrick Moore. We asked head coach Jim Harbaugh specifically about Okie last Monday, and his eyes lit up, and it's obvious why in watching film. He and Moore have different skillsets than anyone on the team when it comes to "get-off." They are explosive, and tough to block on the edge.
But senior Mike Morris has really come on recently, as well. He's using his strength to get close — now, he needs to develop a complementary move or two, and to finish. These are the three guys we'll be watching most closely in the weeks to come.
CLAYTON SAYFIE: Non-defensive linemen are responsible for 4.5 of Michigan's 11 sacks. Coordinator Jesse Minter has been forced to get creative and blitz quite a bit, which he's done a great job with, but it'd be more ideal to rush with four players and let the others drop in coverage. Not being able to do that was my biggest concern coming into the season. Luckily, Michigan won't face many (any?) great passing attacks until Nov. 26, and things can improve. 
As far as who can provide that boost, it might have to be someone new outside the group of top three EDGEs in senior Mike Morris, junior Jaylen Harrell and junior Braiden McGregor. Morris has the most skill, but he's a bit big to play every down on the edge. It's nothing new, but Harrell is still better against the run and hasn't proven to be much of a pass rusher, and McGregor has been a bit inconsistent. If graduate Eyabi Okie comes on — head coach Jim Harbaugh said he will play more snaps each game — or freshman Derrick Moore is ready for a bigger role, that could lift the Michigan pass rush. Those two have the most talent at getting after opposing quarterbacks, but they might not be as 'complete' of players as some of the others.
ANTHONY BROOME: It is pretty apparent why they brought in Eyabi Okie. The pass rush has been close to making plays, but not nearly consistently enough. Hopefully his continued emergence – along with Derrick Moore – can add another layer to what has been an otherwise stout defense so far. The gut says that by season's end, Derrick Moore will be Michigan's best pass rusher.
What's the Big Ten's surprise team so far? Biggest disappointment? 
CHRIS BALAS: Minnesota is the most pleasant surprise. We thought the Golden Gophers would be pretty good. We didn't expect them to be the early favorite to win the West. But that's where we are, and while there are bigger tests to come, they look like the best team on that side of the conference. Tanner Morgan has been really good in his 13th year.
Michigan State has probably been the biggest disappointment, though they were overrated to begin with. They should have, would have lost 5 games last year had the "good fortune" factor not been in their favor. That's not us talking — that's the metrics. And Nebraska, a surprisingly popular pick to surprise in the West … well, Scott Frost no longer has to worry about using the golf team's simulator. He's got plenty of time on his hands to play 18 or even 36 daily after his firing.
CLAYTON SAYFIE: The Big Ten's biggest pleasant surprise has been Minnesota. The Golden Gophers were picked to finish third in the West Division in the Cleveland.com preseason poll, but they're my favorite at this point and the only undefeated team on that side of the conference. That was a statement blowout win over Michigan State in East Lansing last weekend.
Speaking of the Spartans, they've easily been the biggest disappointment so far, after entering the season as a top-15 team in the AP poll. After losing two straight games, you look at their schedule and don't see many wins left. Iowa, Wisconsin and Purdue have been mild disappointments in the West, but they have time to gain back some ground.
ANTHONY BROOME: The biggest Big Ten surprise to this point has been Minnesota. Anyone can come out of the West, but they have been by far the most competent and consistent team on that side of the conference.
Biggest disappointment is Michigan State. They look like a team that might not even make a bowl this year. $9.5 million is a lot of money for struggling to get to 6 wins potentially. The body language and vibe over there is awful right now without solutions in sight.