Michigan football to get visit from big transfer defensive tackle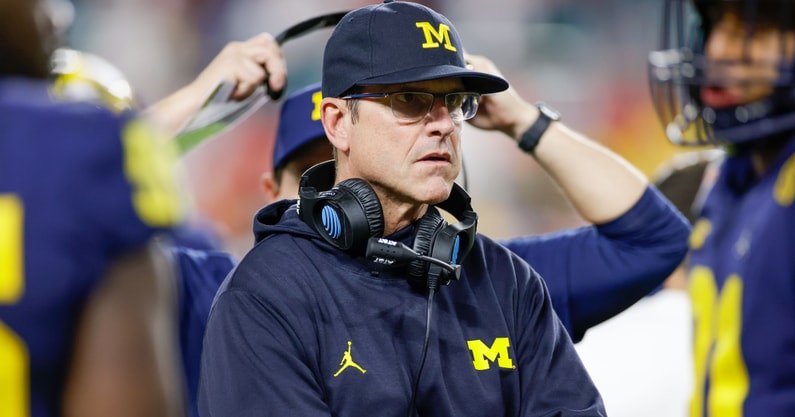 Michigan football coaches continue to look for options on the recruiting trail and in the transfer portal. They'll get a visit soon from a 315-pound defensive tackle in the near future.
RELATED
Chicagoland DL Brooks Bahr commits to Michigan 
Commit Impact: What Landing Brooks Bahr means for Michigan
Central Florida's Cam Goode (6-2, 315) has continued to improve throughout his collegiate career. The former three-star out of Washington (D.C.) St. John's started his career at Virginia Tech, redshirting in 2018 before playing the past three seasons at UCF.
Goode notched 23 tackles, three sacks, four forced fumbles and an interception in 13 games during the 2021 campaign. His four forced fumbles was good for 12th in the nation.
The solidly-built tackle's number have gone up in each of his three years with the Knights. He recorded three solo tackles and six assists in 2019 and 12 solos with seven assists in 2020. Goode also added three sacks two seasons ago.
Goode will reportedly visit Syracuse March 25 weekend. The date for the Michigan visit has yet to be disclosed.
A former Under Armour All-American out of St. John's, Goode started three of the 13 games in which he appeared a year ago. He was expected to be a force in the middle for the Knights, however, in his last season. There are reports he'd been in classes for a month at UCF.
"He's got a low center of gravity. He's going to be hard to move," former UCF coach Shane Burnham said on Signing Day a few years back (Burnham is now an analyst at Florida State). "His feet, with what we do up front and the way we move … I doubt you'll find anyone with better feet."
Stay with TheWolverine.com for more on this development in coming days.