Tom Brady's son, Jack, is a quarterback with 'aspirations' of attending Michigan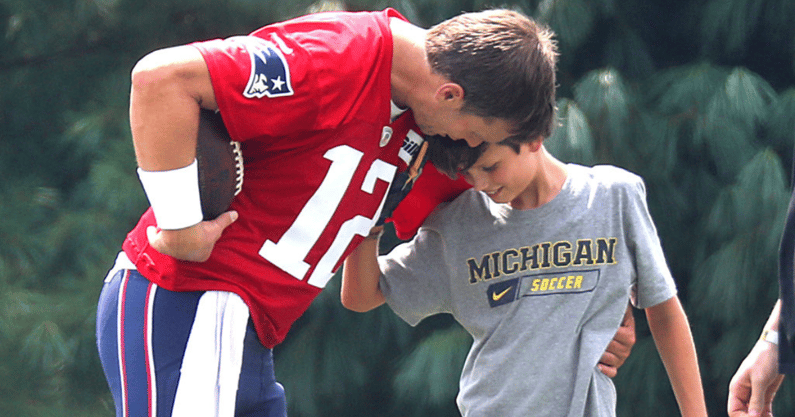 Supermodel Gisele Bündchen — the ex-wife of former Michigan quarterback and NFL legend Tom Brady — was featured in a Vanity Fair cover story, which revealed a detail that pertains to the Maize and Blue.
Brady's oldest son, 15-year-old Jack, is Bündchen's "bonus child." Brady and ex-girlfriend Bridget Monyahan welcomed Jack in 2007. He's since been spotted with Brady throughout his NFL career, including when the father threw the son a touchdown pass during a visit to Michigan Stadium back in 2016. Jack also helped at Tampa Bay Buccaneers' practices at times, serving as a ball boy.
In her interview, Bündchen revealed that Jack is a quarterback with "aspirations of going to his father's alma mater, the University of Michigan."
Last fall, Brady discussed watching Jack play on the Let's Go! Podcast.
"Getting out there and watching him play has been so much fun for me," Brady said. "I just love watching him and seeing him enjoy it with his friends."
Brady referred to Jack as "a grinder and a very good athlete" with "great hand-eye coordination," adding, "He actually moves better than I did at his age. … He's a free safety, and he also plays quarterback."
The former Michigan signal-caller, a seven-time Super Bowl champion, certainly knows what it takes to be successful at the position and can help his song along.
"I think there are very few things in life that I could probably help him with," he explained. "I don't have a lot of specialties in life other than probably throwing a football. He's way smarter. He's got great work ethic. … But I can definitely help him at quarterback."
He's not putting too much pressure on him, though.
"I don't give a s–t how well he does," Brady said. "I just love watching him and seeing him enjoy it with his friends and the camaraderie at a young age. I remember being in high school myself. I loved being out there with my teammates, having pancake breakfasts on Saturdays. He has meals on Friday nights with his teammates, and it brings out the best parts of us. So, it's really a treat, as all parents know, watching their kids play.
"It's really great as a parent to see your kids joyful. That's what we all hope for our kids. You want to provide them the experience that they can to grow, and to grow into their adolescence, and to deal with adversities, and deal with wins and losses in life — not just in sports but on a test and with their friendships.
"That's the most important thing I see is dealing with their friends, and dealing with accountability and responsibility, and learning to overcome challenges, and dealing with failures, and dealing with successes and all those things youth sports really teaches us all."
At Michigan, Tom Brady started 25 games in 1998 and '99, and completed 61.9 of his passes for 4,773 yards in his career. He went 20-5 as the starting signal-caller, beat Ohio State in 1999 and led the Wolverines to a thrilling overtime victory over Alabama to cap off that same season. Brady was also a part of the Wolverines' 1997 national championship team and won two Big Ten titles, often crediting much of his success and love for competition to his time in Ann Arbor.