Where Eyabi Okie thinks he can improve as season goes on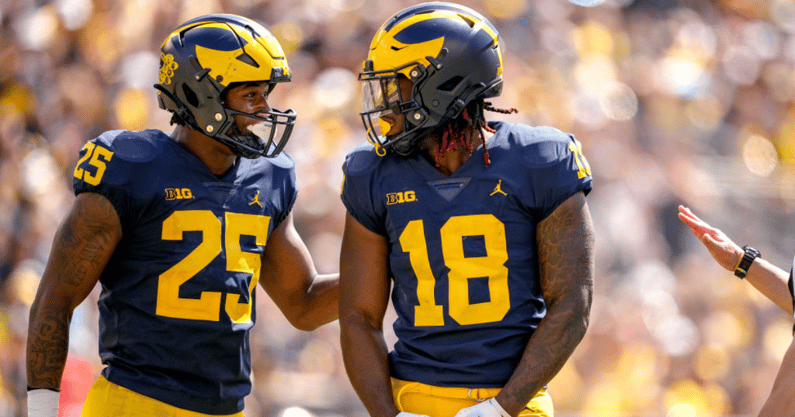 Michigan football added former five-star recruit Eyabi Okie to its team just before the season in hopes of bolstering its pass rush. While the workload has not allowed him to be fully unleashed just yet, the early takeaway from him is that the culture in Ann Arbor is as advertised.
Speaking to the media for the first time as a Wolverine on Tuesday night, Okie was asked to weigh in on expectations vs. reality.
RELATED:
• Michigan football: Eyabi Okie fueled by a desire to change his own narrative
• Wolverine TV: Eyabi Okie talks journey to Michigan, Blake Corum discusses Heisman Hype
"I feel like they're pretty equal," Okie said. "This is like a blue-collar team, what you see is what you get. You work for every snap. The other day, Coach Jay Harbaugh said something, I want to say like two weeks ago, about recommitting ourselves every single week, every single day. That's what we have with this team. You have to recommit every single day. It's football, no one is going to feel great but how bad do you want it? We're playing for the man next to you. The man next to you is going 100% so why are you going to half-ass?"
Working the dust off at Michigan
Okie had 13 days to get up to speed before Michigan played its first game against Colorado State on Sept. 3. There was a lot of conditioning to do, let alone getting the playbook down. This has led to his role steadily increasing each week. But he still is not where he wants to be.
"I still have to knock a lot of dust off," he said. "I still have to get back to being comfortable. That's why you might not see me have as many snaps as the other guys are as power. I understand that. You get in where you fit in. Whatever I can do to help the team. It all starts in practice. In practice, you're trying to burst off the ball. Trying a really strong three-four yards off the ball. Really run that tackle off the field so I can have a two-way go. Really making my shoulders turn parallel. I'm really good at jumping the ball. Seeing the first move and just reacting off that.
"Just really about polishing all those movements. Later on in the season, hopefully in the [College Football Playoff], you're going to go against tackles that can move as fast as that so you want to be able to counter. What else can you do? Are you able to switch it up? Can you basically power up to speed and dip that corner. Really box them out. That's what we're really working on right now. We're not preparing for the team right now, we're preparing for later on in the schedule. The harder teams. We're always worried about the next game, too. We're definitely worried about the next game."
As far as the Michigan pass rushers go, it gets a little easier when senior defensive tackle Mazi Smith is holding things down in the middle of the line. Taking on double teams allows the EDGE group to find space to operate and get to the quarter.
"He is the unsung hero," Okie said. "Mazi does a lot of dirty work. Takes on double-teams, things he doesn't get a lot of credit for. That pressure, no one knows that Mazi took two, that's how I got so Scott-free. Mazi makes my job so much easier. People like him, Kris Jenkins, Mason, the freshman, taking on double-teams or beating up those guards and centers when it gets time for us to do those pick games or come around or come underneath. It makes it so much easier so they're so used to a big guy going it so they're trying to power scoop and do all that."