Michigan football's Blake Corum wins Big Ten running back of the year, other Wolverines honored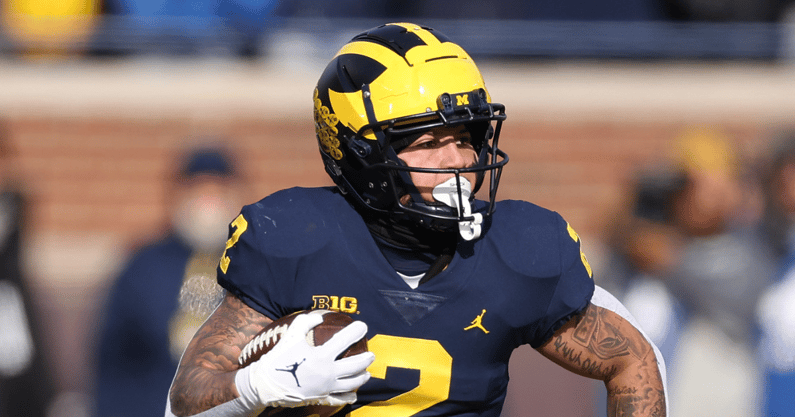 Michigan running back Blake Corum captured the Big Ten running back of the year award after an outstanding season, beating out Illinois' Chase Brown and Minnesota's Mo Ibrahim. He is the first U-M back to capture the award.
RELATED: Michigan moves to No. 2 in updated CFP rankings
RELATED: Tuesday Thoughts: On Michigan second half dominance, 'no star' defense, and more
Four Wolverines, meanwhile, earned first-team All-Big Ten honors. Corum and junior right guard Zak Zinter were first team honorees by both the coaches and the media. Grad student center Olu Oluwatimi, an Outland and Rimington Award finalist, earned first team honors from the coaches, as did left guard Trevor Keegan.
Corum rushed 247 times for 1,463 yards and 18 touchdowns, averaging 5.9 yards per carry … and he only rushed twice for 6 yards against Ohio State after playing only a half against Illinois before going down with injury.
Head coach Jim Harbaugh called Corum a Heisman candidate only a few weeks ago.
"I don't think there is a better back in the country right now than Blake Corum," Harbaugh reiterated. "He is having an MVP-type of year. He's having a Heisman Trophy kind of year.
"He's definitely having an MVP season for us here at Michigan. It would be hard to imagine that he wouldn't be (in contention for or), heck, the way he's going, win the Heisman Trophy. Leading in touchdowns … leading in points scored. Consistently really good every game…I would bet my truck that Blake Corum is on pace or ahead of many of those running backs that have won the Heisman Trophy…He means that much. He's having that kind of a season."
Not playing against OSU probably eliminates him from contention, but he could still make it to New York for the presentation.
"It's a blessing, a true honor … bunch of good running backs in his conference," Corum told the Big Ten Network. "I'm truly honored.
"It's a happy journey. It's great to be a Michigan Wolverine right now, for many reasons. Not just because we beat Ohio State or are going to the Big Ten championship (game). It's been a heck of a year. This team really came together. We picked up right where w left off last year and had an even better year this year."
It sends a strong message, Corum said, that Michigan is well-rounded and "not a team to play with.
"We're going for it all," he said.
Sophomore quarterback J.J. McCarthy earned second team All-Big Ten honors from the media. Grad student receiver Ronnie Bell earned third team honors from the coaches and media, while grad tight end Luke Schoonmaker earned third team from the coaches. Left tackle Ryan Hayes earned second team honors from the coaches and third team from the media, while right tackle Karsen Barnhart earned honorable mention honors.
Watch for more honorees and quotes in the hours to come.