Michigan football vs. Hawai'i kickoff delayed by lightning: Updated kickoff time revealed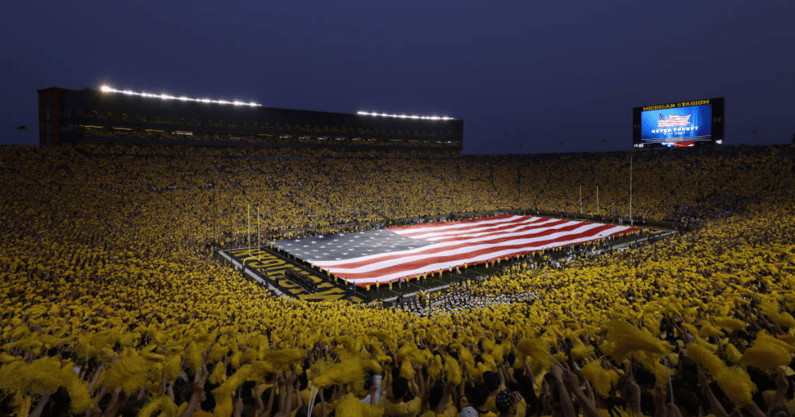 Michigan football is set for a Week 2 showdown with the Hawai'i Warriors, but severe weather might affect how things play out on Saturday night in Ann Arbor. A little less than 90 minutes before kickoff, U-M instructed people clear the field and seating bowl due to lightning within 10 miles of the stadium.
The scoreboard message said that gates would be closed for a minimum of 30 minutes. The delay as of 7 p.m. is indefinite.
At 7:06 p.m. ET, the stadium announcer said that the delay had been extended. It is unknown as of this posting if the game will be delayed. U-M says it will share info as it becomes available.
A line of storms with lightning were detected moving Northeast through Ann Arbor are projected to clear out a little after 9 p.m. ET. We will have more information when it becomes available.
UPDATE: At 7:24, Michigan announced that kickoff would be delayed. A light rain was falling over the stadium in mostly sunlight with a rainbow over the field.
UPDATE 2 (7:59 p.m.): Workers at the stadium are preparing for a start after 9 p.m. ET with one staffer saying 9:15 was what he was hearing.
Here is the pertinent game info for the Saturday night showing.
UPDATE 3 (8:08 p.m.): Our Chris Balas is saying that gates will open at 8:30 p.m. Kickoff tentatively scheduled for 9:30 p.m., per a source.
UPDATE 4: Michigan players retook the field at 8:16 for warmups with gates opening at 8:30 for fans outside the stadium. Game is tentatively scheduled for 9 p.m.
Michigan football vs. Hawai'i game info
Teams: No. 4 Michigan Wolverines (1-0) vs. Hawai'i Warriors (0-2)
Date: Sept. 10, 2022
Location: Michigan Stadium in Ann Arbor, Mich.
Time: 9 p.m. ET
Television: Big Ten Network (Lisa Byington, Jake Butt, Megan McKeown on the call), check local listings for channel number
Streaming: B1G+, YouTube TV, Hulu, DirecTV Stream
Radio: 950 AM in the Detroit/Ann Arbor area, see affiliate stations here
Spread: Wolverines -51.5, over/under set at 67.5 points (Vegas Insider)
Fun Facts
– The Wolverines are 3-0 against Hawai'i in the all-time series, winning games at Aloha Stadium in 1986 (27-10) and 1998 (48-17) and in the 2016 season opener (63-3).
– Michigan is 11-1 all-time against teams playing in the Mountain West Conference. Their most recent victory came in the 51-7 Week 1 win over Colorado State.
– Saturday will be the 69th night game of all-time at the Big House with the Wolverines tallying a 40-28 mark in games played after 5 p.m. ET in Ann Arbor.
– Junior wide receiver Roman Wilson is the lone Hawai'i native on the Michigan roster.
The Wolverine's Hawai'i week coverage
Wolverine TV podcast: What to expect from Michigan against Hawai'i, predictions and more
By the numbers: How lopsided will Michigan make it against Hawai'i?
Tale of the tape: Sizing up Michigan football vs. Hawai'i
Keys to the game: Michigan vs. Hawai'i — Let J.J. sling it
Previewing Michigan vs. Hawai'i with a Rainbow Warriors insider
Staff Predictions: Michigan vs. Hawai'i