Michigan lands commitment from four-star EDGE Collins Acheampong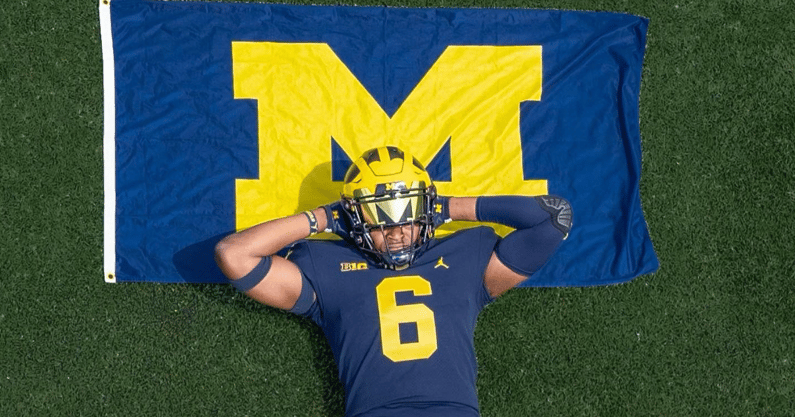 Michigan has landed a verbal commitment from four-star EDGE Collins Acheampong.
The Rancho Santa Margarita (Calif.) High product picked Michigan over Miami. He also held offers from LSU, Oregon, Texas, USC, Washington and others.
"They have a good setup and plan," Acheampong said. "If it's not broken, don't fix it. They have something that's working. My goal is to make to the first round in the league. They already have a working prototype for someone my size, height and skillset.
"In recent years, they've had Kwity Paye, David Ojabo, who would have gone first round if not for his injury, and Aidan Hutchinson, who has about the same body type as me. Combine that with education, and it's becoming a no-brainer."
Michigan head coach Jim Harbaugh and defensive line coach Mike Elston have made Acheampong a top overall priority this cycle, and both made impacts on him during his official visit this summer.
It was on that trip that Acheampong began to trend towards the Wolverines.
"The coaches are cool from the head coach all the way down," Acheampong said. "If you need to talk to the head coach, he's there. Coach Harbaugh is like someone I've known my whole life. He's like that one uncle at the family reunion. Coach Elston is more like a dad figure. The way he would take care of you is the way he would take care of his kids. I got to meet his family, and the same way he talks to them is the same way he talks to me. I wouldn't be getting anything different."
Miami made a big run late and pitched NIL hard. But at the end of the day, Acheampong felt at home at Michigan.
At 6-foot-8, 254 pounds, Acheampong is a monster pass rusher that originally moved to the United States from Ghana to pursue a basketball dream. Acheampong eventually transitioned to football and quickly garnered attention on the recruiting trail before his high school shut down the program during the pandemic.
Acheampong recently transferred and will play his senior year at Rancho Santa Margarita.
Acheampong is ranked as the No. 36 EDGE and No. 348 overall recruit nationally, per On3.
Michigan fans — The Wolverine, $1 for 1 year
This subscription will give you access to premium Michigan football, basketball and recruiting content. Our team of recruiting insider EJ Holland, team insider Chris Balas, columnist John Borton, staff writers Anthony Broome and Clayton Sayfie, and contributors Trevor Ritchie and Marshall Levenson make up the best team in the Michigan market.
You can also subscribe to The Wolverine Magazine, which is published monthly for a total of 11 full-color issues annually. The Wolverine Football Preview Magazine, a full-color, 164-page magazine packed with great information about the upcoming season, will be available in July for individual purchase.
Follow The Wolverine on various social media channels, including Facebook, Twitter, Instagram, YouTube and TikTok. The Wolverine Podcast shows are available on iTunes and Spotify and are released on an almost daily basis. Video versions of every podcast can also be found on our YouTube channel.