Michigan legend Denard Robinson enters NIL space, releases signed trading card collection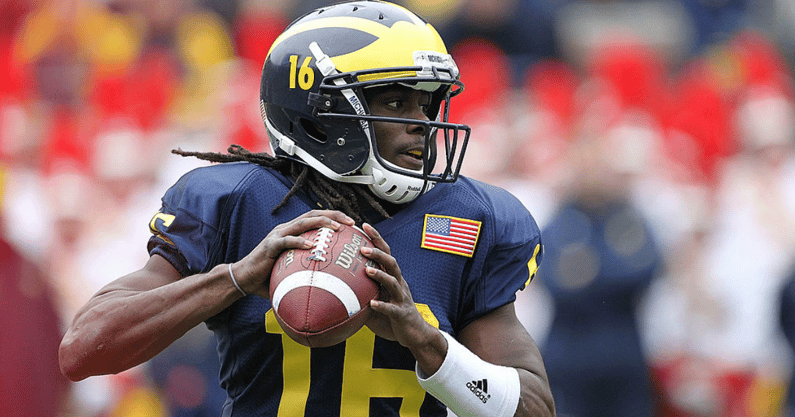 Michigan football assistant director of player personnel and U-M quarterback phenomenon Denard Robinson gives us an interesting throwback to his playing days with a new set of trading cards. 
The former U-M superstar released a limited edition autographed collection Sunday evening, with prices ranging from $16.99 to $22.99, in a partnership with The Player Trunk. The platform was founded in 2020 and gives athletes the ability to profit off name, image and likeness by selling 'game-used gear, merchandise, autographed collectibles and experiences to their passionate fans.'
Robinson via Twitter: "Michigan Fans!! Hopping on this NIL thing and releasing my own signed trading card with @theplayerstrunk commemorating my playing days in Ann Arbor. Grab one at the link below, thanks for the support!! https://theplayerstrunk.com/collections/denard-robinsons-trunk"
Three Michigan trading cards available
Denard Robinson 1st Edition 2022 *RARE* Color Match (#/75) $22.99
Denard Robinson Limited Gold Variation 1st Edition 2022 (#/175) $18.99
Denard Robinson Limited Silver Variation 1st Edition 2022 (#/250) $16.99
The Legacy of 'Shoelace'
In case you needed a reminder, Robinson's name belongs in any Michigan GOAT conversation. He's one of the most electrifying players in college football history. The Deerfield Beach, Fla. native holds the NCAA record for career rushing yards by a quarterback (4,495), passing former West Virginia standout Pat White (4,480, 2005-08) to earn the honor. Robinson is the first player in NCAA history to pass for 2,500 yards and rush for 1,500 yards in a single season, and he ended his run at U-M top five all time in both passing and rushing. Robinson still reigns as Michigan's all-time leader in touchdowns scored (91) and career total offense (10,769 yards). It goes without saying few Wolverines are more beloved, laces tied or not. 
On returning to Michigan
"I am so excited about coming back to Michigan," Robinson said in a February statement. "This place means a great deal to me and I look forward to interacting with past, present and future Wolverines in my new role. Coach Harbaugh and I have been talking for almost a year about returning to help the program, and to have it finally come together is a dream come true and fulfills one of my career goals. I love this university and can't wait to get to work."