Michigan Wolverines Basketball Prepares to Host the Minnesota Gophers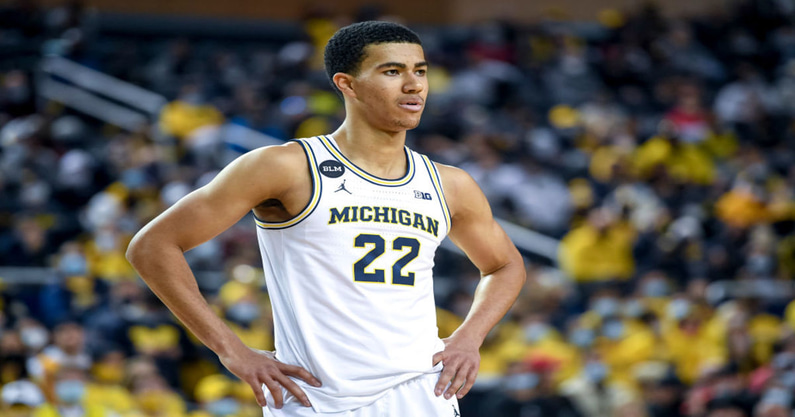 Michigan is set to host Minnesota basketball on Saturday evening. Minnesota suffered their first loss of the year in their last game against the nationally ranked Michigan State Spartans. The Gophers did seem a bit overwhelmed at first, and we talked about that a bit on the pod.
Minnesota brings new players to high major Big Ten play, but they have a veteran team. Since the departure of Richard Pitino, the Gopher roster was gutted. New head coach Ben Johnson did a great job in the offseason hitting the transfer portal hard to fill out his roster despite the injuries stacking up against him. Minnesota sticks to a tight rotation, playing seven players and that seventh man is playing only ten minutes per game.
#10 Jamison Battle: 6'7″ 220 pound left handed power forward for Minnesota. Averaging over 38 minutes per game, 17.8 ppg, 6.4 rpg, shooting 46.4% from the field, streaky from deep at 34.4% while shooting eight 3's per game. Brandon Johns, Caleb Houstan, and Terrance Williams will be assigned to stopping Minnesota's leading scorer.
#0 Payton Willis: 6'4″ 200 pound right handed guard for Minnesota. Averaging 36 minutes per game, the 2nd leading scorer at 16.4 ppg, 4.8 rpg, shooting 46.6% from the floor, and 41.7% from 3pt on six attempts per game. Eli Brooks, DeVante Jones, and possible bigger guard like Zeb and Kobe will have the responsibility to keep Willis in check.
Jamison Battle and Payton Willis are Batman and Robin. Keep those two in check, and this game should be a blow out. If Michigan let's these two play their games and get loose, this game will be uncomfortably closer than it should be.
Michigan (6-3) hosts Minnesota (7-1) in their 2nd Big Ten game. Michigan is 13.5 favorites as of this afternoon. The game starts at 6:30pm EST on FS1.