Darrius Clemons ready to be 'one of those guys' in Michigan wide receiver room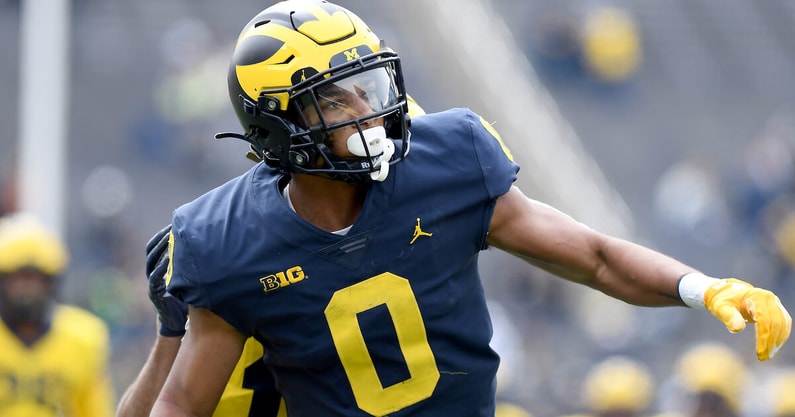 Michigan Wolverines football's wide receiver 'crew' will look quite a bit different next season. Graduate Ronnie Bell will play in the Reese's Senior Bowl and enter the NFL Draft, head coach Jim Harbaugh said in November, sophomore Andrel Anthony has entered the transfer portal and senior Cornelius Johnson has a decision to make on his future.
If none of Bell, Johnson and Anthony are on Michigan's roster in 2023, that means the Wolverines will need others to step up, especially at the outside receiver spots. Those three combined to play 630 of the Wolverines' 763 outside receiver snaps (82.6 percent), according to Pro Football Focus (PFF). Next on the list is freshman Darrius Clemons, who saw 26 plays at the position and logged 74 offensive snaps for the season, the 22nd-most on the Michigan unit.
RELATED
• Michigan football WR Andrel Anthony enters transfer portal
• Doug Karsch: From the broadcast booth
Clemons earned some early playing time, especially in non-conference play, and contributed on special teams, but appeared in just nine games on offense (he made 11 overall appearances). He didn't see any time after the Wolverines' 34-3 win over Nebraska Nov. 12, a healthy scratch in Michigan's final four outings.
"It's been a really good learning experience for me, having guys like Ronnie Bell, C.J. and even Andrel, learning what they do well and learning from them," Clemons told TheWolverine.com before the Fiesta Bowl. "At a school like Michigan, every day in practice, it's like a game for the most part. You're always getting experience every day."
He used that to his advantage and feels he grew in every aspect of the game during his freshman campaign, after enrolling early last January. Clemons caught 1 pass for 7 yards, which came against UConn Sept. 17. In a small sample size, he also graded out as the Wolverines' fourth-best wide receiver at run blocking, behind junior A.J. Henning, Anthony and Bell.
"It's hard to name one thing," Clemons said at what he's improved upon the most. "As a football player as a whole, I don't think there's anything that I haven't gotten better at, to be honest with you."
The key this offseason is to keep that going. Opportunity for snaps and targets is set to open up, and Clemons wants to take advantage.
"To solidify myself as one of those guys in the receiver room," the Michigan receiver said of his goal for the coming year. "We have a really, really deep receiver room, so I think there are a lot of guys that can do that. That's the benefit — every day, you're competing with someone else that wants the same job as you want. That in itself is going to help me grow as a player."
The same goes building more chemistry through getting in extra reps with junior-to-be quarterback J.J. McCarthy, who took over the starting job in non-conference play and led Michigan to its second-consecutive Big Ten title. McCarthy improved and banked more trust as the year went on, throwing 8 of his 22 touchdowns on the year in the final three games. This will be his first full offseason as the team's starter, and if he stays healthy, his first offseason at Michigan without rehabbing.
"Anybody who sees J.J. throw once or twice, you can tell he's got something special going," Clemons said. "The more it's opened up and the further we've gone along in the season, you can definitely see the coaches have put more trust in him, so I think that's something cool to see."