Michigan EDGE Mike Morris updates injury status, talks upcoming final game at The Big House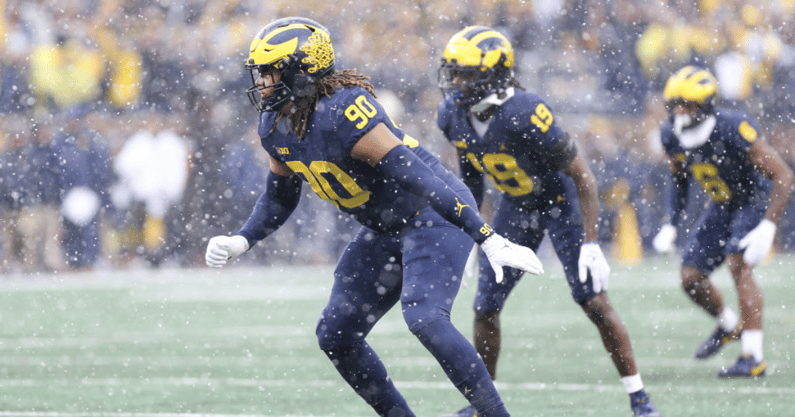 Michigan Wolverines football senior EDGE Mike Morris went down with an injury midway through the fourth quarter of U-M's 34-3 win over Nebraska Saturday. Morris appeared to have been holding his hamstring. He jogged off the field with a limp and the ailment didn't appear to be serious.
Speaking with host Jon Jansen on the Inside Michigan Football radio show Monday night, Morris discussed his status.
"I'm feeling great," Morris said. "Just a little tweak. I feel like I'll be alright. Our trainers are working very hard. I was in there getting treatment for like four hours this morning, so I'll be fine. I'm in great hands. It's all God's plan."
RELATED
• Report: Big Ten will now wait until prosecutor findings to comment on Michigan State tunnel incident
• Wolverine TV: Jim Harbaugh talks stellar defense, Illinois, pass game, more
Whereas some weeks Morris spends more time in the film room, this time he'll be in for extended time in the training room.
"I feel like most of it is just priorities," the Michigan EDGE said of how he decides how to use his time to prepare. "I'm usually not in the training room as often as I am now, so I have to make that a priority over a lot of different things like film or whatever. It's just all about your priorities at the moment.
"Earlier in the year, watching a lot more film, trying to break it down to get more comfortable with the position that I'm in. Weight room wise, Coach [Ben] Herb[ert] does a great job with it. I don't really have to worry about the weight room stuff, because he sets it. It's all planned so we don't have to worry about it; we just have to show up and work hard."
Morris is leading Michigan with 7.5 sacks and is one of the defense's most valuable players. His 36 pressures rank tied for 24th in the country.
The Floridian redshirted during his first season in 2019, was a reserve in 2020 (a free year of eligibility), contributed some as a backup in 2021 and has enjoyed a breakout campaign to this point. While he technically has two years of eligibility remaining after this season, Morris may be playing his final game at The Big House this weekend against Illinois, the final 2022 home tilt.
"Man, I was just talking to [assistant strength coach] J[ustin] Tress about this," Morris said. "I was like, 'Dang, J. Truss, I was just here.' He was like, 'Yeah, you came in all your FSU gear, all geared up, you and your dad [an FSU football alum].' I was like, 'Man, that's crazy.' I told him, 'I was 255 when I came in. Now I'm like 290.' It's like, dang, time flies crazy.
"You just gotta cherish every moment, even when it's bad, ugly. You gotta cherish it."
ESPN.com analyst Mel Kiper Jr. ranked Morris as the No. 22 overall NFL Draft prospect for 2023.
The Michigan EDGE reflected a bit on his time in Ann Arbor and what it'll be like to go down the tunnel for what could be the final time.
"[Graduate center] Olu[segun Oluwatimi] just said this. He was talking to [graduate left tackle] Ryan [Hayes] and he said, 'There are only four quarters left in The Big House,'" Morris revealed.
"I don't want it to be the last four quarters, but … I hope it's not emotional. I hope I'm not emotional. 
"Bruh, The Big House is a great place to be. Mr. Brightside. The fans — 110,000 every single game. I don't think it's something that I'm going to enjoy."