Michigan's 'one more year' fund a smashing success, with key Wolverines set to return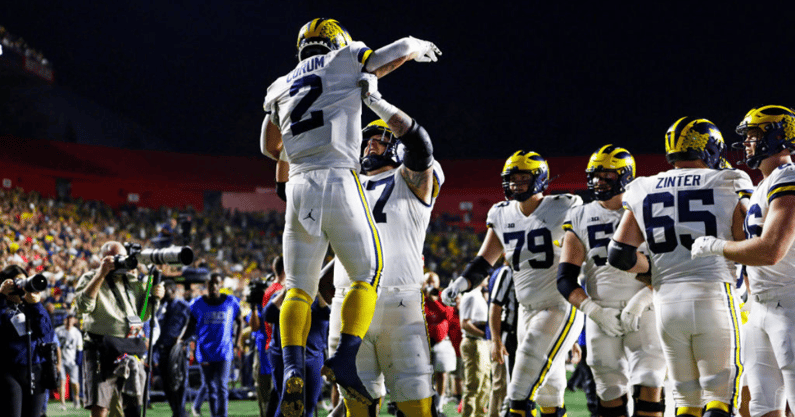 Valiant Management's Champions Circle, the Michigan Wolverines' most prominent collective, launched the 'one more year' fund Jan. 8. The NIL initiative is self explanatory, setting out to take care of players in hopes they decide to return to play for the Wolverines in 2023.
A promotion graphic released featured Michigan running back Blake Corum, wide receiver Cornelius Johnson, left guard Trevor Keegan and right guard Zak Zinter, four of the team's top players from 2022. Nine days after the launch, all four, plus some others have announced their returns. As of the morning of Jan. 16, the fund was up over $101,000, and that doesn't count individual donations of over $5,000.
RELATED
• Michigan football WR Cornelius Johnson to return for 2023 season with Wolverines
• Michigan guard Zak Zinter opts to return to U-M for senior year
Corum is considered one of the top returning players in the country, after finishing seventh in Heisman Trophy voting in 2022. He rushed for 1,483 yards and 18 touchdowns, earning Big Ten Player of the Year honors as voted on by the league's coaches. A late-season injury held him out of Michigan's most important tilts, and thus he wanted to come back and leave his legacy. Knowing he would be able to profit in a big way was icing on the cake.
"That could've played a little bit of a role," Corum said of NIL while appearing on the In The Trenches podcast. "You've got to make the best business decision for you. But it was honestly bigger than that. It's the bigger picture.
"I have unfinished business, and I personally couldn't live with myself with knowing that — especially because I got hurt. If I could've played at Ohio State, in the Big Ten championship and then in the TCU game, I might've felt better like, OK. But I don't feel good knowing that I wasn't able to go to war."
Zinter and Keegan both earned first-team All-Big Ten honors last season and will once again pave the way up front. Corum said he was in their ears, trying to convince them to return for another season in Ann Arbor. The Wolverines are set to bring back three starting offensive linemen from the Fiesta Bowl lineup — Zinter, Keegan and graduate right tackle Karsen Barnhart.
Johnson led Michigan with 6 receiving touchdowns in 2022 and has hauled in 92 career receptions. With fellow wideout Ronnie Bell off to the NFL, his return way key.
Graduate linebacker Michael Barrett — the Wolverines' second-leading tackler last year (72) — will come back for his sixth season, and so will graduate defensive back Mike Sainristil, who manned the nickel position and made huge plays. The latter was a captain this past year and will lead a defense with plenty of returning production and high hopes.
Most of the Wolverines we mentioned cited "unfinished business" in their announcements. Michigan felt snake bitten by losing close to TCU in the national semifinal and is determined to right the wrong by winning the Big Ten for a third straight year and capping the season off with the Maize and Blue's first national title since 1997.
"We're so close, and I believe in my teammates," Corum said on the Rich Eisen Show. "I believe in the new team, team 144. It's going to be a beautiful thing."
Nobody would've blamed any of the individuals for opting to enter the NFL Draft. But now, due in part to Michigan's NIL efforts, these Wolverines are given the ability to chase an elusive national championship while also putting money in their pockets.
Players lining up to come back is a testament to the culture head coach Jim Harbaugh, his staff and these players have built over the years. The Wolverines are 25-3 over the last two seasons, yet the Wolverines want even more.
In the past, players have "taken a knee," as Harbaugh would say, or left for the NFL, perhaps before they're ready. Now, Michigan standouts are looking for reasons to stay and ways to get on the field.
Take Corum, for example, who played five snaps on a torn meniscus and with a sprained MCL at Ohio State, just so he could help his team beat the Buckeyes. Now, he and others will aim to further cement their legacies in 2023.