Previewing Michigan vs. Ohio State with a Buckeye insider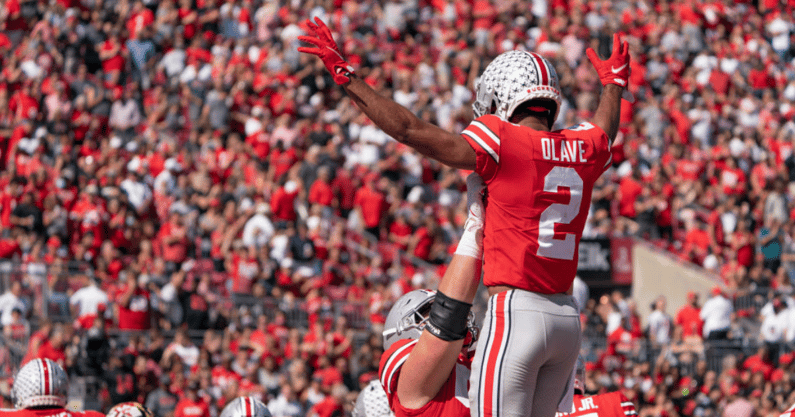 TheWolverine.com caught up with LettermanRow.com's Austin Ward to gather some insight on the Ohio State Buckeyes ahead of their game against Michigan Wolverines football this weekend.
Ward provided a starting lineup projection, broke down the Buckeyes' strengths and weaknesses and discussed how he predicts the game to go.
RELATED
• By the numbers: Michigan and Ohio State set for the rivalry's 12th top-five matchup
• Ryan Day: Ohio State hasn't faced a defense as strong as Michigan's elite unit
Ohio State Projected Starters On Offense
• Redshirt freshman QB C.J. Stroud — The current Heisman Trophy favorite is completing 71.1 percent of his passes for 3,468 yards and 36 touchdowns with five interceptions.
• Freshman RB TreVeyon Henderson — The former five-star recruit has 1,091 yards and 14 touchdowns on 149 carries this season, and has found the end zone at least once in nine of 11 contests. He has 683 yards after contact.
• Senior WR Chris Olave — The Biletnikoff Award semifinalist is third on the team with 58 receptions for 848 yards and leads the squad with 13 receiving touchdowns (second-most in FBS). He lines up wide on 81.7 percent of his snaps.
• Junior WR Garrett Wilson — He's second on the team with 60 catches for 939 yards and 11 scores, despite missing one game. He has five touchdowns in the last two tilts and lines up out wide on more than 80 percent of his plays.
• Sophomore WR Jaxon Smith-Njigba — The slot receiver leads the Buckeyes with 69 grabs for 1,027 yards with six touchdowns, including one in each of his last three outings.
• Senior TE Jeremy Ruckert — He's fourth on the squad with 23 catches for 284 yards and three touchdowns, while grading out on Pro Football Focus as the team's eighth-best run blocker (67.8 rating).
• Redshirt sophomore LT Nicholas Petit-Frere — The 6-5, 315-pounder has started 19 career games and holds a 82.6 overall PFF rating that is second among the team's offensive linemen. He has yielded 18 pressures and one sack on the year.
• Fifth-year senior LG Thayer Munford — The 6-6, 320-pounder has started 43 career contests. His 75.2 overall PFF rating is fifth among the five starting offensive linemen, and he's given up one sack and eight pressures this season.
• Redshirt freshman C Luke Wypler — The 6-3, 300-pounder is a first-year starter who has yielded just six pressures and zero sacks this season, and has an 81.4 overall PFF grade that slots third among the team's starting offensive linemen.
• Sophomore RG Paris Johnson Jr. — The 6-6, 315-pounder is fourth out of the Buckeyes' five starting offensive linemen with a 77.8 overall PFF rating. Eleven starts into his career, he has allowed 13 pressures and no sacks.
• Junior RT Dawand Jones — The 6-8, 360-pounder has started in 11 contests throughout his career. His 88.5 overall PFF grade leads the team's offensive linemen, and he's yielded two sacks and nine pressures in 2021.
Ohio State Projected Starters On Defense
• Fifth-year senior DT Haskell Garrett — The 2020 first-team All-American has totaled 21 stops, seven tackles for loss, 5.5 sacks, one pass breakup and two fumble recoveries. He has 17 pressures.
• Fifth-year senior DT Jerron Cage — He's made nine tackles, three tackles for loss, one sack and two fumble recoveries in nine tilts.
• Junior DE Zach Harrison — He's racked up 28 tackles, seven stops for loss, four sacks, three pass breakups, two quarterback hurries and two forced fumbles. His 83.9 overall PFF grade and 87.3 pass-rushing mark top the team. He has 26 pressures.
• Senior DE Tyreke Smith — In eight games, he's totaled 22 tackles, five stops for loss, three sacks, two pass breakups, five quarterback hurries and one forced fumble. He has a team-high 31 pressures on the year.
• Redshirt sophomore LB Steele Chambers — He has 36 tackles, four stops for loss, one sack, one interception, two pass breakups, one quarterback hurry and one forced fumble.
• Sophomore LB Cody Simon — He's second on the team with 47 stops, while adding two tackles for loss, one sack, one interception, one pass breakup and two quarterback hurries.
• Freshman CB Denzel Burke — He has 29 tackles, one interception and a team-leading 10 pass breakups. Per PFF, he's allowed 27 receptions for 247 yards and no touchdowns on 57 targets.
• Redshirt junior CB Cameron Brown — He's registered 20 tackles and made one interception plus seven pass breakups in nine games. He's yielded 11 receptions for 165 yards on 31 targets.
• Fifth-year senior NB Marcus Williamson — He's compiled 25 tackles, a half-stop for loss, three pass breakups and one forced fumble. In coverage, he's given up 20 catches for 165 yards and one touchdown on 30 challenges.
• Redshirt sophomore S Ronnie Hickman — He leads the team with 85 tackles, including one behind the line of scrimmage, with two interceptions and one forced fumble.
• Redshirt sophomore S Bryson Shaw — He's totaled 41 tackles, a half-tackle for loss and three pass breakups.
Ohio State Specialists
• Fifth-year senior K Noah Ruggles — The North Carolina transfer has made 16 of his 17 field goal attempts this season, with four of them coming from between 40 and 49 yards out.
• Freshman punter Jesse Mirco — The 23-year-old Australian is averaging 42.0 yards per punt with a long of 62, 15 pins inside the 20 and three boots of 50-plus yards.
Top Strength Of Ohio State Offense
Quarterback C.J. Stroud is the Heisman Trophy frontrunner, but much of his success has come from having explosive targets in the pass game.
"The Buckeyes have the best group of wide receivers in the country, and there's not a close second," Ward opined. "Ohio State has talent all over the field, and the versatility of the attack is an obvious threat to every defense. But the problems start with trying to account for Chris Olave, Garrett Wilson and Jaxon Smith-Njigba since there isn't a secondary anywhere that can win matchups against all three at the same time."
Biggest Weakness Of Ohio State Offense
"There isn't one that I'm aware of at this point," Ward said. "Ohio State went through a two-week stretch where it struggled to finish some drives in the red zone, but that was a blip on the radar for the highest-scoring team in the country."
Top Strength Of Buckeye Defense
Ward believes the top aspect of Ohio State's defense is the pass rush coming off the edge. The team is 12th nationally with 3.3 sacks per contest, led by a duo of solid defensive ends.
"Ohio State is blessed with elite talent at defensive end, and it has the most legendary coach for the position in the country [Larry Johnson] leading the unit," the writer noted. "When Tyreke Smith and Zach Harrison are both rolling, the Buckeyes are turning a pair of first-round NFL Draft talents loose on the quarterback —- and there's no way to double team either of them without opening up matchup nightmares elsewhere."
Biggest Weakness Of Buckeye Defense
Ohio State's pass defense ranks a measly 98th in the country (252.1 yards per game), and the Buckeyes have yielded 248 or more yards through the air in five contests this season. Ward explained why one level of the defense, in particular, has been a concern in pass coverage.
"The Buckeyes are relatively thin at linebacker, and the group they have isn't really known for an ability to help defend opposing passing attacks," Ward noted. "The unit has become much more productive as the season has progressed, particularly with Steele Chambers emerging after he moved over from running back. But if anybody is going to have much of a shot against Ohio State, that's going to have to come through the air."
In their one loss, though, the Buckeyes let up 269 rushing yards, 7.1 yards per carry and three rushing touchdowns. Ohio State has improved its run defense as of late, however, with five of its last six opponents failing to hit the 100-yard rushing mark.
How Ward Thinks The Game Will Go
"Ohio State wins in a blowout," Ward projected, choosing not to predict an exact final score. "The Buckeyes are playing their most complete football of the season, and when they're at their best, this is a juggernaut that can beat anybody in the country."