Wolverine TV podcast: What to watch for, predictions — Michigan vs. Maryland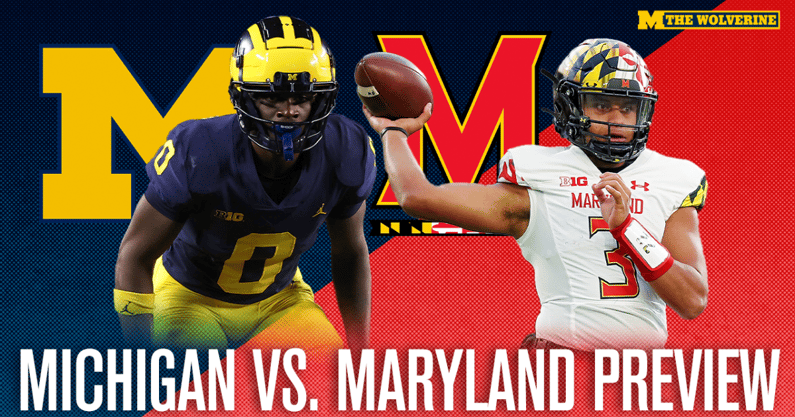 TheWolverine.com's Clayton Sayfie, Chris Balas and Anthony Broome preview Michigan Wolverines football's Big Ten opener against the Maryland Terrapins. We discuss what to watch for in all three phases of the game, who breakout players may be and offer our final score predictions. We also take a look at the three other Big Ten games slated for this weekend and give our thoughts.
Watch or listen below.
RELATED
• Staff predictions: Michigan football vs. Maryland
• Previewing Michigan vs. Maryland with a Terrapins insider
• Staff predictions: Michigan football vs. Maryland
• Keys to the Game: Michigan football vs. Maryland
• Michigan football: Physicality, selflessness defines the tight end room
More on Michigan vs. Maryland
Michigan opens the Big Ten season with Maryland this weekend (noon ET on ABC). The Maize and Blue have outscored their first three opponents — Colorado State, Hawai'i and UConn — by a combined score of 166-17. Minter's defense hasn't allowed any first-half points, and 14 of the 17 points they have given up have come in the fourth quarter with backups in. Maryland is led by quarterback Taulia Tagovailoa. The Terrapins haven't beaten Michigan since winning at The Big House in 2014, Brady Hoke's final season. Maryland is also 3-0, with big wins over Buffalo and Charlotte and a narrow victory over SMU (34-27) last weekend.
Follow along with The Wolverine's media content
The Fort is a vibrant community and one of the most active message boards in college sports. You can be a part of that if you are not already for $1 for an entire year subscription. The best insider content and a massive Michigan community await.
All of our shows on The Wolverine are available on Apple Podcasts, Spotify and Google. Be sure to subscribe and leave us a five-star review!
Subscribe to our YouTube channel for live podcasts, content from the entirety of our staff, Michigan football and recruiting and more.
The Wolverine's video schedule
The Wolverine will be enhancing its video footprint with the season now underway. Here is the full schedule of programs each week on our YouTube channel. They will also appear in our podcast feed after the broadcast.
All times listed are eastern.
Mondays at 6 p.m. – Chris Balas, Clayton Sayfie, Anthony Broome
Tuesdays at 5:30 p.m. – John Borton
Wednesdays at 7 p.m. – EJ Holland's recruiting show
Thursdays (pre-recorded) at 6 p.m. – Chris Balas, Clayton Sayfie, Anthony Broome
Football postgame show (ASAP after game ends) – Anthony Broome and Ryan Van Bergen
Sundays at 7 p.m. – Chris Balas and Doug Skene