Running down players new Michigan DL coach Mike Elston has sent to the NFL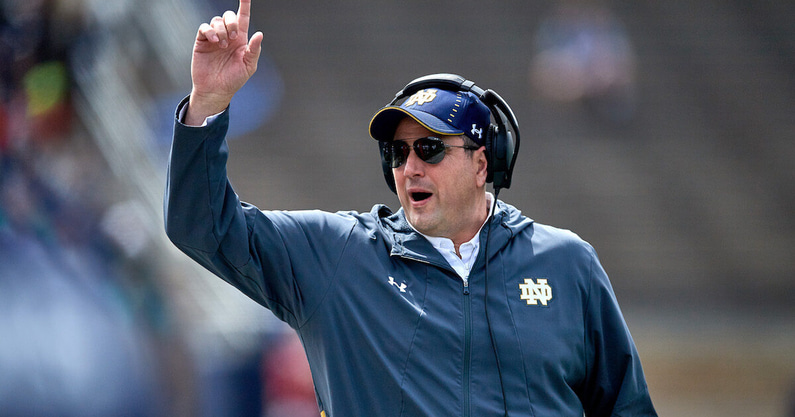 Mike Elston is reportedly making the jump from Notre Dame to Michigan as the program's new defensive line coach. On paper, this is a massive coup for Jim Harbaugh and the Wolverines. It also gives them their fourth former Michigan football player on the coaching staff, joining Harbaugh, Mike Hart and Ron Bellamy.
Elston spent the last 18 seasons working under Brian Kelly, who left for LSU after the 2021 regular season. His other stops with Kelly included Central Michigan and Cincinnati. During his time in South Bend, Elston coached the defensive line, ran Notre Dame's recruiting and also spent two seasons coaching the linebackers from 2015-16. He also was the team's associate head coach the last four seasons.
RELATED: Get the latest on Jim Harbaugh's contract and other breaking news. Take advantage of our $1/year deal for instant access to the best insider content in the market!
Elston had a big hand in the development of eventual NFL talent at all of his stops with Kelly. The list of prospects he turned into professionals is impressive.
Mike Elston's track record of developing talent
2007: DE Dan Bazuin, Central Michigan (Second round, Chicago Bears)
Elston was CMU's co-defensive coordinator and defensive line coach in 2005 when Bazuin put together a monster campaign. He finished with 26.5 tackles for loss to lead the nation and tied a MAC record with 16 sacks. Unrelated to Baziun, Elston also coached two All-MAC linebackers in 2006 in Rod Keith (first team) and Stephen Friend (second team).
2009: P Kevin Huber, Cincinnati (Fifth round, Cincinnati Bengals)
Elston was Cincinnati's special teams coordinator all three years he was there, which included helping Huber to pro status. Huber was a two-time first-team All-American and has spent his entire NFL career with the Bengals.
2010: WR/KR Mardy Gilyard, Cincinnati (Fourth round, St. Louis Rams)
Like Huber, Gilyard was part of Elston's special team's tutelage. He was an All-American as a kick returner in 2008 and a two-time Big East Special Teams Player of the Year (2008-09).
2014: DL Louis Nix III, Notre Dame (Third round, Houston Texans)
Nix and Stephon Tuitt were the first pair of Irish defensive linemen to earn All-American status in the same season since 1989 when they did it together in 2012. That tandem was also the first since 1997 from Notre Dame to come off the board in the first three rounds.
2014: DL Stephon Tuitt, Notre Dame (Second round, Pittsburgh Steelers)
Tuitt's accolades get thrown into much of Nix's bio above. He finished his career with 21.5 sacks, which tied him for third in program history. Tuitt was a first-team All-American in 2012, while Nix was third-team.
2016: LB Jaylon Smith, Notre Dame (Second round, Dallas Cowboys)
Elston spent two seasons at Notre Dame in charge of the linebacker room. Smith was his star pupil, finishing the 2015 season as a Consensus All-American and winner of the Dick Butkus Award for the nation's top linebacker. He would have been a surefire first-round pick if not for a knee injury suffered in the Fiesta Bowl.
2016: DT Sheldon Day, Notre Dame (Fourth round pick (Jacksonville Jaguars)
At one point, Notre Dame had Dax, Nix and Tuitt on the same defensive line. However, they would only have 23 snaps together over the final 10 games of the 2013 season. Day was able to develop into a force in the middle for the Irish and was a first-team All-American in 2015.
2019: DL Jerry Tillery, Notre Dame (First round, Los Angeles Chargers)
Tillery was an All-American in 2018 and left all FBS interior linemen in quarterback hurries (31), sacks (eight) and quarterback hits (44). He parlayed that success into a first-round selection with the Chargers.
2020: DL Julian Okwara, Notre Dame (Third round, Detroit Lions)
Okwara was a team captain and had a breakout campaign in 2018 with seven sacks and 11 tackles for loss. He would join his brother, Romeo Okwara, in Detroit during the 2020 NFL Draft.
2020: DL Khalid Kareem, Notre Dame (Fifth round, Cincinnati Bengals)
Kareem recorded 4.5 sacks and 10 tackles for loss during the 2018 campaign under Elston. He was then PFF's highest-rated defensive player in 2019 with an 85.1 grade.
2021: DL Adetokunbo Ogundeji, Notre Dame (Fifth round, Atlanta Falcons)
Ogundeji was a team captain for the Irish and named All-ACC Honorable Mention for his play in 2020.
2021: DL Daelin Hayes, Notre Dame (Fifth round, Baltimore Ravens)
Hayes was one of Elston's captains and was also named All-ACC Honorable Mention.