Minnesota basketball's strong finish secures the upset bid at Michigan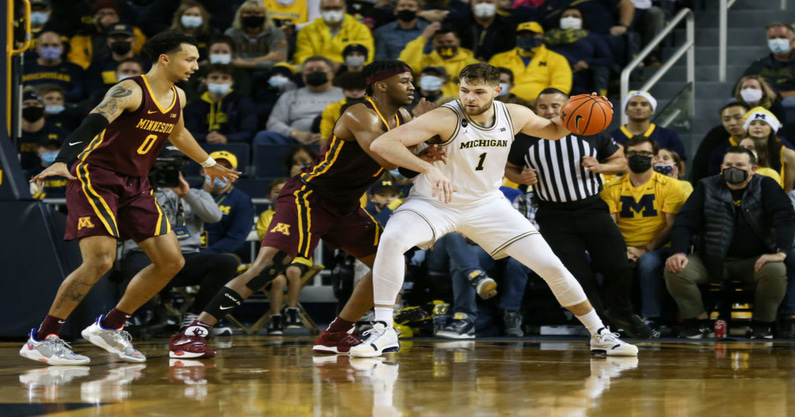 Heading into this game, Minnesota was a 13.5 point underdog and have not won at Crisler in ten years. Minnesota came into the game undefeated away from home at 4-0, already including a double digit underdog win at Mississippi State. It was evident right away the Gophers were not afraid of the matchup.
Minnesota needed their studs Jamison Battle and Payton Willis to step up and show out, and they did, especially in the 2nd half. Jamison Battle went for 21 2nd half points, and Payton Willis had 13 points in the 2nd half alone. Michigan did a good job on them in the 1st half, but let them free when it counted the most. Michigan had their opportunities in the last eight minutes to cut the deficit, and I try to show how the little things stood in their way.
Game Review
Player Review
Hunter Dickinson: Hunter had some tough misses late in the game. There were spacing issues again, as there have been all season, but thought he played it pretty. The drop step he had in the paint on Curry to finish with his right hand, he'd like to have back. He finished with 19 points, 10 rebounds, and two assists. Earning his fourth double double on the year, and his third in a row.
Caleb Houstan: Caleb struggled a bit on the floor on both ends. He finished with eight points and three rebounds. He didn't shoot the ball well, but he took good shots. Minnesota focused on him and Eli the most on the perimeter. One positive to take away is his maturity and growth. Earlier in the year he would have started taking bad shots, and sunk Michigan completely. He stayed engaged, and took what the defense gave him.
DeVante' Jones: For the second game in a row, Jones did not commit a turnover. In the last three games he has 12 assists and one turnover. He had his best offensive game scoring 14 points, and shot 50% from the floor. The negative, he missed a few jump shots and then completely stopped taking them. He even stopped taking the uncontested jumpers between 15 and 17 feet and as the starting guard of a team with goals of a Big Ten, Final Four, and national championship, he has to be able to shoot those shots with confidence.
Eli Brooks: Eli is experiencing being the focal point of the defense for the first time in his Michigan career. He's no longer able to float as the 4th or 5th option. Through ten games he's the 2nd leading scorer, and the leading scorer for perimeter players. He scored 12 points but they did not come easy. Minnesota chased him off screens, hard hedged him using their best defenders. He has to find a way to stay engaged, and continue to have a positive impact on this team. Michigan needs him to be a solid, consistent presence.
Moussa Diabate: Moussa's energy is contagious. I enjoy watching him play. His energy in the full court press generated turnovers, and gave Michigan a chance to come back and win. Moussa was out the last two games due to illness, and played 32 minutes against Minnesota. He had seven points and 13 rebounds.
Frankie Collins: This was the first game where I saw a team game plan for Frankie once he checked in. Before Minnesota, teams were in basic defense, no specific instructions. I wanted the staff to protect Frankie a while longer, but I think the secret is out on Frankie's tendencies. For a team that already has poor spacing, Frankie will need to work on his jumper and free throw shooting in this down time before the meat of conference play.
Brandon Johns and Terrance Williams: The minutes for Johns and Williams were interesting. After combining for 42 points in 43 minutes on 15 for 21 shooting, five for six from distance at Nebraska. The spacing was great in that game, the offense clicked, the ball popped. Against Minnesota they played 19 minutes, took two shots for no points.
Kobe Bufkin and Zeb Jackson: Neither guard played. I thought after Nebraska, it showed that at least Zeb could keep quick guards in front of him. Payton Willis is about 6'4″, Zeb at 6'5″ offers some quickness and length against a big aggressive guard.