Top five moments of 'legend' Cade McNamara's Michigan career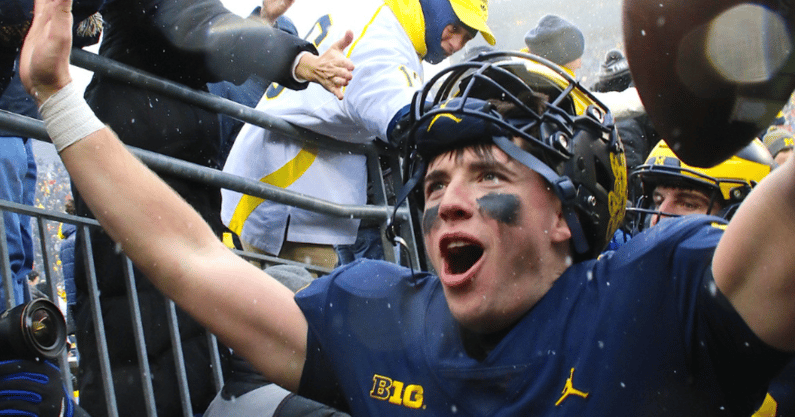 Michigan Wolverines football senior captain Cade McNamara entered the transfer portal this week. He spent four years in Ann Arbor, was injured this season and has two years of eligibility remaining. The Maize and Blue quarterback will go down as a legend within the program, beyond the plays he made on the field.
A steady hand, McNamara has been a leader from a young age. He was "different" than most middle schoolers, elite quarterback trainer Jordan Palmer said, in the way he worked and his mindset.
"Honestly, I've probably spent as much time with Cade as anybody," Palmer said on the Rich Eisen Show last year. "The family never missed a camp, he was living in Reno, always coming back down.
"By no means was he ever the guy where you said, God graced him with … he's not 6-5, he doesn't have the craziest arm I've ever seen, he doesn't run a 4.2 [40-yard dash]. He's just got a little something different in him, the way he competes."
RELATED
• Michigan football's Blake Corum wins Big Ten running back of the year, other Wolverines honored
• Wolverine Watch: 'Butt-whappin' Michigan eyes a title
That competitiveness reminds Michigan head coach Jim Harbaugh a bit of himself, actually.
"Cade — I often think about that, like he's a young Jimmy Harbaugh," Harbaugh told Fox Sports at Big Ten Media Days. "I can just see it. He's a great competitor."
McNamara got his shot to lead the Wolverines late in the 2020 season, and didn't give it up from there. He started all 14 games in 2021, leading Michigan to its first Big Ten title since 2004, third-ever 12-win season and first-ever College Football Playoff appearance. He threw for 2,576 yards and 15 touchdowns with 6 interceptions.
Michigan sophomore J.J. McCarthy replaced him as the starter one game into the 2022 campaign and became the first-ever U-M starting signal-caller to win his first 11 games. McNamara has been off in Los Angeles rehabbing for the last several weeks, but checked in with the quarterback room throughout the process, and his teammates made sure he kept his spirits up as he works to get healthy.
McNamara was perfect for the 2021 team. His leadership was off the charts, and he made big plays at key moments. He vowed to make sure Michigan was "different" — like himself — not wilting when adversity strikes but instead rising to the occasion. That's what Harbaugh has been looking for in a quarterback and team leaders since he arrived Dec. 30, 2014.
At the same time, McCarthy seems to be the right for the 2022 squad, which is 12-0, No. 2 in the country and set to take on Purdue in the Big Ten championship game. His high-level skill set as both a passer and runner have been on display all season, and showed in the biggest game at Ohio State, when he threw for 263 yards and 3 scores and rushed for a touchdown.
McCarthy couldn't have gotten to this point, though, without McNamara's guidance. Watching him work and competing with him over the last two years has been a valuable experience.
"Not at all, not at all," McCarthy said when asked if he'd be in this position without McNamara. "I take lessons and educate myself from everyone I interact with. But that guy has done so much for me, and I can't be appreciative enough for everything he's done."
Michigan co-offensive coordinator Matt Weiss took it one step further.
"The guy is a Michigan legend," Weiss pointed out. "I don't say that lightly. But he's 12-2 as a starter here, he's in the top 10 in every single-season quarterback record [for the program], he was voted All-Big Ten by the coaches [in 2021], was voted team captain by the players, won the Big Ten, beat Ohio State.
"So, he's a Michigan legend, and we're just really grateful for Cade and everything he did here. I know J.J. said the other day that he wouldn't be where he is without Cade. I think that's true; the other thing I would add to that is, we wouldn't be where we are as a team right now without Cade."
That's powerful, and absolutely true. McNamara embodies the grit Harbaugh is looking for in all of his players. And despite the exit being a bit underwhelming, with McNamara struggling at the beginning of the season and publicly displaying his displeasure with the decision for the quarterback competition to go into the season, his career here will be remembered fondly, to say the least.
"I wish him nothing but success," Weiss continued. "His story is still being written. … I hope we don't have to play him."
Here are the top five moments of McNamara's career at Michigan.
1. Comeback Cade
It's funny to think about what McNamara looked like back in 2020. A young player, the redshirt freshman had blonde frosted tips, was more mature than he looked and had the same bravado he's always carried.
He got his moment to take over the Michigan offense Nov. 22, 2020 in Piscataway, N.J., of all places, in front of more cardboard cutouts than fans.
With starter Joe Milton struggling and Michigan down 17-0 in the second quarter, Harbaugh turned to McNamara. He immediately injected life into the offense.
Boom, a 46-yard touchdown pass to wideout Cornelius Johnson. And then an 8-yarder to tight end Nick Eubanks in the third quarter. A 6-yard scoring toss to slot Mike Sainristil in the fourth. A 9-yarder to Johnson that same stanza. A 2-yard touchdown run in the first overtime. By the time the night was over, Michigan came away with a 48-42 triple-overtime victory.
He absolutely made plays, completing 27 of his 36 passes for 260 yards and 4 touchdowns, adding the aforementioned rushing score, but the feel of the offense and the entire team was different with him in the game.
He would start the following week against Penn State, before injuring his shoulder and leaving the game, a Michigan loss at The Big House.
2. Wisconsin win
"Can Michigan pass?" has been a question fans and media have asked at times over the last two seasons. Every time it gets posed, though, it feels like the Wolverines answer it with an emphatic, 'yes.'
Last September, McNamara went 7-of-15 passing for 44 yards in a 31-10 win over Washington, with the Wolverines' run game racking up 343 yards and 4 scores. Two weeks later, he went 9-of-16 for 163 yards in a 20-13 win over Rutgers that was too close for comfort.
Michigan traveled to Wisconsin next, and the Badgers touted the nation's No. 1 rushing defense at the time. The Wolverines would have to enjoy some success through the air to get it done at Camp Randall, where they hadn't won since 2001.
McNamara silenced the doubters — something he relishes in doing — by connecting on 17 of his 28 pass attempts for 197 yards and 2 scores in a dominant, 38-17 win.
He was on point, from his 34-yard touchdown to Johnson on a flea flicker to his 13-yarder to the same receiver in the corner of the end zone.
Hey, the Michigan offense had some juice, after all.
3. Gritty victory at Penn State
Again and again, the 2021 Michigan Wolverines were proving they were "different." Beating Wisconsin in Madison was a huge feat. Following that up with a comeback victory over Nebraska in front of a raucous crowd in Lincoln was another big step.
Penn State had been another house of horrors for the Maize and Blue, but they got it done as they marched toward a showdown with Ohio State at the end of the season.
McNamara had two beautiful touchdown passes in the game, a 21-yarder on a post route to wideout Roman Wilson and a laser to Wilson on the goal line. It was a tough day offensively for each team (both squads played great defense). Facing 3rd and 11 at his own 24-yard line, McNamara was strip sacked, with Penn State recovering. The defense held the Nittany Lions to a field goal, but Michigan trailed 17-14 with 5:55 to go and momentum on the opposite sideline.
Beaver Stadium was silenced in a hurry. McNamara found tight end Erick All over the middle on a crossing route. All took it the distance for a 21-17 score that served as the game-winner.
"How 'bout them Wolverines?" Harbaugh said in the postgame press conference. "If that's not grit, I don't know what is!"
"That's my quarterback," defensive end Aidan Hutchinson said, smacking McNamara's shoulder pad in affection.
This was an emotional one for McNamara. As a freshman, redshirting, he saw Michigan fall behind big and come up just short at Penn State in 2019. Facing adversity but coming through at the end was a prime example of the "difference" McNamara referred to so much.
4. Magic against Ohio State
The Michigan ground game was the story against Ohio State, with the Wolverines rushing for 297 yards and 5 scores in a 42-27 win. But McNamara orchestrated the offense and made some big-time throws, too.
He connected on 13 of his 19 passes for 159 yards with 1 interception early in the game as the Wolverines were looking to go up 14-0 early in the first quarter. He didn't let the mistake deter him, though. His best throw was on a deep ball to Johnson, who slid to catch the 37-yard pass near the goal line.
The photo of McNamara running up the tunnel, smiling, high-fiving fans, with the game ball in his hands (he gave it to running back Hassan Haskins), is legendary.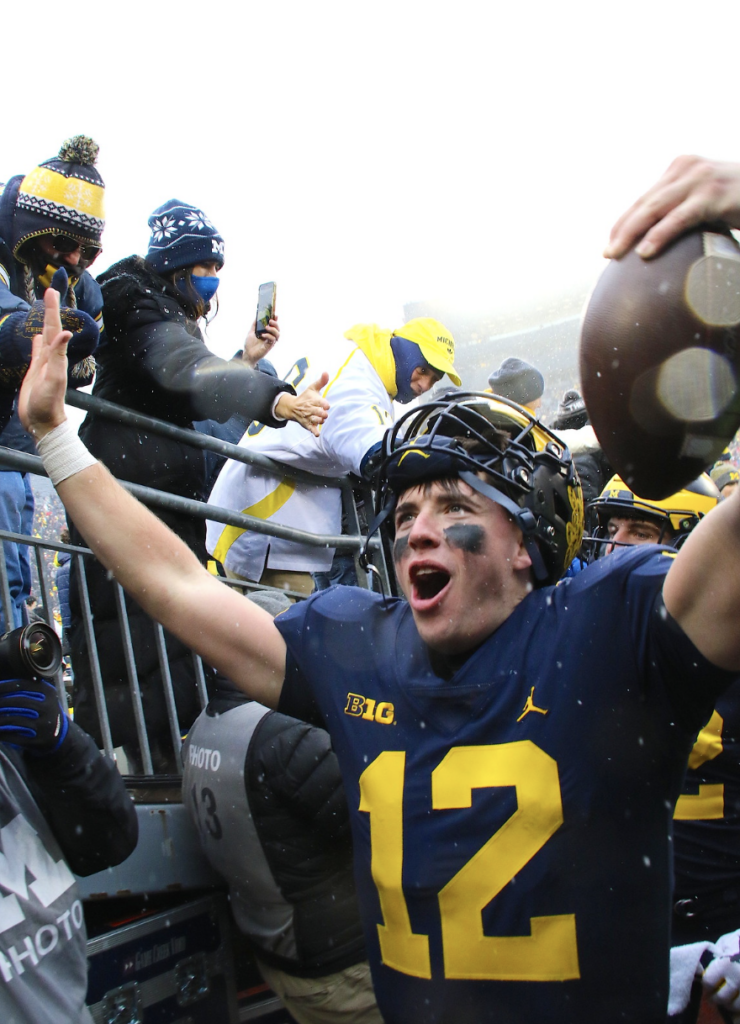 5. Big Ten champs
There have been plenty of good, even some great, Michigan quarterbacks who haven't won the Big Ten title. The Wolverines hadn't done it in 17 years until the McNamara-quarterbacked group did so last December, beating Iowa 42-3 in Indianapolis.
McNamara played a solid game, hitting 16 of his 24 passes for 1 touchdown with 1 interception. Going against a very good Iowa defense, the Wolverines checked a lot of plays at the line in the second half, with McNamara leading that effort with help from the coaching staff.
That night in Indy, he became a champion forever.