Santa Ono has been everything hoped and more for athletics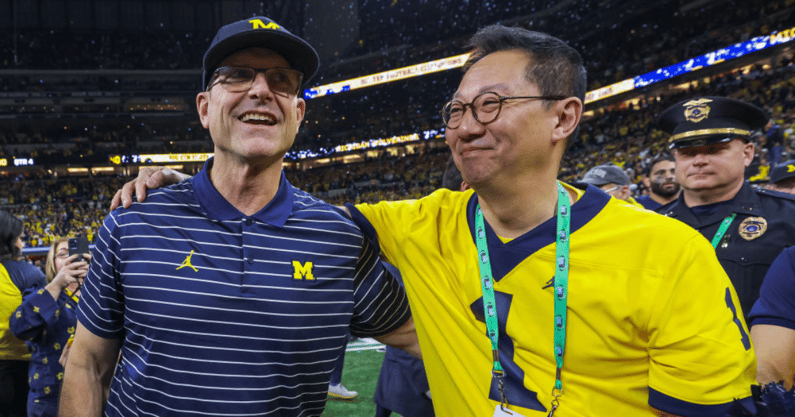 Michigan president Santa Ono has only been on the job for 4 months or so, but he's already living up to his billing as an athletics-friendly president. Ono was involved in keeping Jim Harbaugh at U-M when the coach was flirting with the NFL's Denver Broncos. In fact, he was the one who announced Harbaugh would be staying, noting he'd communicated it to athletic director Warde Manuel after Harbaugh chose to tell the president.
RELATED: ITF EXTRA — The latest on Michigan O.C./QB coach search
RELATED: Blake Corum's prized Camaro stolen in Ann Arbor
Upon his arrival, Ono insisted he wanted Michigan athletics to be "at the highest level," raising his hand above his head as though he were setting the bar. He's been all action since, visible at several sporting events. He spent literally hours talking to people at the team hotel in Arizona for the Fiesta Bowl, and he tossed t-shirts into the crowd at the pep rally.
"Amazing" is how Ono has been described by the coaches on campus. Some have said he's a "rock star," and it's clear he's already the most athletics friendly president U-M has had (though Mary Sue Coleman was very good, too).
It only makes sense, Ono told reporters at the Fiesta Bowl. If you have great athletics, you get more student applications. If you have more applications, you get more of the best and brightest to join the school.
He was in the stands at Sunday's Michigan basketball win over Minnesota sitting across from many of them, pumping up the crowd. The students went nuts when they flashed his picture on the big screen.
Afterward, head coach Juwan Howard gave Ono a handshake and a hug. When they separated, Howard brought him in for another embrace.
The Michigan coach put his head down and smiled when asked about their relationship in the postgame.
"President Santa …. I'm so happy that we have President Santa to be a part of the University of Michigan. That was the best hire, I could say, because of his energy, his care, and love for people," Howard said. "How he loves his students, and also how he supports his student athletes. It's not only men's basketball, but women's basketball, football, gymnastics … supporting everything about the school and what the school stands for.
"I've enjoyed the relationship we've built and will continue to keep building. There's nothing like having someone you can trust and who is in your corner. He wants to see me and my staff and my players be successful. He's all in on trying to make sure we have the resources we need to be successful."
Harbaugh has publicly praised Ono and thanked him for his support, as well. Ono has been working on getting Michigan's Name, Image, and Likeness game up to par, too, and has helped U-M make progress there.
There's still work to do, but it's clear those in the athletic department believe in him.
"I love President Santa," Howard said again as he walked away from the podium.
Sharing the sentiments of just about everyone at the university only months into his tenure.