Tyler Morris is the 2023 Michigan breakout candidate on offense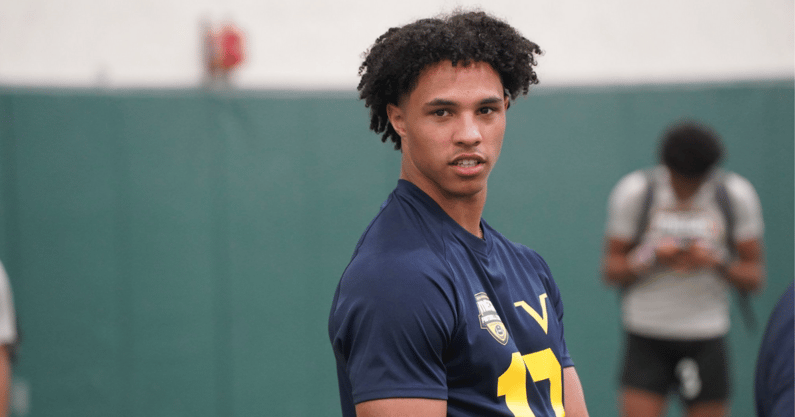 At every Michigan spring press conference, players are asked who they see as the "up-and-comers" … guys who are making moves in spring and ready to unleash it on opponents this fall. 
RELATED: ITF EXTRA: Rumblings from Michigan spring football practice – Offense
RELATED: ITF EXTRA – Rumblings from Michigan spring football practice – Defense
And at just about every presser so far, Tyler Morris has been one of the guys mentioned, sometimes more than once. The slot receiver was mired on the depth chart a season ago but still came up with some plays in his opportunities, including a big, third down catch at Rutgers in a closer than expected game. 
In short, though not the biggest or the strongest on the team, he's one of the "stock risers" catching everyone's eye for his playmaking ability. 
"I feel like it's going good. For me, it's just a lot more comfortable," Morris said. "Last year, freshman year, you're trying to figure everything out, [get to] know the offense. You don't really know just how the program works completely. I was still trying to come back from my knee [injury] a little bit. 
"This year I felt just more comfortable, used to things, knowing how it goes. Not as much trying to figure everything out."
The injury, suffered in high school, set him back a bit. Michigan coaches, though, never wavered in taking his commitment, having seen how special he could be. A self-described "quick twitch" guy, he's got the make-you-miss ability and hands to a great one.
By May of last year, when he was finally healthy, he started to really show it. Even before then, Michigan coach Jim Harbaugh called him part of the "freak show" with Darrius Clemons and Amorion Walker, athletes at the position who could all make a different. 
Watching grad Ronnie Bell and learning from his was his focus, and he's picked up a lot from the former Michigan receiver. That includes bringing it on every play, whether or not the ball is coming to him.
"I looked at him a lot, just being an older guy," Morris said. "That's what I'm hoping to do, step into the role he had last year and try to take what I learned from him and apply it to my game. 
"I have no issue with blocking. That's just part of the game. You can't be a receiver and only expect to catch, score touchdowns, all that. Especially at our school … we have great backs. We're going to run the ball, so you'd better be able to block. I feel like it's a mindset, being physical and not being scared to go hit somebody."
It's all slowed down for Morris this spring, and the sophomore admitted it came fast and furious last year. Playing at Michigan isn't easy, and he didn't expect it to be, but there was a learning curve. 
Now, though, he's starting to pick it up, and his teammates and coaches are noticing.
"It feels good to be noticed like that. For me, I'm kind of just proving it to myself," Morris said. "That's kind of where I expect myself to be, so it was nice seeing other people start to see me that way. I'm just looking forward to this year to go through it."
There are months to go, of course, but he's improving every day. By September, expect him to be part of the rotation on a Michigan offense that seems primed for a huge year.