Update on the 2022 Michigan Basketball Recruiting Class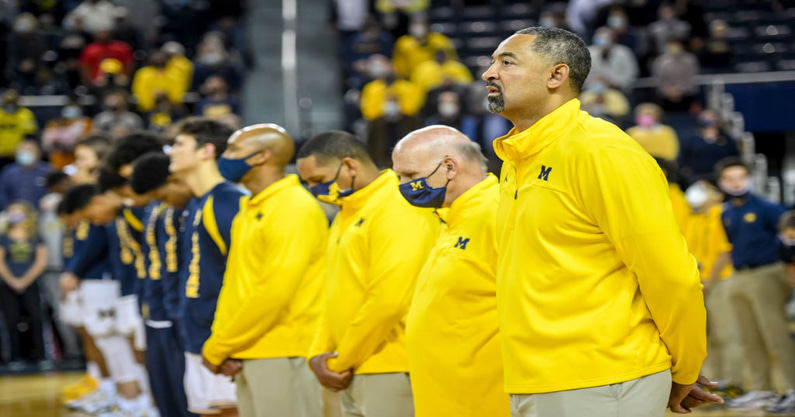 Michigan basketball's start to the 2021-22 season has been frustrating. The Wolverines are sitting at 7-5, with some losses leaving fans confused and bewildered. It is a fair assessment that there have been struggles with consistency, personnel, game planning, and execution. Despite the issues so far this season, it's never too early to take a look at the new recruits from the early signing period. We have a full video breakdown of Michigan's class of 2022 below featuring Gregg Glenn, Dug McDaniel, Tarris Reed, and Jett Howard.
Michigan 2022 Frontcourt Signees
Gregg Glenn: Glenn is a 6'7″ 215 pound forward out of Calvary Christian in Florida. He's a versatile forward who likes to be a swiss army knife on the basketball court. He's at his best when attacking the rim, getting in the paint, using his body to finish or create for teammates. I highlighted in the video how he tends to float on the perimeter more than he should, and disengage from the action on the court. Michigan has had a spacing issue this season, and may continue to have one next year based on the construct of the roster. Glenn will need to improve his outside jump shot to help some of that spacing. Glenn chose Michigan over LSU, Florida, Arkansas, Alabama, and other high major programs.
Tarris Reed: Reed is a 6'10" 230 pound Power Forward/Center out of Missouri. He was at Chaminade Prep, the former school of NBA stars Bradley Beal and Jayson Tatum. Reed transferred to Link Academy for more competition. His trajectory over the last two years has been impressive. Underrated handling and shooting ability with the confidence to be a back to the basket or face up scorer in the post and mid-post. Reed was almost an Ohio State commit until he was encouraged to take the rest of his visits. He saw a brighter future with Juwan Howard at Michigan. Tarris chose Michigan over Michigan State, Ohio State, Indiana, Florida, Illinois, and others.
Backcourt Signees
Dug McDaniel: McDaniel is a 5'10″/5'11" point guard out of Paul VI in Northern Virginia. He came from the WCAC, the toughest athletic conference in the country. McDaniel was always a secondary option due to playing with two All Americans, and current guard starters at Duke, Jeremy Roach and Trevor Keels. McDaniel has grown in his new role as the go-to player, needed to provide scoring, shooting, creation, and leadership. In my opinion, he is the toughest player in this class. His high motor and fearless attitude will be exciting to watch in Ann Arbor. Dug chose Michigan over Florida, LSU, UConn, and others.
Jett Howard: Howard is a 6'7″ 220 pound shooting guard out of Florida. He's a good shooter, good with the basketball, not afraid to take and make big shots. Jett is someone who lives for the moment. His outside shooting will be sorely needed next season after Michigan loses Eli Brooks. It has to be tough being a Top 40 recruit while your dad is the head coach of one of the top basketball programs in the country. In that situation, it's tough going through a regular recruiting process but I like how the family gave him space and allowed him to have the process he deserved. Jett chose Michigan over Georgetown, Tennessee, NC State, and others.