Wolverine TV: Breaking down four-star TE Deakon Tonielli's Michigan commitment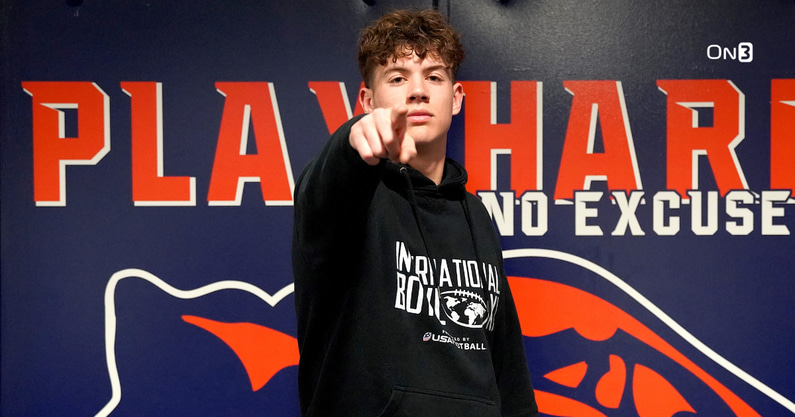 TheWolverine.com's Trevor Ritchie and EJ Holland return with a quick episode of the recruiting podcast to break down four-star tight end Deakon Tonielli and his commitment to Michigan. Subscribe to The Wolverine on YouTube and enable alerts to view new highlights and videos uploaded regularly. 
How did Michigan land Tonielli?
Holland: "You had the home-state school Illinois making a big push. Tennessee also made a big push for him, but at the end of the day I think the opportunity to play at Michigan in that kind of atmosphere – Michigan obvious having a bigger global brand than Illinois – I think played a role, as well as just Michigan's rich history with tight ends. They are very important to Michigan's offensive scheme and what they plan to do. I just think he saw it as a really good fit even before the official. He made his official visit this weekend. I think he just got all the answers he was looking for. He really bonded well with new Michigan tight ends coach Grant Newsome, who was able to close with a commitment before he left campus."
Big picture: What does this mean?
Holland: "It's an important commitment just because it ends a drought. The last time Michigan had a commitment was late March sometime with Benjamin Hall, three-star running back out of Georgia. Big picture – it ends the drought, definitely gets momentum back on Michigan's side. I don't think Tonielli is that big name that really gets the snowball effect going, but any type of momentum definitely helps."
Who's next at TE for Michigan?
Holland: "In the 2023, there's still a possibility to take another tight end. Chico Holt, a three-star out of Houston, visited last weekend. He's more of a blocking tight end. Kade Eldridge is visiting this upcoming weekend out of the Pacific Northwest. He is a converted defensive end that likes to get physical, so again a more blocking-type tight end. So, when you have such an athletic flex end like Tonielli – who if you look at his film, it's really mostly just him split out wide – they're really looking for another guy who can block. […]
"I think right now Michigan is in a better spot with Holt as opposed to Eldridge, so we'll see if that plays out. They could balk and just take Tonielli and look to 2024. There are some really talented tight ends that Michigan is in the mix with there."
The Wolverine, $1 for 1 year
This subscription will give you access to premium Michigan football, basketball and recruiting content. Our team of recruiting insider EJ Holland, team insider Chris Balas, columnist John Borton, staff writers Anthony Broome and Clayton Sayfie, and contributors Trevor Ritchie and Marshall Levenson make up the best team in the Michigan market.
You can also subscribe to The Wolverine magazine, which is published monthly for a total of 11 full-color issues annually. The Wolverine Football Preview Magazine, a full-color, 164-page magazine packed with great information about the upcoming season, will be available in July for individual purchase.
Follow The Wolverine on various social media channels, including Facebook, Twitter, Instagram, YouTube and TikTok. The Wolverine podcast shows are available on iTunes and Spotify and are released on an almost daily basis. Video versions of every podcast can also be found on our YouTube channel.