Wolverine TV: Breaking down the five highest-ranked Michigan official visitors from the weekend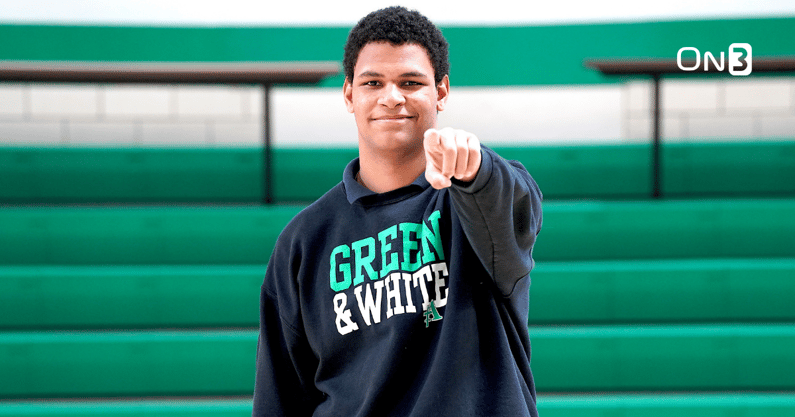 TheWolverine.com's EJ Holland provides updates on the five highest-ranked Michigan official visitors from this past weekend in our latest episode of the recruiting podcast. Holland covers OL Charles Jagusah, WR Johntay Cook, ATH Jacobe Johnson, DL Jason Moore and LB Raylen Wilson. 
Five-star OT Charles Jagusah
Holland: "He's a kid that was hidden for a while. Not a lot of people had eyes on him. He's really exploded in terms of recruiting rankings, in terms of recruiting value – a lot of top schools in on him. He's the No. 1 offensive tackle in the country, the No. 7 overall prospect in the country. So, he's a legitimate true star at the tackle position. Right now, I think this is a Notre Dame-Michigan battle. […] I still feel like Notre Dame is the favorite in that recruitment." 
Four-star WR Johntay Cook
Holland: "He's having a great time on campus. Early returns are that Michigan really surprised him and moved the needle. I think Michigan is kind of that dark horse in this recruitment. From a personality standpoint, he kind of reminds me of Xavier Worthy — in a good way in terms of everybody expects him to stay out west. I think he could surprise a lot of people and end up committing to Michigan. […] They bring a similar skill set. They have a similar build. I would really liken Cook to Worthy on and off the field. I think this is going to be a wild recruitment."
Michigan ATH target Jacobe Johnson 
Holland: "He's really outgoing… colorful personality… also a high academic kid that's considering Stanford. Multi-sport kid that runs track, also plays basketball. He's a high-level recruit as a basketball player — not necessarily Power Five but did get some G5 interest. He even toured the Michigan basketball facilities and wants to play both sports at the next level. I think Michigan is very much in the mix for Johnson." 
Four-star DL target Jason Moore
Holland: "I think he is a guy that can play multiple roles. I think he projects well as a 3-tech. He got some early looks as a pure edge rusher. I think he can play there at times, but I think he's going to continue to add weight and be a dominant force as a 3-tech. Another Notre Dame-Michigan type battle with Ohio State also thrown into the mix there. […] We'll know a lot more after all of his visits conclude."
Michigan LB commit Raylen Wilson
Holland: "Coming out of the visit, I think Michigan hit a home run. I'm more optimistic about Michigan keeping Raylen than I was before the visit. At the same time, it looks like he is going to continue to make visits. Florida and Georgia are looking to host him for game day visits in the fall, but his connections to the Michigan staff — specifically linebackers coach George Helow — gives Michigan a really, really good chance to keep him."
The Wolverine, $1 for 1 year
This subscription will give you access to premium Michigan football, basketball and recruiting content. Our team of recruiting insider EJ Holland, team insider Chris Balas, columnist John Borton, staff writers Anthony Broome and Clayton Sayfie, and contributors Trevor Ritchie and Marshall Levenson make up the best team in the Michigan market.
You can also subscribe to The Wolverine magazine, which is published monthly for a total of 11 full-color issues annually. The Wolverine Football Preview Magazine, a full-color, 164-page magazine packed with great information about the upcoming season, will be available in July for individual purchase.
Follow The Wolverine on various social media channels, including Facebook, Twitter, Instagram, YouTube and TikTok. The Wolverine podcast shows are available on iTunes and Spotify and are released on an almost daily basis. Video versions of every podcast can also be found on our YouTube channel.