Wolverine TV: Michigan recruiting takeaways from BBQ at The Big House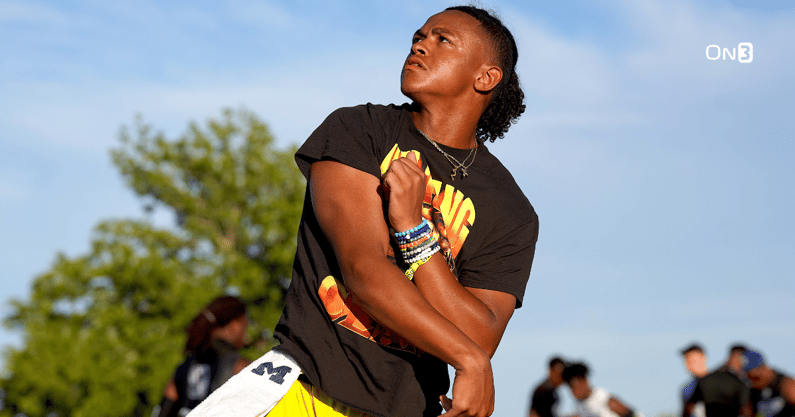 Michigan hosted its annual BBQ at The Big House recruiting event over the weekend.
The Wolverines hosted a handful of key 2023 targets as well as several high-profile 2024 recruits. U-M also came away with a big win on the trail, notching a commitment from On300 Washington (D.C.) Gonzaga offensive lineman Evan Link.
Link picked U-M over offers from Florida State, Kentucky, Miami, Penn State, South Carolina, Stanford, Tennessee and others.
In this video, The Wolverine's EJ Holland shares his thoughts on Link's commitment and where U-M stands with Top 100 offensive lineman Caleb Lomu, four-star defensive backs Chris Peal and Jyaire Hill and elite 204 quarterback Jadyn Davis coming out of the BBQ.
Watch the full breakdown below.
Michigan's 2023 recruiting class ranks No. 25 nationally with 13 commitments.
Along with the aforementioned Link, the Wolverines hold verbal pledges from On300 Colleyville (Texas) Covenant EDGE Enow Etta, On300 Rancho Santa Margarita (Calif.) High EDGE Collins Acheampong, On300 Dexter (Mich.) High running back Cole Cabana, On300 Philadelphia (Pa.) Imhotep Charter linebacker Semaj Bridgeman, Consensus four-star West Bloomfield (Mich.) High offensive lineman Amir Herring, four-star Oswego (IIl.) High tight end Deakon Tonielli, three-star Kennesaw (Ga.) North Cobb running back Benjamin Hall, three-star St. Louis (Mo.) Cardinal Ritter Prep wide receiver Fredrick Moore, three-star Wilmette (Ill.) Loyola defensive lineman Brooks Bahr, three-star West Bloomfield (Mich.) High wide receiver Semaj Morgan, three-star French EDGE Aymeric Koumba and three-star Ann Arbor (Mich.) Huron kicker Adam Samaha.
Michigan's class ranks fourth in the Big Ten behind Ohio State, Penn State and Michigan State.