Wolverine TV: Q&A, Game Clips of 2025 Michigan CB commit Chris Ewald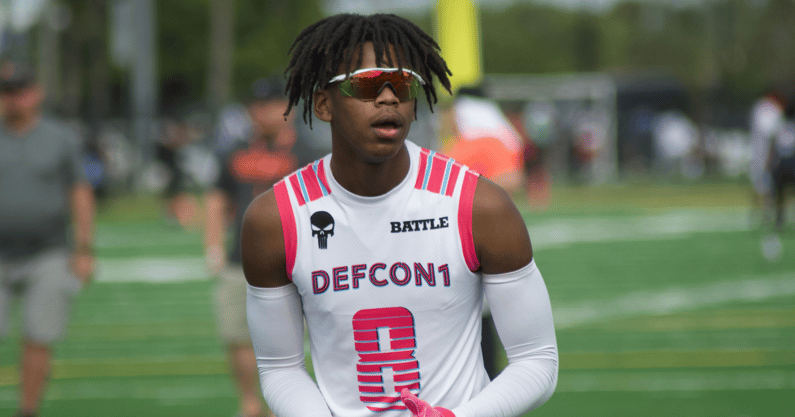 Michigan is in the midst of finishing out the 2023 class strong with a few targets still left on the board and transitioning to a full concentration on the 2024 cycle after the traditional signing period on February 1st.
But the Wolverines were gifted a hot start to its 2025 class this past December when 2025 Hollywood (Fla.) Chaminade-Madonna cornerback Chris Ewald Jr. announced his verbal commitment.
Ewald, who first debuted in Ann Arbor right before his freshman season at the South Florida elite prep school in the summer of 2021, made three more returns in the 17 months leading up to the surprise shut down of his recruitment. Most recently, Ewald was in attendance for the Penn State game back in mid-October and also check out the annual spring game in April.
The Wolverine caught up with Ewald down in Florida last weekend for the Battle Miami 7v7 Tournament where the rising sophomore competed and dominated with DEFCON1. Ewald was the lone Michigan commit at the event but he's determined to bring a South Florida flavor up north by recruiting other top prospects in the area.
"It feels great knowing that Michigan is going to the school where I continue my football legacy in the next two years," Ewald said. "It all started with creating a close relationship with Coach (Steve) Clinkscale and Coach (Jim) Harbaugh. When they first offered, our relationship just grew over time as I was able to get to know them more from a personal aspect. That's when I knew Michigan was the school that was the best fit for me."
Watch the full Q&A and game clips from the showcase last weekend below.
At 6-foot-1 and 170 pounds, Ewald is ranked as the No. 5 cornerback nationally and No. 29 overall prospect in the country. He is also ranked as the No. 5 overall recruit in the state of Florida, per the On3 Consensus.
Ewald has an On3 NIL Valuation of $61K with 1.6K followers on Twitter. The On3 NIL Valuation is an index that looks to set the standard market value for both high school and college-level athletes. The NIL valuation does not act as a tracker of the value of NIL deals an athlete has completed to date. It rather signifies an athlete's value at a certain moment in time.
Michigan, who's only one-of-two Big Ten schools to possess a 2025 commit next to Ohio State, is also one-of-ten Power 5 programs to hold at least one rising sophomore verbal pledge as well.