Dave Doeren sees a team with chip on its shoulder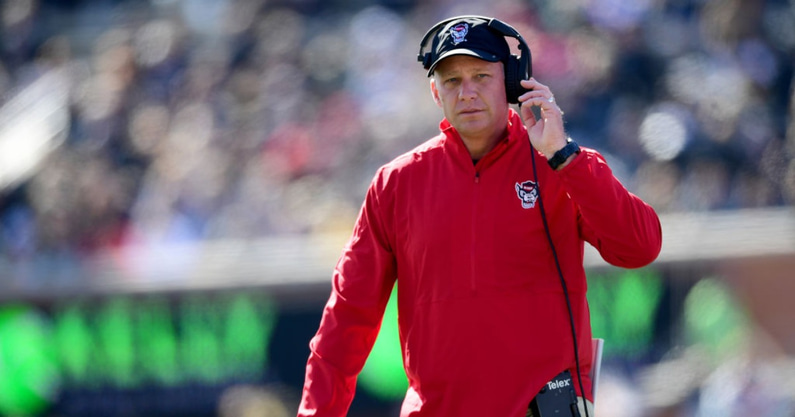 NC State football coach Dave Doeren probably enjoys a lot about Amelia Island in Florida, but it is hard to take too much pleasure in the scenery when you are indoors for most of it. Doeren estimated he spent about 17 hours inside the rooms for ACC Spring Meetings this week.
On an appearance on the ACC Network's Packer and Durham, Doeren admitted he was eager to get back to his team. However, during a time of dramatic shifting for college athletics, Doeren noted there was good togetherness amongst coaches and administrators.
"It's a good group," Doeren said. "[Wake Forest head coach] Dave Clawson has done a nice job of kind of keeping us informed on everything."
It has been a busy time for Doeren. Two weeks ago he was in Las Vegas for the NFL Draft, watching NC State football All-American Ikem Ekwonu be picked with the sixth overall selection by the Carolina Panthers.
Doeren called the experience "magical," but he also found some added vindication to the developmental approach of his program. Doeren noted that former first-round draft picks Bradley Chubb and Garrett Bradbury were both three stars or less coming out of high school.
"Our blueprint is very proven," Doeren said. "It continues to add to it and create the scenario [with] a parent or a recruit, where you can say, 'Here is what Coach Doeren and his staff does where it works. He's done it this many times,'" Doeren said.
"And these young men keep coming back. If you come to spring practices, every time you walk out there Nyheim Hines shows up all the time. B.J. Hill, Bradley Chubb, Germaine Pratt, you name them the list goes on, guys stay around because of how they treated and the culture."
Those who watched this spring also saw a talented Wolfpack football team. Some have touted NC State as a team to watch in the ACC, others have put the Pack in their preseason top 10.
Doeren does not see complacency on his team, however. The coach noted, "There is a lot of unfinished business."
"There has been a huge chip on our shoulder because we didn't get to the Charlotte game last year," Doeren stated, referring to the conference title game. "We were one play away. An onside kick recovery against Wake that we thought we got.
"Maybe if there was one other camera angle we would have got or maybe if they would have called it we would have gotten it. There wasn't enough to overturn it. One play in the Miami game. So we knew how close we were."
Leading the way for Doeren's optimism about his team is fifth-year redshirt junior quarterback Devin Leary.
"He's a different guy," Doeren noted. "Some teams have not been able to see him so they don't understand, but I've been around the game a long time. When you have a poised quarterback with arm talent that's tough, it is special."
——
• Talk about Dave Doeren and NC State football inside The Wolves' Den
• Subscribe to our YouTube channel
• Learn more about our print and digital publication, The Wolfpacker
• Follow us on Twitter: @TheWolfpacker
• Like us on Facebook