ESPN analyst ranks each NC State offensive position group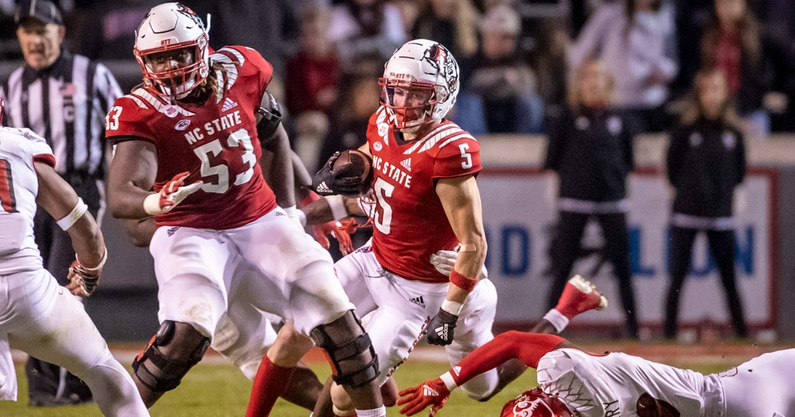 As we continue to creep towards September, the national media outlets are continuing to build the hype around the 2022 NC State football season. ESPN's David Hale, who is extremely familiar with the ACC, has spent the past month putting together a massive Twitter thread ranking each position group in the conference. 
The Wolfpack top the list in two spots, neither of which are quarterback, and are reliably in the top half of most of his positional rankings. With the sheer number of snaps returning on both sides of the ball, this should not be a surprise to NC State fans. 
 Let's take a look at where Hale ranked each NC State offensive position group.
The Quarterbacks
Where does NC State stand? Third
NC State signal caller Devin Leary has been touted by some media outlets as a Heisman hopeful and one of the top quarterbacks in the nation. Hale has Leary ranked fourth in the conference going into the season, ranking him behind Tyler Van Dyke at Miami, Wake Forest's Sam Hartman and Louisville signal caller Mailk Cunningham. 
Hale pointed out that Leary holds the No. 13 passer rating nationally, which is the best among returning quarterbacks in the conference. However, he ranks 23rd in total quarterback rating, which is behind four other signal callers in the ACC. Hale also provided this interesting statistic on Leary's efficiency in play action scenarios.
The ACC is in a terrific place at quarterback. Leary threw for 3,433 yards and still ended up fourth in the conference in passing yards. With just five interceptions last season, he is also one of the best quarterbacks at protecting the ball. 
He has the fewest number of interceptions of any ACC quarterback last year that threw more than 150 passes. At 431 total attempts, the only quarterback that comes close to Leary's ball security at his volume was Pittsburgh's Kenny Pickett who was picked off seven times at 491 attempts.
The Wide Receivers and Tight Ends
Where does NC State rank? Fifth
Hale once again touted Leary's season in his thread when discussing NC State's pass-catching targets, mentioning how three different receivers hauled in six touchdowns or more and racked up over 500 yards. 
He also presented some metrics that did not speak too highly of the Wolfpack passing attack. 
These numbers can be looked at two ways. NC State missed some opportunities last season but still put up impressive numbers on the way to a nine-win season. If they can correct some of those issues going into next season and pull off a few more explosive plays, maybe the passing game can go from great to elite. 
NC State will have to replace the production of Emeka Emezie who recorded 802 receiving yards and 6 touchdowns. Thayer Thomas led the team with eight touchdown receptions at 10 and now looks to step into an even larger role this season. 
The Offensive Line
Where does NC State rank? Sixth
Ikem Ekwonu's departure for the NFL  obviously leaves a massive hole on the left side of the offensive line, but the Wolfpack have the talent to put together a productive unit. Per ESPN's Bill Connelly and Hale's thread, NC State is returning 80.5 of its snaps on the offensive line. That's very solid for a team that is losing its best lineman. Chandler Zavala's chance to return for a sixth year is massive for the Wolfpack. 
Despite all of the experience returning across the group, Hale is skeptical of their run blocking ability. 
The Running Backs
Where does NC State rank? 12th
Hale is extremely pessimistic about the NC State running backs room this year. Part of that is a lack of experience following the departure of Ricky Person Jr. and Zonovan Knight, and losing your best run blocker in Ekwonu does not help. NC State returns the lowest percentage of rushing yards of any ACC team. 
Hale is also not too confident in the Wolfpack running backs because of how the running game has fared in recent history. 
Watch out for Jordan Houston to step into a larger role this season. He is a versatile running back who can also factor into the receiving game. Hale also mentioned Michael Allen, an On3 Consensus four-star recruit in 2022, as someone who could immediately factor into the Wolfpack offense. 
——
Talk about NC State football inside The Wolves' Den
Subscribe to our YouTube channel
Learn more about our print and digital publication, The Wolfpacker
Follow us on Twitter: @TheWolfpacker
Like us on Facebook