Isaiah Miranda officially joins the pack, begins practicing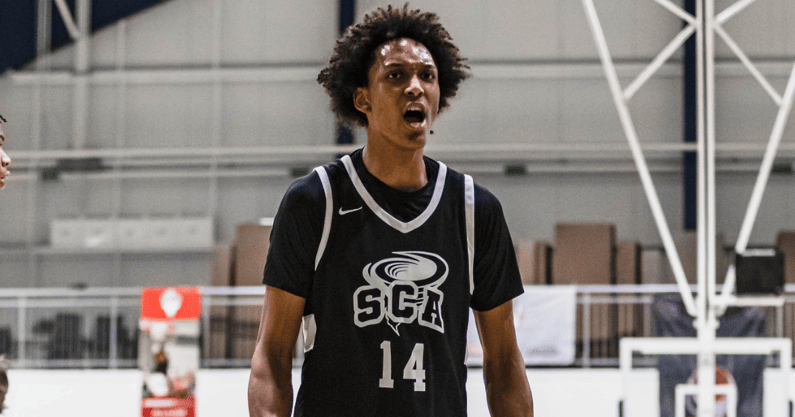 Isaiah Miranda, a former top-20 recruit in the 2023 men's basketball recruiting class, has officially joined NC State and will begin practicing immediately, the team announced Thursday morning. The four-star big man committed to the Wolfpack just over a week ago with plans to enroll and begin contributing to the program this season.
Now that Miranda is officially a mid-year enrollee with the Pack, he is also now a member of the 2022 class, where On3 ranks him No. 40 in the nation. The 7-0 athlete, who is from Rhode Island but most recently attended Southern California Academy, chose NC State over offers from USC, Louisville, Georgetown and many others.
Head coach Kevin Keatts shared his thoughts on Miranda in a press release.
"It's rare that you get the opportunity to add a player of Isaiah's ability to your roster in the middle of the season. We're excited to have him on our team. He's a young man that is oozing with potential. Just seeing him around our team the last few days, you can see how tall and how much length he has. He's a big man that can really run.
"He can fly down the court, rim run and really pressure the defense with his offensive skill when you combine it with his height and wing span. Defensively, he has all the makings of a player that can be a real asset to us. He's going to be able to switch one through five and I think he has the potential to become one of the ACC's best shot blockers.
"I respect Isaiah for making the decision to join us. This won't be easy for him and he recognizes that. Most true freshmen join a program in June or at the latest in August and have months of skill work and practices with their teammates to develop chemistry. Isaiah won't have any of that, but I've loved the attitude he has come in with.
"He's all about learning and helping his team, and I've been proud of his teammates for how they've welcomed him to our program. Everybody is excited to have Isaiah here and get him going so he can help the team."
Subscribe to The Wolfpacker today with our limited-time $10 deal for premium access until 8/31/23
Miranda will bolster the NC State front court after Dusan Mahorcic had to undergo surgery for a knee injury that will keep him out for an extended period of time. He filled the last available scholarship on the Wolfpack's roster.
The big man described his playing style to On3's Jamie Shaw in an interview earlier this fall.
"Positionless, really, that's the best way to describe my game," Miranda said. "Just a positionless player that's ready to play hard no matter what. I feel like before, I had a lot of areas I was scared to grow in, so I wouldn't do certain things, but I feel like now, I'm comfortable experimenting with myself."