Isaiah Moore on future career plans with NC State football: 'I'm back'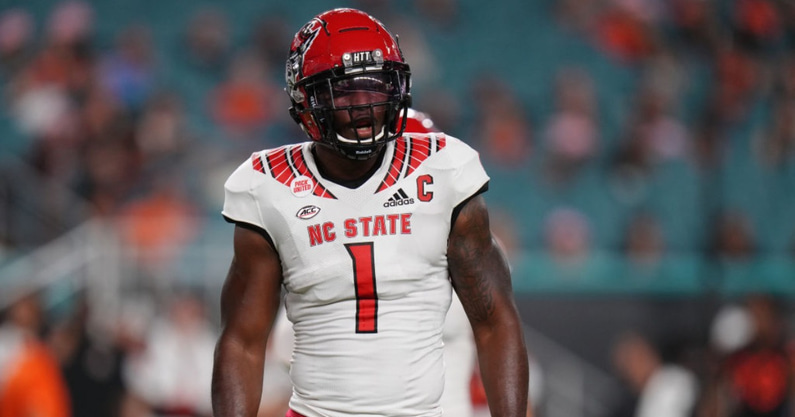 One of the standouts on the NC State football defense, redshirt junior linebacker Isaiah Moore, had a simple response to questions about his future in Raleigh.
Via a statement, he simply said: "I'm back."
"I want to leave on my own terms," Moore told the press Tuesday.
RELATED: Running back Ricky Person Jr. will enter NFL Draft
He added that he felt more comfortable returning than leaving. Moore noted that he had been weighing the decision over the past couple of weeks before settling on returning to Raleigh for another year.
While not getting into specifics about his injury, Moore noted he should be fully ready to play next season barring any setbacks during the rehab process.
Moore was playing at an All-ACC level before injuring his knee during a 31-30 loss at Miami Oct. 23. The captain and undisputed heart and soul of the defense had 43 tackles, including a team-high five for loss, at the time. He had also collected a sack, an interception, three pass breakups and seven quarterback hurries.
He was named honorable mention All-ACC in 2020 after finishing second on the team in tackles with 94, and he is a four-year starter for NC State.
Moore's value extends beyond the playing field, which is why he was given the coveted No. 1 jersey. When news that Moore was out for the season, head coach Dave Doeren described it as "devastating."
——
• Talk about NC State football recruiting inside The Wolves' Den
• Subscribe to our podcast on iTunes
• Subscribe to our YouTube channel
• Learn more about our print and digital publication, The Wolfpacker
• Follow us on Twitter: @TheWolfpacker
• Like us on Facebook