Isaiah Shirley announces NC State commitment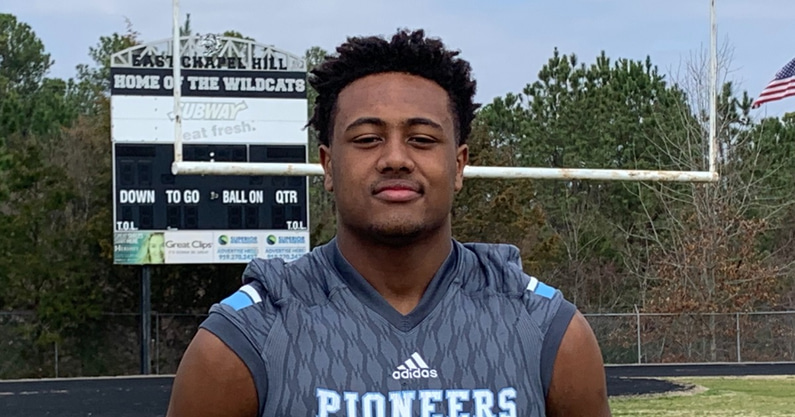 NC State's defensive line received a significant boost Tuesday afternoon with the commitment of three-star defensive lineman Isaiah Shirley, who announced his commitment to the Wolfpack on Twitter. Shirley was on campus over the weekend for an official visit and decided to shut down his recruitment early this week and join the 2023 class.
The Boone (NC) Watauga High School lineman is an On3 Consensus three-star prospect who held offers from Virginia Tech, Wake Forest, Duke and others. Considered a top-20 recruit in North Carolina by On3's Player Rating system, the 6-4, 235 pound lineman instantly becomes one of the highest rated recruits in the 2023 class.
Defensive line coach Charley Wiles was Shirley's primary recruiter. The lineman had previously officially visited Virginia Tech June 3 and Duke June 10. The final visit of the month proved to be the difference maker. Prior to his commitment, he visited NC State the most out of the interested programs, making five unofficial visits to Raleigh over the past year.
Shirley is the second defensive commit of the class, joining three-star cornerback Brandon Cisse. He is also the fourth in-state commitment and the seventh commitment overall. NC State hosted double-digit visitors over the weekend, and Shirley is now the first from that group to announce he is joining the Wolfpack.
Shirley, who is from Boone, is one of several recruits that NC State is targeting out of Western North Carolina for this class, joining three-star athlete Zack Myers from Arden and three-star offensive lineman Kamen Smith from Wilkesboro. Both prospects visited NC State alongside Shirley las weekend, and Myers is scheduled to announce his commitment Friday afternoon. NC State currently leads his Recruiting Prediction Machine (RPM) at 88.3 percent.
Shirley put up big numbers during his junior season at Watauga High School last fall. The lineman recorded 59 total tackles over 11 games, racking up 10.5 tackles for loss and 6.5 sacks. In addition to his skills on defense, Shirley also showed off some receiving ability with two catches for two touchdowns. He is expected to play defensive end for The Wolfpack once he arrives in Raleigh next year.
According to the On3 Consensus Rating, Isaiah Shirley is the No. 21 recruit in North Carolina and the 711th-best prospect nationally. He is the third-highest ranked commit of the class behind four-star tight end Javonte Vereen and three-star offensive tackle Darion Rivers.
Check out The Wolfpacker throughout the day for more news on Isaiah Shirley's commitment
——
Talk about Isaiah Shirley, the 2023 recruiting class, and NC State football inside The Wolves' Den
Subscribe to our YouTube channel
Learn more about our print and digital publication, The Wolfpacker
Follow us on Twitter: @TheWolfpacker
Like us on Facebook