NC State basketball falls short at Notre Dame, 73-65 (with box score)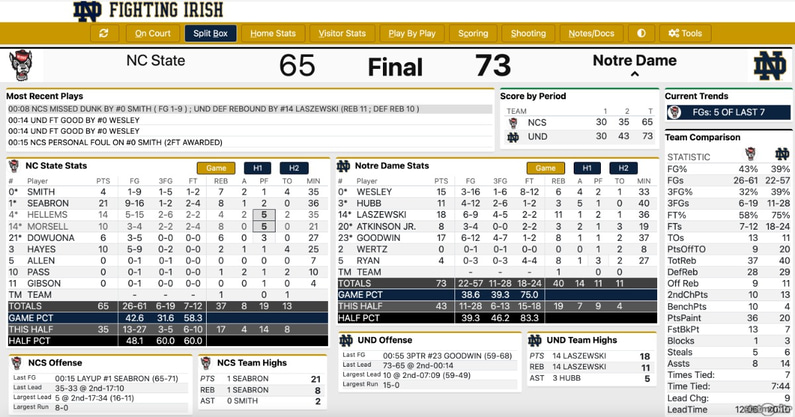 NC State basketball scored the first five points of the second half to take a 35-30 lead at Notre Dame in South Bend, Ind., but then Irish senior forward Nate Laszewski sparked a 15-0 run that proved to be the decisive moment of the game that the Irish won, 73-65.
Laszewski accounted for 11 of Notre Dame's points in that run, including the first eight in which he personally turned a five-point Wolfpack lead into a three-point Irish advantage.
NC State repeatedly knocked on the door, at one point closing Notre Dame's lead to 49-46, but the Irish had the answer for the Pack's charges. Senior guard Dane Goodwin made a three-point off a second-chance opportunity to extend the advantage out to 52-46.
The Irish was also strong at the line, making 15 of 18 in the second half, to help ensure that what was a 63-58 lead with 2:07 left held up the rest of the way.
Laszewski, who made 6 of 9 shots and 4 of 5 threes, led Notre Dame with 18 points and 11 rebounds. Goodwin was 4 of 7 on threes and had 17 points.
NC State received a typical performance from star redshirt sophomore wing Dereon Seabron, who had 21 points on 9-of-16 shootings and added eight rebounds, but his normal co-pilot for scoring struggled. Freshman guard Terquavion Smith was 1 of 9 from the field, including 1 of 5 on threes, and finished with just four points while also tying for a team-high four turnovers.
Junior guard Casey Morsell was limited to 21 minutes due to foul trouble and finished with 10 points. Senior forward Jericole Hellems joined Morsell in fouling out after scoring 14 points, but he shot 5 of 15 from the field.
NC State did get a scoring boost off the bench from recently struggling sophomore guard Cam Hayes, who had 10 points in 25 minutes and made 5 of 9 shots, although he tied Smith with four turnovers.
The defeat dropped NC State to 10-11 overall and 3-7 in the conference as it reached the halfway point of the ACC season. Notre Dame improved to 13-6 and 6-2.
The Wolfpack is next scheduled to play at UNC in Chapel Hill, N.C., on Saturday evening at 2 p.m., and the game will be televised by ACC Network.
The final box score can be viewed in the picture above.
——
• Talk about NC State basketball inside The State of Basketball
• Subscribe to our podcaston iTunes
• Subscribe to our YouTube channel
• Learn more about our print and digital publication, The Wolfpacker
• Follow us on Twitter: @TheWolfpacker
• Like us on Facebook