NC State basketball falls to Creighton, 72-63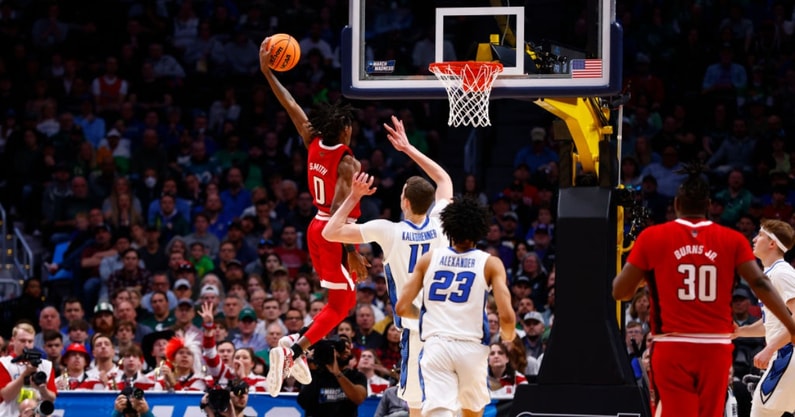 Sometimes games can be decided by inches. With about 2:30 to go, the 11th-seeded NC State basketball fifth-year senior forward Jack Clark nearly had a steal with a breakaway bucket in front of him, but stepped out of bounds.
Subscribe to The Wolfpacker today with our limited-time $29.99 deal for premium access until 8/31/23
Instead of cutting Creighton's 62-59 lead down to 1 point, the Bluejays had a chance to beat the shot clock. Running an out of bounds play for the first time all season, Bluejays coach Greg McDermott confessed after the game, Creighton wing Baylor Scheierman drained a three-pointer, his first after having missed seven straight attempts.
Creighton was up 65-59, and for good measure Scheierman added another jumper a little over a minute later to further the lead to 69-61, providing a dagger for NC State's NCAA Tournament run before it could get started.
The season for NC State basketball ended with a 23-11 overall record after a 72-63 loss in Denver, Colo.
The defeat came despite one of sophomore guard Terquavion Smith's best efforts of the year. He had 32 points on 12-of-27 shooting from the field. However, the rest of his teammates combined for 31 points. Senior guard Casey Morsell made 4 of 6 shots, including his lone three-pointer, but the rest of NC State minus Morsell and Smith combined to go 8 of 29 from the field.
All-ACC super senior guard Jarkel Joiner was just 5-of-18 shooting and missed all five three-point tries. Honorable mention all-conference post player D.J. Burns Jr. was hampered with four fouls and had just 2 points on 1-of-5 shooting.
Also battling foul trouble was Burns' substitute, junior center Ebenezer Dowuona. He finished with four fouls, too. Combined, they proved to be ineffective against Creighton 7-footer Ryan Kalkbrenner, who had 31 points on 11-of-14 shooting from the field, and added 7 rebounds and 3 blocked shots.
Kalkbrenner was able to offset Creighton, typically heavily reliant on three-point shooting, making just 3 of 20 attempts beyond the arc. All but three shot attempts were taken by the Bluejays' starting five, and outside Kalkbrenner the other four went a combined 14 of 39, or 35.6 percent.
NC State trailed 28-26 at halftime, but after giving up a dunk to Kalkbrenner went on an 11-0 run to take a 37-30 advantage. Creighton though scored seven straight to respond, and the contest went back-and-forth until a 15-5 Bluejays run gave Creighton a 56-47 lead with 6:40 left.
Back-to-back threes from Smith and Clark cut the lead to 56-53, but NC State was unable to get closer.
Creighton, who improved to 22-12 on the season, advances to face third-seeded Baylor on Sunday in Denver after the Bears pulled away late from No. 14 seed UC-Santa Barbara.