NC State basketball falls short vs. No. 3 Kansas, 80-74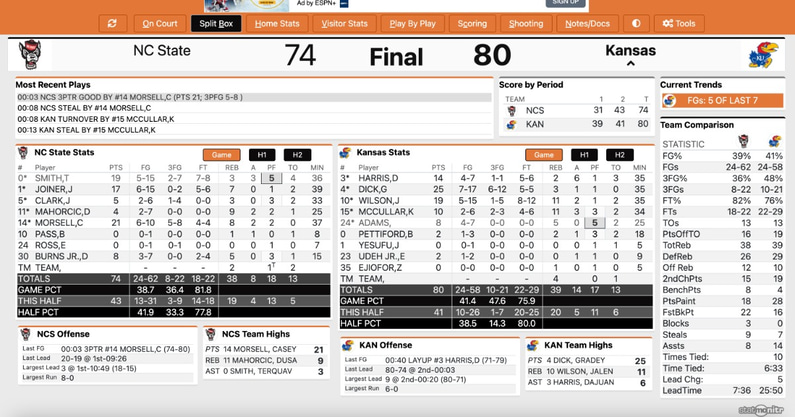 NC State basketball hung around against No. 3 and defending national champion Kansas, but ultimately the Pack fell 80-74. The game was part of the first round of the Bad Boy Mowers Battle 4 Atlantis Tournament in the Bahamas.
The two teams traded blows for the first 14 minutes and the score was tied 25-25 when Kansas went on an 8-2 run to take a 33-27 advantage with 3:01 left. The run started with Jayhawks star forward Jalen Wilson making a long catch-and-shoot 3-pointer off an inbounds pass with three seconds left on the shot clock.
That was part of Kansas making 8 of 11 tries from threes up to that point. Coming into the contest with NC State, the Jayhawks had connected on 25 three-pointers at a 32.6 percent clip through four contests.
Leading the way for Kansas was freshman forward Gradey Dick, whose sixth and final three of the first half came as time was expiring before halftime and sent NC State to the locker room down 39-31.
Subscribe to The Wolfpacker today with our limited-time offer for potential new subscribers: $10 deal for premium access until 8/31/23
"We lucked in 3 shots to get 9 points at the end of the [shot] clock," Kansas coach Bill Self noted. "That was the difference in the first half."
NC State senior guard Casey Morsell however started the second half with eight straight points to tie the score and force an early Kansas second half timeout.
The Wolfpack would even the game again at 43-43, but NC State was never able to get over the hump in the second half and take a lead in a game where Kansas never led by double digits.
A significant sequence came when NC State was trailing 49-47. A near Kansas turnover out of bounds in front of the Jayhawks' bench turned into an Ernest Udeh layup. NC State basketball head coach Kevin Keatts was given a quick technical foul arguing, and Dick made two free throws to put Kansas up 53-47.
The Pack mounted yet another run and tied the game at 61-61 with 7:42 remaining. After the teams traded baskets, Wilson made a floater to put the Jayhawks up 65-63. NC State senior guard Casey Morsell, who made 5 of 8 three-pointers, had one of his rare misfires for the day on an attempt from the corner in what proved to be the Wolfpack's last chance to take a lead.
Trailing 71-67, NC State made just 1 of 4 free throws coming out of a media timeout with 3:42 left, and fifth-year senior post player DJ Burns Jr. had an open, short look in the lane not fall, which helped Kansas open up a 76-68 advantage with 2:26 remaining, leading to a Wolfpack timeout.
Although NC State came up short, the Pack left an impression on Self. The two-time national-title winning coach noted the Wolfpack backcourt of super senior Jarkel Joiner and sophomore Terquavion Smith may be the quickest guard duo in the country.
"Kevin's got a good team," Self said. "I'm not an expert on where everybody came from, but Joiner's good. He's a legitimate lead guard anywhere in the country, and Smith is a legitimate scoring guard anywhere in the country."
Smith had 19 points before fouling out, although he shot just 5 of 15 from the field. Joiner added 17 points and 7 rebounds, while Morsell led the Pack with 21 points.
NC State falls to 4-1 on the season and will face the loser of Wisconsin/Dayton on Thursday at 4 p.m.