Kevin Keatts updates Terquavion Smith's status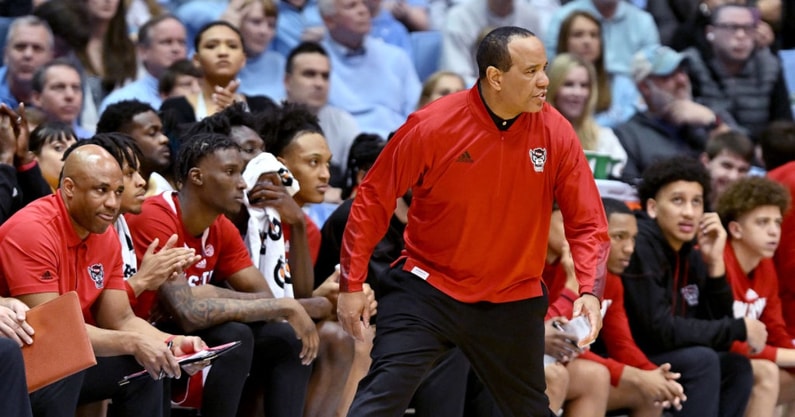 NC State basketball coach Kevin Keatts met with the media Monday, a day after the school declared sophomore guard and ACC-leading scorer Terquavion Smith day-to-day following his fall at North Carolina and subsequent trip to the hospital. Keatts updated Smith's progress and discusses other topics on a Zoom call.
You can watch that video via The Wolfpacker's YouTube channel, plus an edited transcript is below.
Kevin Keatts transcript
Do you have an update on how to Terquavion is doing? Is he back out in action and do you expect them to play tomorrow night vs. Notre Dame?
Kevin Keatts: "We didn't do much. He spent a lot of time obviously with our trainer and medical staff. yesterday. It was a tough, I would say, 24 hours. Seeing him laying on the floor like he was and obviously being able not to move as much as we would like him to.
"Got back late after the game. The next next morning, we tried to get him in where we could get him some attention to figure out what was going on with him. We didn't take the court yesterday. We did a lot of film stuff. And so I haven't been able to really get him out on the floor to even determine where he's at. I just know he's really, really sore right now.
"I would say it'll be a game time decision. But, you know, it's going to be tough because I don't I don't even know if he could shoot the basketball at this moment. He fell on his, it was more of his right elbow on his shooting hand, and so I'll know a little bit more later on today.
"First thing tomorrow, right up until game time probably."
What is what is sort of the emotions you've been through, sort of after the game going to visit one of your own players in the hospital to the point where maybe things aren't the worst case scenario they look like Saturday? What's that been like for you?
Kevin Keatts: "It's tough. I did that, the second time in my head coaching career that I've been to the hospital after a game. One was with Jericole [Hellems] at Wake Forest when he took a pretty nasty fall. But so much emotion and my thoughts always go to the young man and, obviously, how can I be there for him as he's going through this?
"I mean, it was a tough moment as he laid on that floor. And obviously, the things that he was saying, and I just wanted to be there for him and let the medical people do their job. But emotional after the game. You lose a lot of focus because, obviously, I had to do radio and then I had to do media and to be quite honest, I really just wanted to get to him at the hospital just to see how he was doing.
"When I walked in, they had ran tests, but he wasn't as down so it made me feel like that, 'You know what? He's handling the best situation he could.' And obviously, at that point, we didn't know what the results would be. And we got some best case scenario because you don't want to lose kids and you don't want a season-ending injury to happen to anybody. Just to know that whenever he's healthy, he's going to be able to get back on the floor, whether it's tomorrow or Saturday or next week.
"It was really, you know, rewarding to me."
You have to feel like you dodged the bullets.
Kevin Keatts: "Well, I feel like we're blessed because we've been on the other side of that so much with Devon Daniels, and Dusan [Mahorcic] and even Manny Bates, and obviously, we talked about Ernest Ross.
"So we've had so much of that and just to see him go down the way he did, and he's not the biggest guy in the world anyway. Jumped pretty high and then he hit the ground pretty hard. And you just don't know what can happen at that point."
After the game on Saturday, you told us you would have to see the play on to give your thoughts on it when he got hurt. Now, I'm assuming you've seen that play. Want to get your thoughts on that.
Kevin Keatts: "I thought it was a good basketball play. I didn't think Leaky [Black] did anything intentional to try to harm him at all. I thought it was a really good basketball play. I thought he went for the ball, maybe even tipped the ball. It just it was ugly because he came across, and basically he missed it and hit him across the head. And then obviously just the way he fell."
Seems like you've played a lot of the same guys from Notre Dame forever, but I wanted to ask you about Nate Laszewski and that matchup with him.
Kevin Keatts: "He's tough. You look what he just did. I think seven from nine from three. I mean, he's really tough. He may be one of the toughest matchup guys in our league because he has the ability to take you down, lower with his size at 6-11.
"But he stretches you out so much. He makes you play a little bit different because you have to respect him on perimeter, and they do a good job of running a continuity motion offense where he's in a lot of pick and pop situations, and so really tough situation. Tough matchup for us. I think more tough for anybody in the league because anytime you got a guy that could step out and shoot it that well is really causes a lot of problems."
I was wondering what positives do you take from the game and Chapel Hill, particularly in regards to how your team played after Smith got hurt?
Kevin Keatts: "I thought we did a lot of good things. I thought throughout the entire game we did some good stuff. I thought defensively we were very stingy. When you look at, if you take away the amount of free throws that they made versus we did, we made six more field goals. I think we made 26 they made 20. We actually made one more three.
"I thought we did some good stuff. When he went down we were able to cut the lead to six and kind of went six to eight to 12 to back to 10. I thought we did some good stuff. I thought Jarkel Joiner was very aggressive towards the end and we were able to throw the ball inside to DJ Burns and be able to get some stuff.
"But it was a really, I know they scored 81 points, but I thought from a field goal percentage, we played a really good defensive game
Do you feel like DJ's going to have a larger role in the upcoming matchup with Notre Dame? … Do you see his minutes going up at all? Do you see him having a larger role in that game against the Irish?
Kevin Keatts: "No, I would I would think that we, if [Smith's] not able to go we've got to find someone else to step into that role and play a little bit more. I don't think DJ's minutes probably will not go up. I mean, he's playing probably the right amount of minutes that he can play now.
"And yeah, I thought, after the first two or three possessions, at Carolina, once he settled in and didn't settle for jump shots, I thought he was really good. I thought he scored around the basket. He gave us a tremendous lift, and we can throw the ball inside to him and then certainly he's a great passer.
"But I don't know that. Someone else would have to step up one of those other forwards or we would you know, go with a an L.J. [Thomas] or Breon Pass to be to step in and play a little bit few more minutes."
When you went out in the portal and did what you did in the offseason, was there a model, was there an approach that you looked at and thought that's something that could work for you guys and how has the portal changed the ability of ACC teams at the bottom of the standings to rebuild quicker?
Kevin Keatts: "I don't know that there's a model. I think we all have transfers, and we just hope and pray that they fit our style, and they fit and they're able to come in and contribute. All transfers are not equal across the board.
"Sometimes you get guys who just never really feel comfortable in the style of system that they're going in, they end up playing in. In our case, a little bit different from me and I probably went a little bit different than everybody else. Because of our injuries. I went with two centers and most people wouldn't do that. And today, you typically have one center on each on teams, but I ended up with DJ and Dusan, which I thought was very important because I was gun shy because what had happened the previous year with Manny Bates.
"Then we needed to replace Jericole Hellems and we got to Jack Clark, and obviously … [Dereon] Seabron leaving, who ended up playing a lot of point for us. We needed a starting veteran guy who could come in and play, and so I think it's more fit.
"If you look around college basketball, all transfers are not playing great, but if you can get the ones that you feel like fit your system. It's a little bit different than going on in high school because now you get a chance to really look at your team and figure out what do you need, what's your fit, and that's where I think the portal is really good at because you can be a little bit picky and say, 'Hey, I need an older guy at this position to help increase our team and make our team better.'