NC State basketball opponent scouting report: Notre Dame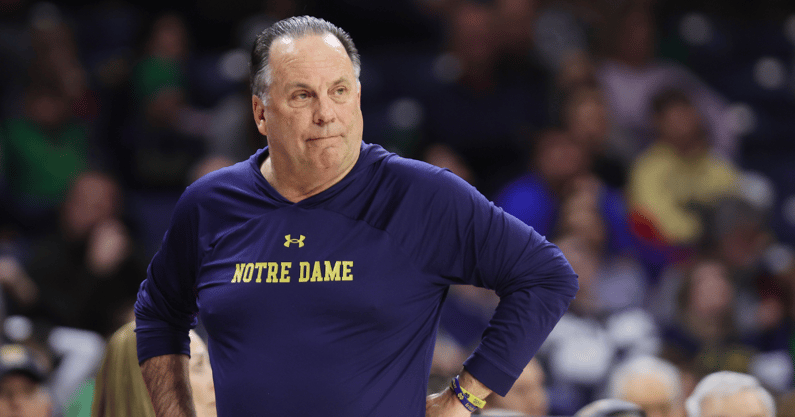 NC State basketball 15-5 overall and 5-4 in the ACC and about to begin a stretch where 3 of 4 games are at home against some of the lower-ranked teams from the conference in the NCAA's NET ratings. That starts Tuesday evening vs. Notre Dame at PNC Arena in Raleigh.
The game can be seen on ACC Network with a 7 p.m. tipoff.
Here is a rundown of what to expect from Notre Dame (9-11 overall and 1-8 in ACC).
Notre Dame overview
For the final time on the home court for NC State basketball, the head coach on the Notre Dame bench will be Mike Brey.
Last week, Brey announced that he would be stepping down at season's end after a successful 23-year run as Notre Dame's head coach. He has a 481-270 record as the Irish's coach and is 580-322 overall when counting his prior 5 season as a head coach at Delaware.
Tuesday's game could end up being the tiebreaker in Brey's career record vs. NC State while at Notre Dame. He is currently 6-6 against the Wolfpack.
Brey's decision comes as Notre Dame is struggling through a disappointing season. A year ago, the Irish went 15-5 in the ACC, and with many (but not all) important pieces of the roster returning, expectations were for another top-half of the league finish and potential NCAA Tournament bid. Notre Dame was picked sixth in the ACC's preseason poll.
Notre Dame was 6-1 after beating No. 20 Michigan State in the ACC/Big 10 Challenge on Nov. 30. Since then, the Irish's lone wins have been home triumphs over Boston University, Jacksonville and in overtime against Georgia Tech.
The Irish are 3-10 overall in the last 13 games.
If you believe in trends, Notre Dame has yet to have a four-game losing streak this year. Currently, the Irish are in a three-game skid. They have lost three in a row twice before this year, each time snapping those streaks with a win before getting to a fourth straight defeat.
Rankings
NCAA's NET rankings: Notre Dame checks in at No. 192 (out of 363 teams). NC State basketball is No. 36.
ESPN's BPI: The Irish are No. 153. The Pack is No. 40.
KenPom.com: ND is No. 161. The Wolfpack is No. 42.
Three Notre Dame players to watch against NC State basketball
Super senior guard Dane Goodwin: Goodwin has established himself as a one of the top shooters in the ACC. A season ago, he made 70 threes and shot 45.8% from beyond the arc. He made 4 of 7 threes in Raleigh in a win over NC State.
He is shooting 40.3% on theys this year.
The super senior has averaged double digits the past four years for the Irish, including 12.2 points a contest thus far this season.
Super senior forward Nate Laszewski: Laszweski is a tough matchup for NC State because of the 6-foot-10, 230-pounder's combination of physicality and shooting touch. He averages 14.1 points and 7.5 rebounds per contest while shooting 42.4% on three-pointers.
In his career, Laszewski is a 38.6% shooter from beyond the arc, and he has been over 40% the last 3 seasons. He has also proven to be money at the line, making 100 of 115 attempts over the past 2 years.
Senior guard Cormac Ryan: A season ago, Ryan was part of a lethal perimeter-shooting Notre Dame team, making 57 threes and shooting at 40.7% beyond the arc while averaging 9.2 points per game.
His scoring average has jumped to 11.2 points, but he has not shot as well, making 37 of 102 three-pointers, or 36.3%. Ryan also leads Notre Dame in steals and is second in assists and third in rebounding.
Three things NC State basketball should expect from Notre Dame
1. A team of shooters: Notre Dame will likely have 7 players in the rotation Tuesday night against NC State. Six of them have attempted at least 56 threes this year. Four of those six average shooting more than 4 threes a game, and the other two are not far below that.
As a team, nearly 44% of Notre Dame's attempted shots are three-pointers. The Irish shoot well, too, at 37.3% on threes and 74.9% at the line. That is third and fourth, respectively, in the ACC. No one in the conference has made more three-pointers this year.
2. A team that can struggle to defend: Notre Dame is 14th out of 15 ACC teams in field goal percentage allowed, 11th in three-point shooting percentage defense, 13th in blocked shots, last in steals and last in turnovers forced. Notre Dame is the only team in the ACC in which opponents average less than 10 turnovers a game.
3. A team that struggles on the glass: In addition to having issues defending, Notre Dame is last in the ACC in rebounding margin, offensive rebounds per game and offensive rebound percentage.