NC State basketball cruises to 85-64 win over William & Mary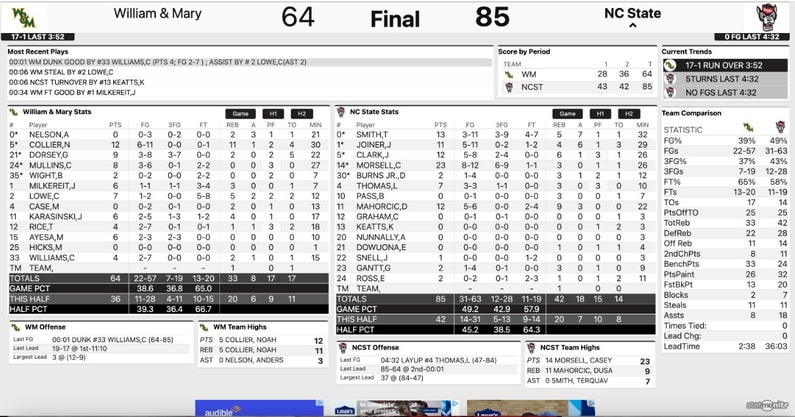 William & Mary ended its game with NC State basketball on a 17-1 run at PNC Arena in Raleigh. Yet, the Tribe still lost 85-64 as the Wolfpack coasted and improved to 7-1 overall ahead of Friday's ACC opener against Pittsburgh.
NC State built up a lead as large as 37 points at 84-47 with 4:37 left before the walk-ons finished the last 2:40 of the game.
Subscribe to The Wolfpacker today with our limited-time offer for potential new subscribers: $10 deal for premium access until 8/31/23
NC State basketball head coach Kevin Keatts made his first change of the season in the starting lineup, inserting fifth-year senior D.J. Burns Jr. over super senior Dusan Mahorcic. Burns though battled early foul trouble and played just 12:18, while Mahorcic came off the bench for 22:00. Mahorcic nearly finished with a double-double of 12 points and 9 rebounds. He added a blocked shot.
Leading the way offensively for the Wolfpack was senior guard Casey Morsell, who made 8 of 12 shots from the field, including 6 of 9 three-pointers, for 23 points.
"He's been working. … You love to see a kid who puts in the work and works on his jumper for it to go in," Keatts noted about Morsell. "That's adding a really big dimension for our offense."
Morsell made 25 of 123 three-pointers in two seasons at Virginia before transferring to Raleigh. After making 35 of 100 attempts beyond the arc last year for the Wolfpack, he has improved to 25 of 47, or 53.2 percent, through eight games to start his senior campaign.
Morsell led five NC State basketball players in double-figures scoring, and Keatts was pleased with how the basketball was shared. The Wolfpack had 18 assists on 31 made baskets. Sophomore guard Terquavion Smith led the way with 7 assists, a new career high.
"He's sacrificed a little bit of his scoring, but I think what is happening in front of us is we are starting to see a little bit more of a complete player," Keatts said of Smith, who added 13 points and 5 rebounds.
Super senior guard Jarkel Joiner had 11 points, 6 assists, 4 rebounds and 3 steals. Fifth-year senior forward Jack Clark made 5 of 8 shots, including 2 of 4 threes, to finish with 12 points along with 6 boards and 3 steals.
William & Mary fell to 3-5 with the loss. Earlier in non-conference action against other ACC competition, the Tribe lost 94-77 at Virginia Tech and 80-64 at Pittsburgh, although W&M had a halftime lead in the latter.
Pitt will be in Raleigh for a 7 p.m. tipoff Friday evening at PNC Arena against NC State. That will join Wake Forest traveling to Clemson for a tip at the same time as the first two ACC games of the conference slate in the league.
"We're doing some good things," Keatts said. "Do I think we have a long ways to go in some areas? Absolutely, it's early. It's a little bit earlier for a conference game, but the reality is we have to play one on Friday.
"I do think we have grown."