Monday morning quarterbacking: NC State 30, UNC 27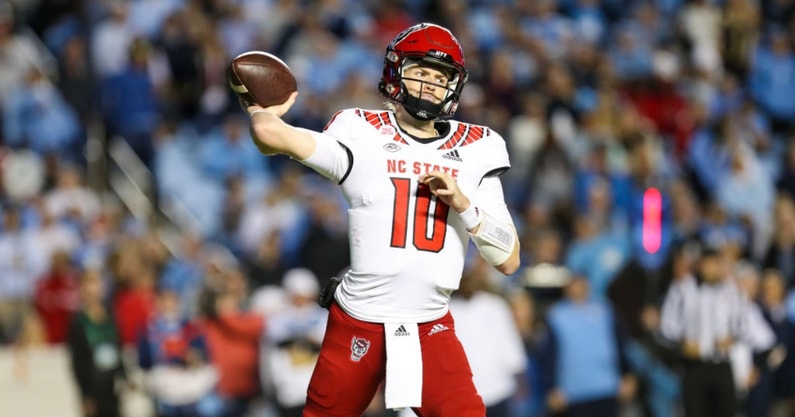 NC State football ended the regular season on the high note, knocking off No. 17 North Carolina in double overtime, 30-27. As a result, the Wolfpack heads into the bowl season with an 8-4 overall record and finished ACC play at 4-4.
The Wolfpacker takes a final look at the contest with some Monday morning quarterbacking:
Key Moment Of The Game
Obviously the game was won when NC State made both field goal tries in overtime and North Carolina missed in the second extra session.
There are dozens of plays before then, however, that influenced the outcome of the game. The one that stood out the most is super senior safety Tanner Ingle getting an interception at a crucial moment in the game in the fourth quarter.
NC State had controlled the rivalry game for much of the contest, but that was not reflected in the score, and momentum was threatening to change the outcome in the Heels' favor. North Carolina had tied the game at 17-17 with 7:53 left in the contest.
NC State followed up with a punt on the next drive, and thus UNC took over at the 27-yard line with 5:23 to go and a chance to take the Heels' first lead of the game. On first down, Wolfpack super senior Cory Durden stuffed UNC running back Elijah Green for a one-yard loss.
On the second play of the drive, Maye felt pressure coming from NC State fourth-year junior linebacker Drake Thomas, and his hurried pass was deflected at the line of scrimmage by third-year sophomore defensive lineman Davin Vann. That's when Ingle made an acrobatic play that would make Sportscenter's Top 10 the next morning.
Ingle climbed over UNC tight end Kamari Morales to make a jugging, one-handed interception while falling to the ground at the 29-yard line.
Three plays later, NC State third-year redshirt freshman quarterback Ben Finley connected with fifth-year redshirt junior receiver Devin Carter for a 26-yard score, and the Pack was up 24-17 with 3:54 left.
Three Things That Worked For NC State Football
1. Starting Finley: North Carolina is not a good defense. They do not rush the passer well, at all, especially in the absence of a few of their best pass rushers who were lost to injuries. They were also short-handed in the secondary with three starters gone by the end of the game.
Thus, this was the right game for Finley to get the call over senior Jack Chambers, who has struggled with passing accuracy when given his chances. Finley had loads of time to throw and was able to pick apart UNC by completing 27 of 40 passes for 271 yards and 2 touchdowns without turning the football over once.
2. Containing the Maye run game: As noted in the scouting North Carolina piece last week, the only two times Maye completed less than 63.3 percent of his throws in a game, UNC lost both contests. He connected on 16 of 30 passes (53.3 percent) vs. Georgia Tech and 17 of 32 (53.1 percent) against Notre Dame.
In those two games, Maye ran 14 times for 13 yards against the Yellow Jackets and had 13 carries for 36 yards on the Irish. Those are the only two Power Five contests where Maye averaged less than 3.7 yards per rush and was held under 50 yards rushing.
NC State followed that blueprint. Maye finished with 32 yards on 14 runs (2.3 yards per rush), and finished completing 29-of-49 passing (59.2 percent) for 233 yards and a score.
3. Containing Josh Downs: At the end of regulation, the All-American receiver candidate had just 4 receptions for 32 yards. In the 7 wins that Downs participated in, he had 5 100-yard games and had at least 1 touchdowns and 69 yards in the other two.
In the 2 losses, Downs was held to 3 catches for 31 yards vs. Georgia Tech and 5 receptions for 32 yards against Notre Dame. NC State was right in line with those performances.
Three Areas Where NC State Football Struggled
1. Putting distance on UNC: The reality is that NC State was a better team, but the Wolfpack did not put North Carolina away in regulation. One UNC touchdown was aided by a series of NC State miscues: a bad snap on offense that pinned the Pack at its own 2-yard line and gave the Heels good field position at the 41, a defensive holding that turned a third and 11 into a first and 10 at midfield and finally a dropped interception by fifth-year redshirt junior linebacker Payton Wilson on a poor decision and throw from Maye.
The fourth quarter game-tying TD drive was set up by a short punt from redshirt freshman Caden Noonkester that then took a huge bounce in UNC's favor, resulting in an 18-yard kick that was downed at the NC State 38-yard line.
Throw in a red zone fumble by Chambers and a rare missed field from from super senior Christopher Dunn, and NC State made life harder on itself.
2. Running the football: In the prior five weeks, UNC had allowed every opponent to rush for at least 131 yards, and four had at least 170 yards.
NC State ended with just 59 yards on 25 attempts. To be fair, that included a bad snap that lost 16 yards, a mishandled playaction exchange that resulted in a 5-yard loss and a 5-yard sack for UNC. Even removing those from the equation, NC State still only had 85 yards on 22 attempts.
3. Defending the fourth down: North Carolina tied the game at the end of regulation after scoring on fourth and goal, shortly after converting a fourth and five to extend the drive. For the game, UNC converted three fourth downs against the NC State defense.
Position-By-Position Battles
NC State football's offensive line vs. North Carolina's defensive front
The results were mixed, but ultimately NC State gets the win for keeping Finley's jersey clean. NC State did not run well, relatively speaking, but UNC only had 1 sack, 3 tackles for loss and 6 quarterback hurries.
NC State football's defensive front vs. North Carolina's offensive line
NC State football's defensive front vs. Boston College's offensive line
Maybe the biggest win of the night in terms of positional battles. NC State only had 2 sacks, but the Pack also pressured Maye 11 times. And NC State had 9 overall tackles for loss.
NC State football's wide receivers vs. North Carolina's secondary
This was the performance that NC State was hoping to get on a weekly basis from Carter. He finished with 6 catches for 130 yards and a score. Overall, a nice game from the NC State receiving corps and a win here.
NC State football's secondary vs. North Carolina's wide receivers
The most important option for UNC was shut down. North Carolina wide out Antoine Green did have 8 receptions, but he was held to 67 yards. Overall, this was a win for NC State.
Quarterbacks
Finley had a better game than Maye, which may be the most surprising thing for many observers watching.
Running backs
Elijah Green for UNC had a nice afternoon, rushing 24 times for 83 yards and adding 4 receptions for 20 yards.
The NC State combo of fourth-year junior Jordan Houston and freshman Michael Allen had 20 carries for 83 yards and added 5 receptions for 30 yards. Thus, a draw.
Tight ends/fullbacks
Fifth-year redshirt junior Trent Pennix tried to give it a go but could not finish the game. However, redshirt freshman Cedric Seabrough caught 2 passes for 27 yards in a nice effort.
North Carolina had more production. Bryson Nesbit made a huge catch on fourth and five to keep the game alive for the Heels. He and Morales combined for 5 receptions for 51 yards.
Special teams
NC State won this battle in overtime, and thus the game.