NC State football future non-conference scheduling updated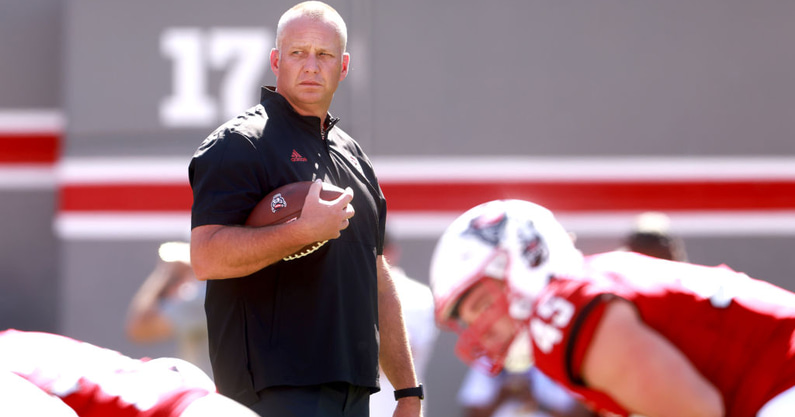 The NC State football media guide was updated online for the 2022 season. Included in that is an update on the future non-conference schedules for the Wolfpack with a couple of notable developments.
Tops among the news is that the NC State football home-and-away scheduled with BYU for 2024 and 2030 has been canceled, as FBSchedules.com first reported. The site confirmed through NC State that the series would no longer happen.
That leaves a void in the 2024 schedule. BYU was to play in Raleigh in what would have been the first-ever meeting between the Cougars and NC State. The 2030 contest was to have been in Provo, Utah. In 2030, the Wolfpack already has a road game at South Carolina, in addition to hosting Charlotte.
ACC teams are supposed to have at least one Power Five game on the slate every season. Independent Notre Dame counts, as did BYU prior to the Cougars recently announcing that they were joining the Big 12 Conference.
BYU will join that league in 2023, which forced them to start trimming its schedule of 12 non-conference games down to three. BYU is still listed as having five potential non-conference contests, according to FBSchedules.com.
Without BYU, NC State football will presumably have to find a new Power Five opponent for 2024. Thus far, NC State would have home games against Western Carolina and Louisiana Tech with a road date at South Florida for that year.
There are limited options of Power Five-affiliated teams that have openings on the 2024 schedule. That group includes Alabama, Auburn, Northwestern, Rutgers, TCU and Tennessee.
Among those teams, TCU already has two road games scheduled, which would likely leave only a game in Texas as a realistic choice for NC State. Northwestern has two home games scheduled in 2024, including against Duke.
Alabama and Tennessee would seem unlikely for NC State. The Tide has a road game at Wisconsin already booked, while the Vols are hosting Oklahoma. Auburn has a date with California among three home games currently on the book in 2024.
The most wide-open schedule appears to belong to Rutgers, who thus far has just a road game at Virginia Tech scheduled.
Among other noteworthy notes from the media guide, two minor games were added in home dates with Richmond in 2026 and North Carolina A&T in 2027. Not listed in the NC State media guide was a previously reported home-and-home with Georgia for 2033 and 2034.
Subscribe to The Wolfpacker today for a limited-time $1 deal for a year of premium access
Future NC State Football Non-Conference Schedules
Here is a look at the future non-conference schedules for NC State football.
2023: Cincinnati, at Connecticut, Notre Dame, VMI
2024: Louisiana Tech, at South Florida, Western Carolina
2025: Campbell, East Carolina, at Notre Dame
2026: Florida, Richmond, at Vanderbilt
2027: North Carolina A&T, at Texas Tech
2028: Campbell, at East Carolina, at Troy, Vanderbilt
2029: at Cincinnati, Notre Dame
2030: Charlotte, at South Carolina
2031: at Charlotte, at Notre Dame, South Carolina
2032: at Florida
2034: at Lousiana Tech
2035: Notre Dame
2037: at Notre Dame