NC State knocks off rival North Carolina in double overtime, 30-27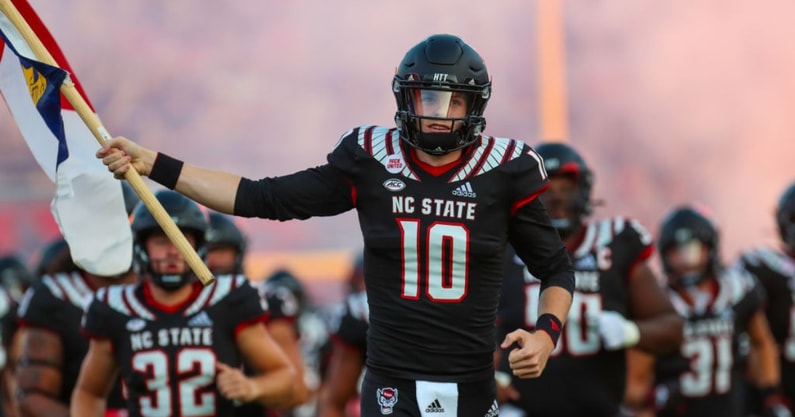 NC State hits the road for one last ACC game when taking the short drive to Chapel Hill to face rival North Carolina. The Wolfpack is 7-4 overall and 3-4 in the ACC, while UNC is 9-2 and 6-1.
The Wolfpacker will have constant updates before and during the game.
Subscribe to The Wolfpacker today with our limited-time offer for potential new subscribers: $10 deal for premium access until 8/31/23
The Wolfpacker's Live Update Blog
7:35
FINAL: NC State wins the game after UNC misses a 35-yard field goal.
The Pack finishes the regular season 8-4 overall and 4-4 in the ACC.
7:33
7:29
Davin Vann is down after UNC's first play. He walked off the field.
7:28
NC State is stopped at the 4-yard line, and Christopher Dunn hits the 21-yard field goal.
UNC wins the game if it scores a touchdown.
7:23
Christopher Dunn hits a 31-yard field goal to send the game to a second overtime. NC State will get the ball first.
7:18
The Wolfpack hold UNC to a 26-yard field goal. A field goal forces a second overtime, while a touchdown would win the game.
7:13
NC State wins the toss and chooses to play defense first.
7:11
North Carolina ties the game after the catch is overturned, but 2 seconds were put back on the clock. We're headed to overtime.
7:07
UNC scores a touchdown on the final play, with a pending extra point away from tying the game.
The play is under review.
7:03
NC State takes its final timeout with 14 seconds left after UNC picks up a first down at the 4 yard line.
7:01
Coming out of an NC State timeout, the Wolfpack have a chance to secure a win on this play with 36 seconds remaining.
6:51
Touchdown NC State!
Ben Finley finds Devin Carter on a 26-yard fade route for a touchdown with 3:54 left to put the Wolfpack back in front 24-17 with 3:54 left.
6:48
Turnover alert!
Tanner Ingle pulls in the acrobatic interception, and the Pack takes over on offense at UNC's 29.
6:39
NC State can not get anything going on offense right now and has to punt the ball once again. North Carolina gets the ball back at its own 27 with a chance to take the lead with 5:23 left in the game.
Isaiah Moore is back on the field.
6:30
Touchdown North Carolina.
Drake Maye scrambles for a touchdown to tie the game at 17 with 7:53 remaining. Isaiah Moore is down on the field after the play but walked off the field.
6:22
A costly intentional grounding penalty by Ben Finley leads to a three-and-out for NC State. North Carolina takes over at NC State's 38-yard-line following an 18-yard punt with 9:41 remaining.
6:18
NC State's defense holds, and the Tar Heels miss a 27-yard to keep the score 17-10 in favor of the Pack.
6:07
END OF 3Q: NC State leads 17-10
No score for either team in that quarter, but UNC has the ball near midfield entering the fourth.
6:02
Christopher Dunn misses for the first time this season on a 43-yard attempt.
NC State still leads 17-10 with 1:31 left in the third quarter.
5:50
NC State's defense forces another stop, tackling Josh Downs before he could pick up a first down. The Pack takes over at its 28. Derrek Pitts was back in the game on that drive.
5:44
A third down pass to Porter Rooks is short of the first down line, and NC State punts it for a touchback. That's a 67-yard punt.
5:39
Drake Thomas picks up his sixth tackle of the day on a third down stop. Drake Maye tried to pick up the first down with his legs, but it leads to a UNC punt to the Pack's 25.
5:33
NC State starts the second half with a three-and-out.
5:11
HALFTIME: NC State leads UNC 17-10
Christopher Dunn hit a 29-yard FG as time expired to extend the Wolfpack lead.
5:05
Davin Vann forces a UNC punt with a sack, and Thayer Thomas returns it past midfield with 38 seconds left in the half.
4:59
Jack Chambers fumbles on third-and-short, and UNC will take over at its own 16 with 2:10 left in the half.
4:50
Touchdown North Carolina.
Elijah Green runs it in from 8 yards out to make this a 14-10 game with 5:03 left in the first half.
4:47
UPDATE: Payton Wilson returned to the game the following drive.
4:39
A bad snap lead leads to a quick punt for the Pack with 7:40 left in the half.
4:34
Aydan White makes a great tackle in the open field to force another UNC punt. The Wolfpack takes over at its own 19.
Touchdown NC State! Wow that was a great pass. Terrell Timmons hauls in a 28-yard TD pass from Finley to extend the Wolfpack lead. Finley and Timmons started the season on the scout team.
The Pack takes a 14-3 lead with 12:38 remaining in the second quarter.
4:18
END OF 1Q: NC State leads 7-3.
The Wolfpack face third-and-6 from its own 49 after the break.
4:16
NC State forces a three-and-out in-part thanks to a Drake Thomas sack. The Pack takes over near midfield.
4:12
NC State quickly goes three-and-out on the following possession. A two-yard loss by Jordan Houston on first down set the Pack behind the sticks.
4:08
UNC converts a 37-yard field goal attempt to make this a 7-3 game with 5:13 remaining in the first quarter.
4:06
Isaiah Moore is off the field and jogging up and down the sideline right now.
3:50
NC State quickly punts after a third down passing attempt is broken up.
3:49
Drake Maye, 1-5 passing, is uncharacteristically off so far today.
NC State forces another three-and-out.
3:42
Touchdown NC State!
The drive took just 3 plays, as Devin Carter picked up a massive 52-yard gain on busted coverage by the Tar Heels. Jack Chambers punched it in from 2 yards out.
3:38
Drake Maye targets Josh Downs twice on the opening possession for two incompletions. NC State takes over at 33.
3:37
Derrek Pitts starts at nickel for the Wolfpack.
3:35
NC State wins the toss and defers to the second half.
3:02
Jalen Frazier is warming up as the starting nickel. Devan Boykin and Jakeen Harris are not going through warmups.
2:55
Some more injury updates:
2:50
Trent Pennix and Christopher Toudle are both dressed and going through warmups.
2:39
The quarterbacks are back out for warmups, and MJ Morris is still not in pads. It looks like like he will not play today.
2:20 p.m.
Pregame warmups indicates that third-year redshirt freshman Ben Finley will get the nod at quarterback for NC State. Freshman MJ Morris is not participating in warmups.
Fans can discuss the game on the premium Wolves' Den message board.
Unrelated to the game, NC State has added to the football recruiting class with a commitment from linebacker and former Vanderbilt pledge Kelvon McBride.
2:00
The Wolfpacker has arrived at Carter-Finley Stadium. Both teams are out for initial warmups.