NC State football opponent scouting report: North Carolina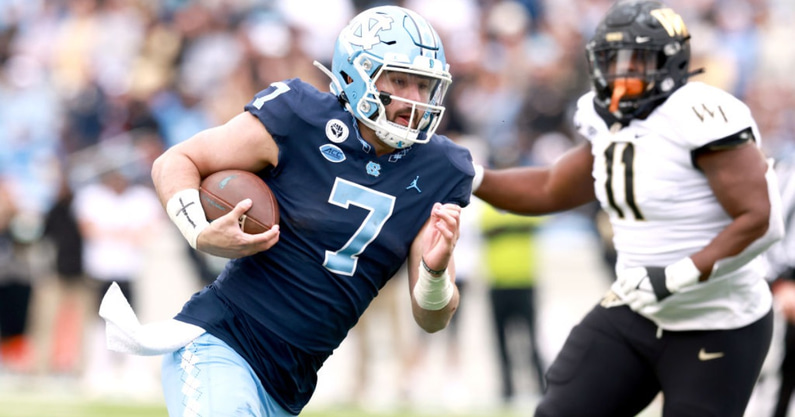 NC State football is playing a rivalry game with a lot on the line Friday.
NC State is 8-3 overall and 5-2 in the conference. The Pack with a win preserves its hope at winning the ACC's Atlantic Division.
The Wolfpack is No. 20 in the updated College Football Playoff poll, a position that many may have expected its opponent North Carolina to be rather than NC State.
The Heels were a preseason top-10 squad in the polls but have gone a disappointing 6-5 at this point, reaching bowl eligibility with its 34-14 win over Wofford this past Saturday. UNC is 3-4 in the ACC.
Here is a full scouting report on North Carolina:
Five North Carolina Players To Watch
Senior running back Ty Chandler (No. 19)
Chandler is part of a trio of offensive skill players who have helped UNC become one of just three programs in the Football Bowl Subdivision (FBS) to have a 1,000-yard running back and 1,000-yard receiver, joining Ohio State and Kentucky.
Against Wofford, Chandler eclipsed 1,000 yards rushing for the season, making him the 20th player in school history to get there. His 1,004 rushing yards and 91.3 yards per game both rank third in the ACC. Chandler is also third in the conference in rushing scores with 13. He has gone over 100 yards rushing in a game three times this year, all UNC wins.
Chandler is a super senior who arrived at UNC after four seasons at Tennessee, where he is fifth all time in school history with 3,245 all-purpose yards and twice led the Vols in rushing.
Sophomore wide receiver Josh Downs (No. 11)
Downs is a sure-fire first-team All-ACC wideout who will likely be on All-America lists.
The son of former NC State running back Gary Downs needs just seven catches to surpass Ryan Switzer's 2016 school record for receptions in a season, and he needs 25 yards to eclipse Hakeem Nicks' 2008 mark for most receiving yardage in a year at UNC.
Downs has 90 catches for 1,198 yards and eight touchdowns. He has 16 more receptions than any other player in the ACC and over three times as many catches than anyone else on the Chapel Hill roster. Senior Antoine Green, with 26 catches, has the second-most receptions.
Downs has made at least eight grabs in all but one game and has five 100-yard receiving efforts to his credit.
Senior linebacker Jeremiah Gemmel (No. 44)
Gemmel is a three-year starter and the unquestioned leader of UNC's defense.
In each of the past two seasons, Gemmel has finished second on the team in tackles. He was a two-time ACC Linebacker of the Week selection in 2020.
In 11 games this season, Gemmel is once again second on the squad in hits with 63, including five for loss and a sack. He's also had an interception, a team-high seven quarterback hurries and three pass breakups.
Sophomore linebacker Cedric Gray (No. 33)
Gray has been a breakout performer this year for the Heels' defense. A year ago in 12 games during his true freshman season, Gray assisted on three tackles.
In 11 contests this year, Gray is the team leader in stops with 74, including 2.5 for loss and a sack. Three times this year Gray has reached double-digit hits.
He's also forced a fumble and and had a pair of interceptions in a win over Miami, including the game-clinching pick to preserve the win late in the fourth quarter.
Gray was the ACC Linebacker of the Week for that performance against the Hurricanes.
Junior quarterback Sam Howell (No. 7)
Howell missed the Wofford win nursing what was termed an upper-body injury, but he is expected to play Friday against NC State in what could very well be his final game for the Tar Heels.
UNC third-year head coach Mack Brown has already said that Howell will turn pro following the season.
While Howell has not had the Heisman Trophy campaign some expected, he's still been very good in 2021.
The list of accolades for arguably the best quarterback in UNC history is too long to list. He owns virtually every major school passing record, but this year he has added the dual-threat dimension to his game.
Howell, who is just 69 passing yards shy of becoming the eighth quarterback in ACC history to reach 10,000 for his career, is seventh in the ACC in rushing yards with 727 and has run for nine scores.
Through the air, he has completed 191 of 301 passes (63.5 percent) for 2,704 yards and 22 scores with eight picks.
What To Watch For From North Carolina Against NC State Football
1. A high-powered offense: The teams that had some statistical success running the football against NC State were Louisville (215 yards on the ground) and Syracuse (170 yards).
Syracuse ranks sixth nationally in the FBS in rushing yards per game at 230.6 and Louisville is 16th at 217.5. UNC is in their league, checking in at 19th nationally in average rushing yards, with a clip of 212.7.
The difference between North Carolina and those other two ACC teams is UNC can also throw it with Howell. The Heels are No. 26 nationally in passing yards per game at 270.2. Its 8.9 yards per attempt is tied for 12th, and the collective passer rating of 156.83 is 18th.
This is a balanced offense that, while it has some issues, still ranks 14th nationally in points per game at 37.0.
2. Suspect line play: No team in the ACC has allowed more tackles for loss this season than North Carolina, which has given up 81. That ranks 117th out of 130 teams at the FBS level.
Forty of those takedowns have been sacks. That is also last in the conference, and only five teams nationally have allowed more.
On the other side of the football, UNC has been known for giving up big rushing yards. It is 99th nationally with 175.1 yards per game allowed on the ground and 98th for giving up 4.54 yards per rush.
North Carolina has just 21 sacks, tied for 85th, and 58 tackles for loss, tied for 91st.
3. A streaky team: North Carolina took Coastal Division champion Pittsburgh to overtime in a game that was a microcosm of the Heels this year.
At halftime, UNC trailed 23-7 and was fortunate to be that close. The Panthers were stopped on fourth-and-one at the UNC 6-yard line, missed an extra point and had a short field goal attempt of 31 yards blocked — all in the first half. UNC then outscored Pittsburgh 16-0 in the second to force overtime before the Panthers prevailed, 30-23.
The Heels also trailed Wake Forest 48-34 going into the fourth quarter and won 58-55.
Those two teams could play for an ACC title Dec. 4 in Charlotte, and the Heels went toe-to-toe with both. Playing on the road at College Football Playoff contender Notre Dame, UNC entered the fourth quarter trailing just 31-27.
However, it also lost by 23 points at three-win Georgia Tech, dropped its opener to a Virginia Tech squad that just fired its coach, and was beaten at home by 10 points to a Florida State team that was 1-4 entering the contest and is still trying to reach bowl eligibility.
It is hard to predict which UNC team you might see from game to game, and sometimes from half to half.
Three Keys To The Game For NC State Football
1. Don't let someone outside the big three beat you: The numbers are pretty staggering. The duo of Chandler and Howell account for 74.0 percent of UNC's rushing yards. Downs is responsible for 42.7 percent of the receptions and 40.3 percent of the receiving yards.
UNC may also be without its third-leading running back in sophomore D.J. Jones, who is questionable with an injury.
Howell, Chandler and Downs are so heavily used in UNC's offense that it is inevitable they are going to get their yards. The key for NC State and its defense is to not let one of the lesser-proven skill players have a big day to complement the big three.
From a receiving standpoint, the only other wideout with double-digit catches is the aforementioned Green with 26 catches for 528 yards and five scores, but Howell does have a pair of solid tight ends he can throw to in sophomore Kamari Morales (22 catches for 194 yards and five scores) and senior Garrett Walston (17 receptions for 147 yards and a touchdown).
2. Run the football effectively: NC State has not had a 100-yard team rushing performance since it ran for 111 yards at Miami Oct. 23 — and 40 of those yards came on a fake punt.
But the last two games have been due to how the play calling went more than ineffectiveness. NC State averaged 4.1 yards per carry at Wake Forest but ran just 18 times. When you remove sacks from that total, it turns into 5.6 yards per carry.
Last Saturday against Syracuse, there were only 54 offensive plays for both teams in a modestly paced contest. That was the fewest snaps in a game for the Pack this year. Thus the Wolfpack finished with 96 net rushing yards, but when you remove the sacks it was 114 yards and an average of 4.1 yards per carry against a solid rushing defense.
North Carolina is not a very good rushing defense, and if the Pack can move effectively on the ground, it'll also be able to keep the Heels' offense on the sideline.
Traditionally the team that runs for more yards in this game does well, including winning the last seven in a row in the series and 10 of the past 11.
3. Avoid a shootout: NC State is, on paper, the best defense UNC has faced this year. There have been games where the Heels have been slowed offensively. In four of its five losses, North Carolina had 25 or fewer points.
In its most notable wins, UNC prevailed by outscoring teams: 59-39 vs. Virginia, 45-42 vs. Miami and 58-55 vs. Wake Forest.
North Carolina's formula for success this year has been clear. It needs to score points and get into a high-scoring affair.
Three Numbers Of Note For NC State Football Vs. North Carolina
30 North Carolina is 6-1 when it scores 30 points or more this season. It is 0-4 when held under 30 points.
0-4/6-0 The first is UNC's record on the road this season. The latter is NC State's home record.
15 Games in a row that North Carolina has won when leading at halftime.
——
• Talk about NC State football inside The Wolves' Den
• Subscribe to our podcast on iTunes
• Subscribe to our YouTube channel
• Learn more about our print and digital publication, The Wolfpacker
• Follow us on Twitter: @TheWolfpacker
• Like us on Facebook