NC State football could mark a program first for quarterbacks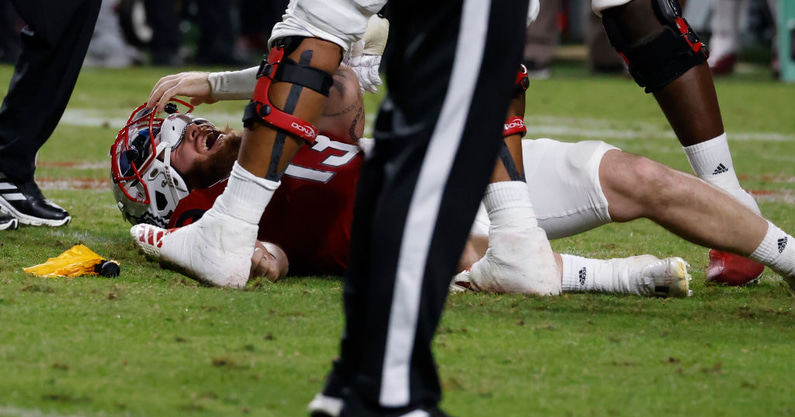 At a school that has branded itself #QBU for its ability to put quarterbacks in the NFL, NC State has never had a season quite like this one. Injuries have forced the Wolfpack offense to go through more signal-callers than any time in program history.
Going into Friday's regular-season finale at North Carolina, head coach Dave Doeren's team (7-4 overall, 3-4 in the Atlantic Coast Conference) has utilized three different starting quarterbacks this season with the unannounced possibility that a fourth, third-year redshirt freshman Ben Finley, could begin the game under center.
That likely won't be known before Friday's 3:30 p.m. kickoff at Kenan Stadium in Chapel Hill.
The season began with fifth-year redshirt junior Devin Leary, the ACC's Preseason Player of the Year, at quarterback. He had high hopes of putting up Heisman Trophy-worthy numbers, following a year in which he broke Philip Rivers' single-season school record by throwing 35 touchdown passes.
However, Leary suffered a season-ending torn pectoral muscle in the Wolfpack's sixth game, a victory over Florida State at Carter-Finley Stadium that put an offense that had been performing below preseason expectations into flux.
Jack Chambers, a fifth-year graduate transfer from Charleston Southern, took over for Leary against Syracuse and Virginia Tech.
True freshman MJ Morris took over for Chambers midway through the game against the Hokies and threw three second-half touchdowns in the 22-21 victory. He also guided the offense in a win over Wake Forest, but struggled in a loss against Boston College.
In that game, he suffered a knee injury that kept him out of the contest at Louisville, where Chambers started, but Finley, younger brother of former NC State quarterback Ryan Finley, took over and completed 16 of 35 passing attempts, with one touchdown and one interception.
Morris is listed once again as the starter for Friday's game in Chapel Hill on the depth chart, but Finley may fill in that spot if Morris is unable to play because of his injury.
If Finley does, it would be the first time in program history that NC State has had four different starting quarterbacks in the same season.
There have been at least three times in modern history that the Pack has used three starting quarterbacks: 1988, 1991 and 2019.

The Pack also had three regular quarterbacks in 1965, with passers Charlie Noggle and Jim Donnan, and lefthanded sophomore Jack Klebe, but school records don't list starters for any position that season.
There was also the 2008 preseason when there were five quarterback candidates, a situation that was resolved when Russell Wilson won the starting job and went on to become the first freshman quarterback to win first-team All-Conference honors in ACC history.
In 2019, the Pack started the season with redshirt sophomore Matt McKay as the starter, then turned to lefty Bailey Hockman against Syracuse and Boston College before Leary won the job for the final five games of a 4-8 season.
In 1991, injuries also caused a few shakeups in the Wolfpack offense, which began with Terry Jordan as the starter for the first five games. However, he suffered a broken arm early in the second quarter against North Carolina, with the Wolfpack leading 3-0.
Redshirt freshman Geoff Bender came off the bench to throw a pair of touchdown passes and lead his team to a 24-7 victory over the No. 23 Tar Heels.
Bender started the next four games and led the Wolfpack to three impressive victories against Marshall, Georgia Tech and South Carolina, putting head coach Dick Sheridan and his defensive-minded squad in position to win an ACC championship.
However, Bender suffered a separated shoulder against Virginia, a 42-10 loss at Carter-Finley that ended those title hopes.
Freshman Terry Harvey, a two-sport athlete who was also a pitcher for the Wolfpack baseball team, took over for the final two games of the regular season, winning a 32-31 nail-biter against Duke and a 20-17 contest with Maryland in the regular-season finale.
The Wolfpack finished second in the ACC, with nine overall wins in the regular season for just the third time in school history. NC State ended the season with a 37-34 New Year's Day loss to East Carolina in the Peach Bowl in Atlanta.
The 1988 season was similarly successful, despite using a trio of starters at quarterback by design. Preston Poag was the starter early in the season, but Sheridan and his staff used both junior Shane Montgomery and sophomore Charles Davenport to change up the pace throughout the season.
Montgomery replaced Poag as the starter against North Carolina in the season's sixth game, coming out in a no-huddle offense in Kenan Stadium that blitzed the Tar Heels from the opening possession.
In head coach Mack Brown's debut in the statewide rivalry, North Carolina was overwhelmed 27-3 in the first half and the Pack added three more scores in the second half for a 48-3 victory that still stands as the largest margin of victory by either team in the first 111 games in the rivalry.
Montgomery led the Wolfpack to its third consecutive victory over Clemson the following week, but after losing to Sheridan-nemesis Virginia, Davenport took over as the starter against Duke. That game at Wallace-Wade Stadium ended at 43-43, the highest scoring tied game in NCAA Division I-A history.
After two losses and a tie, the Wolfpack beat Pittsburgh 14-3, with Davenport starting for the second game in a row.
After the game, the Wolfpack accepted a bid to play Iowa in the Peach Bowl, where it platooned Davenport on running plays and Montgomery on passing downs. Davenport rushed for one touchdown, and Montgomery threw a 75-yard scoring pass to Danny Peebles, while running back Tyrone Jackson rushed for two touchdowns in the rain-soaked 28-23 victory.
Tim Peeler is a regular contributor to The Wolfpacker and can be reached at [email protected]