NC State football recruiting has two in the final On300 for 2022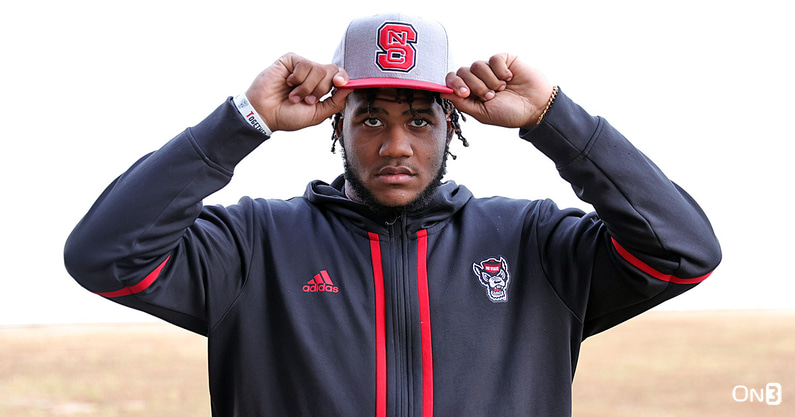 A pair of NC State football signees in the 2022 class have made the final release of the 2022 On300 that was released Monday by On3.
Headlining the class is the last addition for NC State football recruiting in 2022: On3 four-star offensive lineman Jacarrius Peak from Valdosta (Ga.) High. The 6-foot-5, 310-pounder picked NC State over Louisville on signing day after having also accumulated offers from Georgia Tech, Houston, LSU, Miami, Missouri, Nebraska, Virginia and Virginia Tech, among others.
Peak checked in at No. 162 in the final On300, a jump from his prior rating of No. 211. The bump from On3 makes Peak an On3 Consensus four-star. The On3 Consensus rankings is the only system to give equal weight to the four major recruiting services.
Peak joins running back Michael Allen from Greenville (N.C.) Rose High, defensive lineman Brandon Cleveland from Tampa (Fla.) Carrollwood Day and linebacker Torren Wright from Kannapolis (N.C.) A.L. Brown High as the four On3 Consensus four-stars in the 12-player NC State football recruiting class.

On3 also has Peak rated the No. 13 offensive tackle in the country and the No. 15 prospect from the state of Georgia. Wolfpack offensive line coach John Garrison led the NC State football recruiting effort for Peak.
"Jacarrius is a very athletic young man," NC State head coach Dave Doeren said on signing day. "He's a long wingspan, tall kid that plays basketball, shot and disc, multiple sport athlete that we feel has tremendous upside.
"He is a hard worker, comes from a great program in Valdosta. It was a good fit for what we do."
The other prospect to make the cut for the On300 was cornerback Jackson Vick from Southern Nash High in Bailey, N.C. The 6-0, 175-pound Vick has already enrolled for the spring semester at NC State.
He was a two-way standout at Southern Nash, rushing 138 times for 1,211 yards and 16 touchdowns while also catching eight passes for 200 yards and four scores in 10 games. He added 13 tackles (five solo, one sack) and an interception in limited action on defense, and returned both a kickoff and a punt for a touchdown.
Vick was an early summer commit for NC State football recruiting after also having offers from Duke, Syracuse and Wake Forest, among others. Wolfpack cornerbacks coach Brian Mitchell led Vick's recruitment.
Vick checks in at No. 224 in the On300, a bump of seven spots from his prior ranking. On3 also has Vick rated No. 5 in the state of North Carolina and the No. 22 cornerback nationally.
——
• Talk about NC State football recruiting inside The Wolves' Den
• Subscribe to our podcast on iTunes
• Subscribe to our YouTube channel
• Learn more about our print and digital publication, The Wolfpacker
• Follow us on Twitter: @TheWolfpacker
• Like us on Facebook