NC State football roster roundup: Tracking movements (update Jan. 14)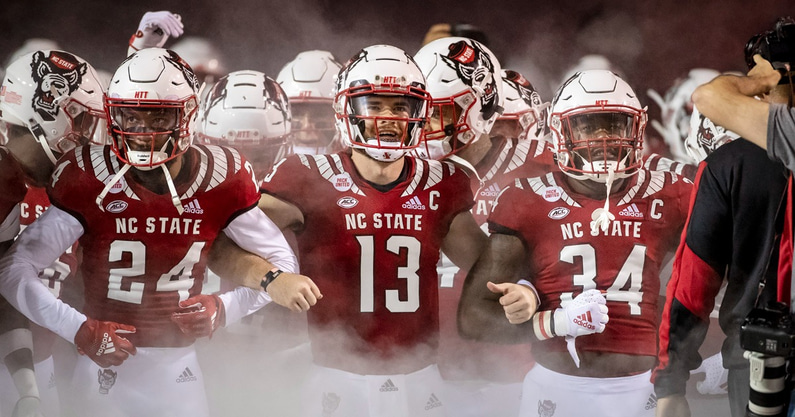 There has been a lot to unpack when it comes to the NC State football roster over the past month.
Here is a rundown of all the developments thus far:
• Latest update: Kicker Christopher Dunn's announced return as a super senior.
NC State football players returning as super seniors
• Nickel Tyler Baker-Williams: Honorable mention All-ACC in 2021 after tallying 32 tackles, including three for loss. He also added two interceptions and four pass breakups in 10 games, missing two contests with injuries.
• Nose tackle Cory Durden: Took over and flourished as the starting nose tackle when redshirt freshman C.J. Clark went down with an injury three games into the season. Durden was named first-team All-ACC after he finished the year with 31 tackles, including 4.5 for loss and 3.5 sacks, and added seven quarterback hurries.
• Kicker Christopher Dunn: A two-time second-team All-ACC selection who was also honorable mention All-ACC as a junior, Dunn holds the school career records for field goals made (68), extra points (169) and points (373).
This past fall, Dunn made 12 of 17 field goal attempts with a long of 46 yards and connected on all 47 of his extra points.
For his career, Dunn is 68 of 84 on field goal tries and has made two greater than 50 yards, including a 53-yarder. He's perfect on his 169 PATs.
• Safety Cyrus Fagan: Injured in Week 2 of the season. He had nine tackles and a pick at the time of the injury, and started the game at Mississippi State.
Both Fagan and Durden were transfer additions from Florida State.
• Center Grant Gibson: Third-team All-ACC selection in 2021 and a three-year starter who had 40 pancake blocks this past fall. Gibson is also a two-year captain.
• Safety Tanner Ingle: A first-team All-ACC choice this past season after tallying 82 tackles, including 3.5 for loss, plus he had an interception and four pass breakups in 2021. Ingle has started 36 games over the past four seasons.
• Linebacker Isaiah Moore: Despite missing the final five games of the season was chosen honorable mention All-ACC. Before suffering a knee injury, he had 43 tackles, including five for loss and a sack. He added three pass breakups, an interception and seven quarterback hurries.
• Cornerback Derrek Pitts Jr.: A transfer addition last offseason from Marshall, Pitts had 43 tackles, including 2.5 for loss, in 12 games, including 11 starts. He also had two interceptions, six pass breakups (tied for the team high) and a quarterback hurry.
• Receiver Thayer Thomas: Starting slot receiver/punt returner caught 51 passes for 596 yards and eight touchdowns this past fall. Thomas has 20 career scoring receptions, tied for third most in school history.
He also has a career average of 10.4 yards per punt return.
Returning rather than leaving for NFL
• Redshirt sophomore receiver Devin Carter: Three-year starter at receiver caught 31 passes for 556 yards and six touchdowns last season. For his career, Carter has 93 receptions for 1,500 yards and eight scores.
• Redshirt sophomore quarterback Devin Leary: Honorable mention All-ACC and one of five finalists for the Johnny Unitas Award after breaking Philip Rivers' school record for touchdown passes in a season.
Leary finished the regular season completing 283 of 431 passes, 65.7 percent, for 3,433 yards and 35 touchdowns with only five interceptions. He had a quarterback efficiency rating of 157.0.
• Redshirt sophomore linebacker Payton Wilson: Has not made an official announcement, but both Leary and Doeren have alluded to his return.
Wilson was a first-team All-ACC selection in 2020 when he led the conference in tackles despite missing two games. He was a contender to be the league's Defensive Player of the Year this fall, but a shoulder injury in a loss at Mississippi State during the second game of the season cost him the rest of the year.

Incoming transfer portal additions
• Maryland receiver Darryl Jones: The former On3 Consensus four-star prospect from Virginia Beach, Va., caught 23 passes for 319 yards and two touchdowns as a senior in 2021. He will use his Super Senior year at NC State.
The 6-foot-3, 200-pounder has 47 career catches for 672 yards and a pair of touchdowns.
• Towson punter Shane McDonough: After starting his career at Marshall and spending two seasons there, McDonough transferred to Towson. In 2019, he was named third-team all-conference after finishing second in the Colonial Athletic Association with an average of 43.9 yards per punt.
This past season, he was second-team All-CAA and third in the league in punting at 41.3 yards a boot, while pinning 15 of his 45 kicks inside the 20.
Players not returning as super seniors
• Redshirt junior punter Trenton Gill: First-team All-ACC choice averaged 44.4 yards per punt this past season, and his career average of 45.8 yards per kick broke Johnny Evans' 44-year-old school record of 44.0 yards.
The former walk-on will receive his master's in the spring and has elected to pursue the NFL.
• Redshirt junior linebacker Vi Jones: Like Gill, has elected to pursue the NFL. Jones started the final five games of 2021 and finished tied for a team-high with six sacks and led the defense with 12 quarterback hurries. He also had eight tackles for loss, third on the team, and finished with 45 tackles (fourth most).
Jones, a former transfer from Southern Cal, was additionally a special teams standout with three career blocked kicks.
• Junior running back Ricky Person Jr.: Rushed for 636 yards and five scores, and added 240 yards receiving and two more scores in 2021. Person finished his career with 435 carries for 1,999 yards and 14 scores, and 53 receptions for 455 yards and four additional touchdowns.
• Fifth-year senior offensive guard Chandler Zavala: Started first five games of the campaign before a season-ending injury that was expected to require surgery. Zavala applied for a waiver that would have given him an extra year of eligibility, but the NCAA denied it.
Players leaving early for NFL
• Sophomore left tackle Ikem Ekwonu: Was the third-ever unanimous consensus first-team All-American in NC State football history, joining former center Jim Ritcher in 1979 and defensive end Bradley Chubb in 2017. Ekwonu was also one of three finalists for the Outland Trophy, given to college football's top lineman, and won the ACC's Jacobs Blocking Trophy.
Ekwonu finished the regular season with 67 pancake blocks and 18 knockdowns, and was a two-time ACC Offensive Lineman of the Week. The 6-foot-4, 320-pounder allowed just two sacks in 829 snaps. Pro Football Focus (PFF) ranked Ekwonu as the seventh-best run blocker in college football.
• Sophomore running back Zonovan Knight: A first-team All-ACC selection as a specialist, he returned kickoffs for touchdowns against both Wake Forest and Syracuse, and finished the year with a national-best average of 34.4 yards on his 16 returns.
Knight's career kickoff return average of 35.2 yards is a school record.
Knight was also honorable mention All-ACC as a running back after carrying 140 times for 753 yards and three scores, and making 21 receptions for 156 yards. He finished his career with 419 rushes for 2,286 yards, averaging an NC State football record of 5.45 yards per rush, to edge out the mark held by Roland Hooks since 1974.
Knight's 3,546 career all-purpose yards are the 10th most at NC State.
NC State football players in transfer portal
• Redshirt freshman defensive end Terrell Dawkins: Started six games in 2020 and finished with 36 tackles (16 solo), including nine for loss and 4.5 sacks. He added a pair of forced fumbles and a quarterback pressure.
An injury limited Dawkins in the spring and into preseason camp. He missed the season opener and had just one snap at Mississippi State in Week 2.
Overall, Dawkins played in 10 games in 2021, but his snaps total dropped from 452 the year before to 113, and he had six tackles (one solo) and a quarterback hurry.
Dawkins has announced he is headed to South Carolina.
• Redshirt junior receiver Max Fisher: Was an On3 Consensus three-star in the 2017 class and picked the Wolfpack over offers from Boston College, Indiana and Wake Forest, but he did not play much in four seasons in Raleigh.
Fisher, who briefly switched to safety in 2021 before returning to wideout, caught two passes for 41 yards in a lopsided loss at Florida State in 2019 for the lone catches of his career. He also returned a blocked punt for a touchdown in 2020 against Duke.
Fisher graduated from NC State in December.
• Freshman nickel Mario Love Jr.: An On3 Consensus three-star signing in the 2021 class and rated the No. 44 prospect in the state, Love chose NC State football over offers from Duke and Louisville. He did not play in any games this fall.
• Redshirt freshman safety Khalid Martin: Started one game while preserving his redshirt in 2019 and then suffered a scary spinal injury in Week 2 of the 2020 season.
He returned this fall but played in just two games on defense, lopsided wins over South Florida and Furman, and in nine more contests on special teams. He had 11 career tackles, assisting on one for a loss.
——
• Talk about NC State football inside The Wolves' Den
• Subscribe to our podcast on iTunes
• Subscribe to our YouTube channel
• Learn more about our print and digital publication, The Wolfpacker
• Follow us on Twitter: @TheWolfpacker
• Like us on Facebook