Final: NC State football 41, Syracuse 17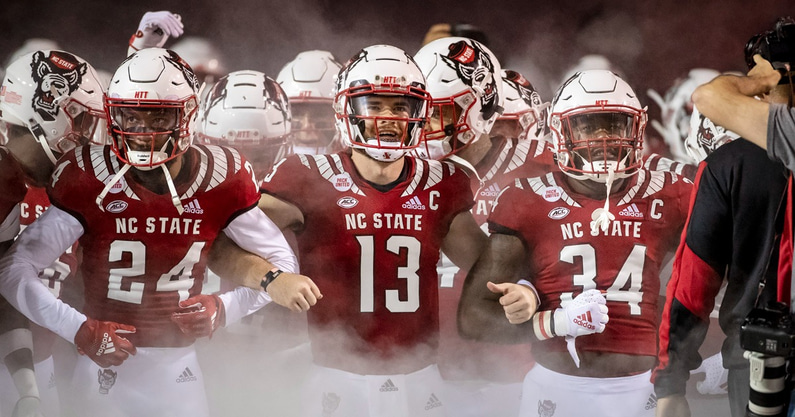 NC State football has new life as it enters its game against Syracuse.
Clemson's dismantling of Wake Forest at home leaves the door open for the Wolfpack to still win the ACC's Atlantic Division, but first NC State (7-3 overall and 4-2 ACC) has to beat Syracuse (5-5, 2-4) to keep the possibility alive.
The game is televised on ACC Network.
We will have updates throughout the game here.
NC State football fans can discuss the contest on the Wolves' Den message board.
Scoreless first quarter (4:42 p.m.)
NC State football drove into Syracuse territory on both of its first quarter possessions, but each stalled. The Pack went for it on fourth and two at the Orange 29, but a sweep to redshirt sophomore tight end Trent Pennix was defended for no gain.
First quarter stats (4:43 p.m.)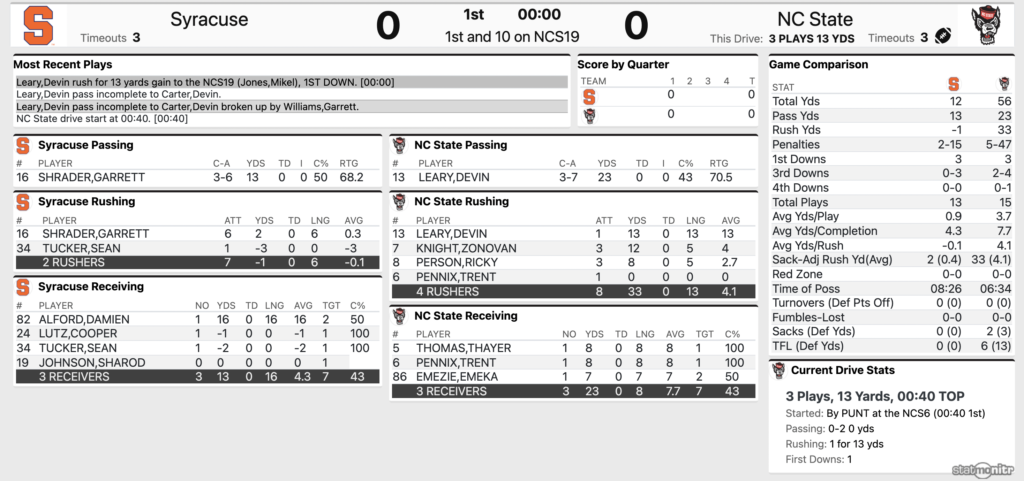 NC State football finally gets points (5:05 p.m.)
On the fourth drive into Syracuse territory, NC State's offense finally scores.
A 49-yard pass from redshirt sophomore quarterback Devin Leary to redshirt junior wideout Thayer Thomas set up NC State with a first down at the Syracuse 15-yard line. On the next play, junior running back Ricky Person Jr. bounced a run outside to his left after being initially stuffed up the middle and scored.
NC State leads 7-0 with 6:14 left in the first half.
Pick six for Drake Thomas (5:11 p.m.)
Two plays after the Person touchdown run, NC State sophomore linebacker Drake Thomas picked off Syracuse sophomore quarterback Garrett Shrader at the 36 and returned it for a touchdown.
NC State leads 14-0 with 5:25 left in the half.
Sean Tucker answers with long TD run (5:16 p.m.)
Shrader converted a third and one at the Syracuse 44-yard line with a one-yard QB draw.
Then on the next play, likely All-American running back Sean Tucker bounced a run outside to his left and scored on a 55-yard run to cut NC State's lead to 14-7 with 3:16 left in the half.
Now a special teams TD for NC State football (5:19 p.m.)
For the second straight week, sophomore running back Zonovan Knight returned a kickoff for a touchdown. This time a 97-yarder to make it 21-7 NC State with 3:01 left in the half.
Last week at Wake Forest, Knight had a 100-yard runback to the end zone.
Pack adds on another before half (5:32 p.m.)
It's a NC State football blitz to end the half.
The fourth Wolfpack touchdown since the 6:14 mark is a 14-yard TD pass from Leary to redshirt freshman tight end Christopher Toudle with eight seconds left in the half.
The TD was set up by a 58-yard pass from Leary to redshirt junior receiver Thayer Thomas.
Halftime stats (5:35 p.m.)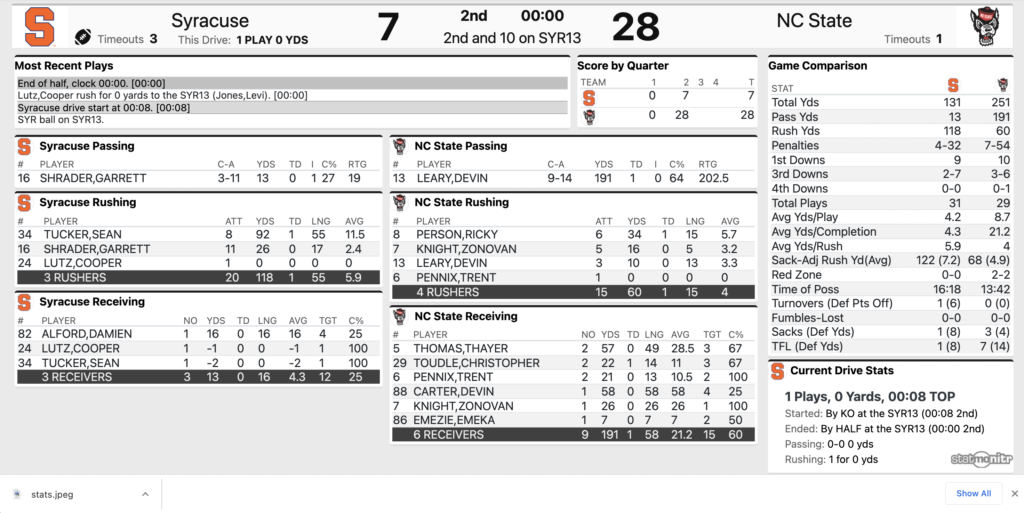 NC State football adds field goal (6:04 p.m.)
NC State's first possession of the second half began at the Syracuse 46-yard line, and the Pack converted the good field position into a 37-yard field from junior Christopher Dunn to put the Wolfpack up 31-7 with 10:46 left in the third quarter.
Syracuse gets a field goal (6:15 p.m.)
The Orange cut NC State's lead to 31-10 with 6:41 left in the third quarter on a 45-yard field goal from redshirt junior Andre Szmyt.
NC State extends its lead with touchdown (6:27 p.m.)
On second and goal from the 8-yard line, Leary threw a little pop pass to Thomas, who was in motion, and Thomas followed his blockers into the end zone for the touchdown.
NC State leads 38-10 with 2:15 left in the third quarter.
Stats through three quarters (6:32 p.m.)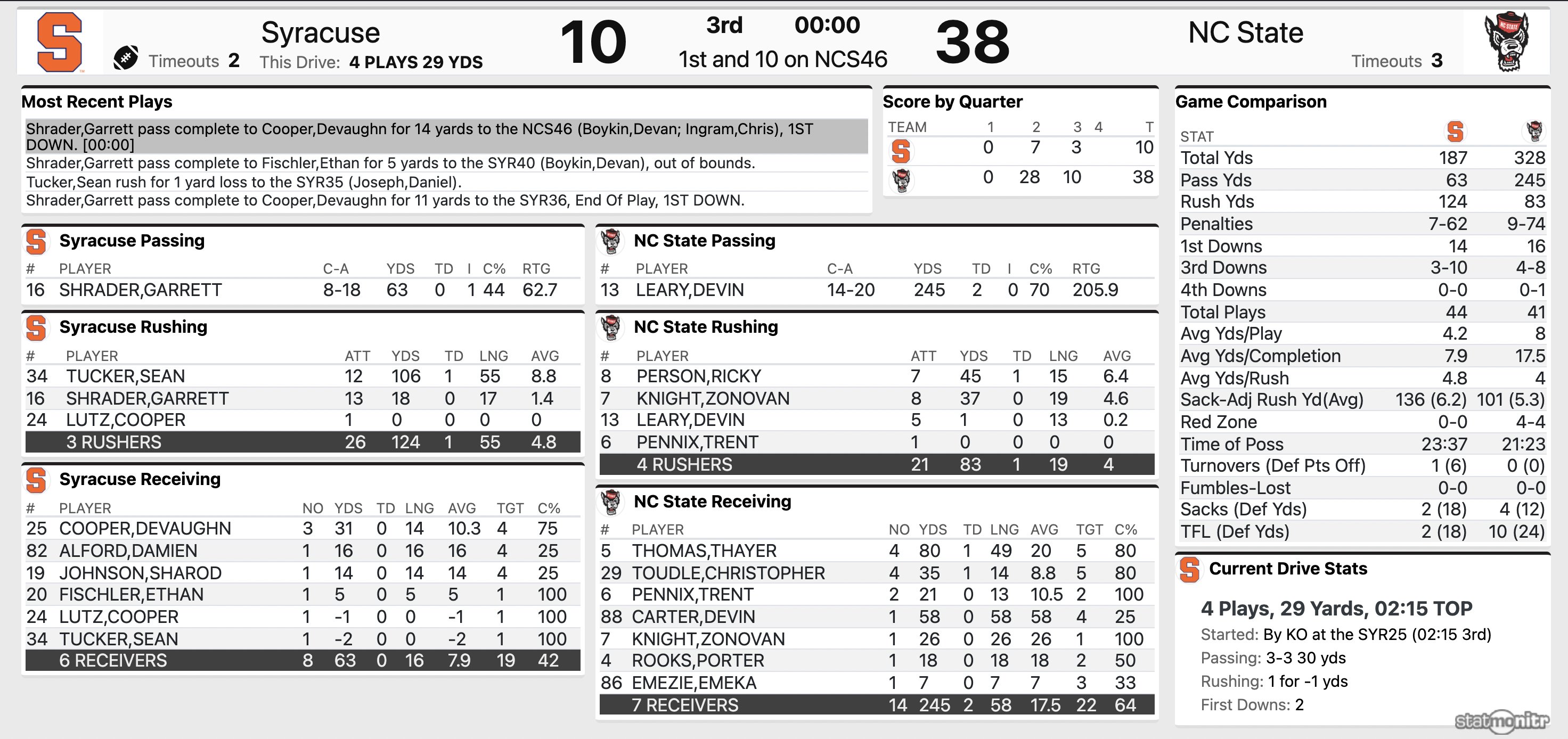 Long TD run for Syracuse (6:51 p.m.)
Both of Syracuse's touchdown on NC State's defense have come on long touchdown runs.
Shrader kept on the read option and ran down the right sideline for a 48-yard touchdown with 8:45 left, cutting the Pack's lead to 38-17.
Late field goal for NC State (7:01 p.m.)
A short 21-yard field goal with 3:45 left by Dunn puts the Wolfpack up 41-17.
Final stats (7:12 p.m.)