NC State football vs. UNC predictions from The Wolfpacker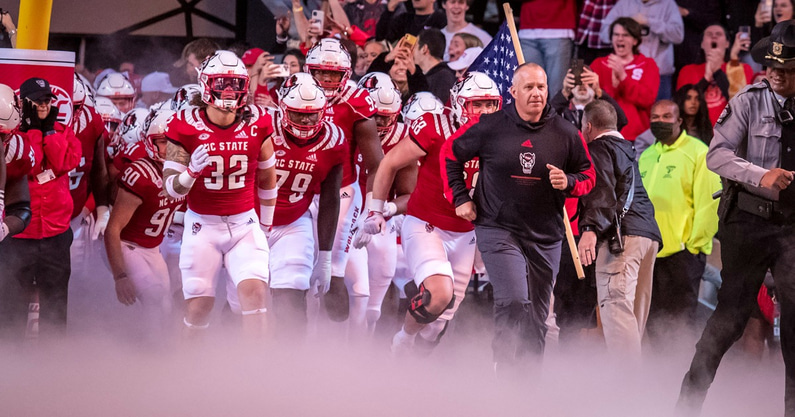 NC State football can secure its first unbeaten home season since 1986 and put itself in a position to win the Atlantic Division in the ACC with a little help from Boston College if it knocks off archrival North Carolina.
NC State enters the contest 8-3 overall and 5-2 in the ACC. A win over UNC and a loss by Wake Forest at BC Saturday would clinch the Atlantic for the Wolfpack and send it to Charlotte Dec. 4 for the ACC Championship Game.
North Carolina, ranked among the preseason top 10 in the polls, is 6-5 overall and 3-4 in the conference, but it has also proven it is capable of beating the top teams in the ACC.
NC State is favored by 5-6 points Friday. Will the Pack prevail?
The Wolfpacker staff makes its predictions.
---
Matt Carter
---
There's two ways to look at this game.
From an analytical point of view, in the only meaningful games that UNC has won this year it outscored its opponents in shootouts. The only time the Wolfpack has been involved in such a game this year they lost at Wake Forest.
UNC and Wake Forest are comparable offenses, statistically. So, is that cause for concern?
The Demon Deacons are averaging 490.0 yards per game on offense, 6.44 yards per play and score 43.1 points per game. Against NC State, Wake had 406 total yards and a season-low 4.5 yards per play, but it did finish with 45 points. That, however, was partially aided by three drives that started in Wolfpack territory and resulted in 17 points.
UNC is averaging 482.9 yards per game on offense, 6.85 yards per play and scores 37.0 points per game.
Wake Forest, though, has faced three top-25 defenses in the ACC in Clemson, Syracuse and NC State. All three held the Deacons to similar outputs, ironically. Clemson also allowed 406 total yards, and Syracuse gave up 401 in regulation. In those two games, the Deacons had 27 and 33 points, respectively (not counting overtime vs. the Orange). That shows what NC State might have held the Deacons to if it were not for the three drives starting on Pack side of the field.
Out of 130 teams in the Football Bowl Subdivision, UNC has faced a top half of the country defense in terms of yards allowed per game three times: Notre Dame (40th), Pittsburgh (55th) and Virginia Tech (63rd). Half of their ACC games have come against defenses ranked 100th or worse in total yards given up. Non-conference foe Georgia State was not much better at 86th, nor is ACC rival Miami at 82nd, and the Heels also played Wofford, who is 1-10 in the Football Championship Subdivision (FCS).
In other words, Wake's offense may be more proven than UNC's, and thus it is reasonable to expect that NC State — the best defense Mack Brown's squad has played all year and with a track record of holding teams to some of their lowest outputs of the season — will keep the Heels' offense in check more effectively than most of Chapel Hill's opponents have done.
If NC State can protect the football and not allow long kick returns, it would seem to be a good bet on paper to prevail.
There is the emotional aspect of the game, however, and that's probably what makes NC State football fans most nervous.
It's understandable. NC State's track record in significant-impact type games is not the best, most recently losing at Wake Forest. But in the series against UNC, it has not been that bad.
Since 2000, the Wolfpack is 12-9 against UNC. With the exceptions of the infamous 2004 game in Chapel Hill — better known as the T.A. McLendon game — and perhaps the 2012 contest, also at UNC — better known as the Gio Bernard game — most of UNC's wins were reasonably anticipated, if not outright expected.
Otherwise, NC State has a recent history of rising up against the Heels.
In 2016, with head coach Dave Doeren arguably coaching for his job against a ranked UNC team, the Pack prevailed 28-21. Two years before, with both teams sitting at six wins, NC State crushed the Heels, 35-7.
In 2010, needing a win to control its destiny in the ACC's Atlantic Division going into the final week, NC State rallied for a 29-25 win in Chapel Hill. Two years before that, the Wolfpack, needing a win at a ranked Chapel Hill team to keep bowl hopes alive, demolished the Heels 41-10.
In 2007, NC State preserved its chances at a bowl while ruining UNC's in a 31-27 triumph.
I think this game sets up well on paper, and I have the Pack prevailing.
 Matt Carter's prediction: NC State 34, UNC 24.
Previous predictions:
Week 1: NC State 41, South Florida 21 (actual: NC State 45-0)
Week 2: NC State 33, Mississippi State 30 (actual: Mississippi State 24-10)
Week 3: NC State 42, Furman 6 (actual: NC State 45-7)
Week 4: Clemson 21, NC State 9 (actual: NC State 27-21)
Week 5: NC State 38, Louisiana Tech 17 (actual: NC State 34-27)
Week 6: NC State 28, Boston College 24 (actual: NC State 33-7)
Week 7: NC State 31, Miami 23 (actual: Miami 31-30)
Week 8: NC State 30, Louisville 17 (actual: NC State 28-13)
Week 9: NC State 27, Florida State 17 (actual: NC State 28-14)
Week 10: NC State 33, Wake Forest 31 (actual: Wake Forest 45-42)
Week 11: NC State 23, Syracuse 17 (actual: NC State 41-17)

---
Justin H. Williams
---
I'll admit, this is a good matchup for NC State.
The Wolfpack has a clear advantage on defense, the Pack's offense is not as far behind UNC's as most would assume, and the game will be played in Carter-Finley Stadium, after all. 
But what gives me pause in hammering NC State in dominating fashion is how North Carolina has competed against in-state opponents since head coach Mack Brown took over in 2019, particularly against the Wolfpack. 
The last two times the Pack has faced the Heels, it hasn't been pretty. 
The good news for State fans is that the team is in a much better spot now than it was for the regular-season finale of 2019 or the week after starting quarterback Devin Leary's season-ending injury last year.
And since Leary's return in Week One this season, he's been balling out. 
Remember all the preseason rhetoric about UNC quarterback Sam Howell's candidacy for the Heisman Trophy? 
Leary, who didn't receive any preseason recognition, has thrown for more yards, more passing touchdowns, a greater completion percentage and fewer interceptions than Howell.
Granted, Howell has also been very productive with his legs, and that is an undeveloped area of Leary's game to this point. But nobody would have predicted four months ago that Leary would be more effective through the air than the ACC's perceived leading Heisman contender. 
Expect both to be in top form Friday night. Leary has thrown for 300 or more yards and at least 2 touchdowns in his last five games, all against ACC competition. 
Meanwhile, this is likely Howell's last game at North Carolina. Yes, UNC will be bowl eligible regardless of the result Friday night. But Howell isn't going to improve his draft stock in the Wasabi Fenway Bowl. He should opt out to preserve that draft stock. 
This game is all UNC has left to play for. Expect a desperate and energized squad. 
Alternatively, NC State can still accomplish everything it wants this season. It doesn't control everything, but any hope of the ACC Championship or even a New Year's Six Bowl requires a win. 
I consider North Carolina "Wake Forest Light."  Their offense is great, and their defense is poor. They just lose more games than the Deacs. 
State lost a heartbreaker in Winston-Salem by three points. The Pack gets the Heels at home, and I just don't think Carolina is as good as Wake (and yes, I know, UNC beat Wake Forest in Chapel Hill). 
NC State football finds a way to win a competitive four-quarter contest to finish its regular season in style.
Justin Williams' prediction: NC State 34, North Carolina 30.
Previous predictions:
Week 1: NC State 41, South Florida 16 (actual: NC State 45-0)
Week 2: NC State 38, Mississippi State 28 (actual: Mississippi State 24-10)
Week 3: NC State 48, Furman 16 (actual: NC State 45-7)
Week 4: Clemson 20, NC State 16 (actual: NC State 27-21)
Week 5: NC State 49, Louisiana Tech 22 (actual: NC State 34-27)
Week 6: NC State 27, Boston College 20 (actual: NC State 33-7)
Week 7: NC State 34, Miami 23 (actual: Miami 31-30)
Week 8: NC State 38, Louisville 33 (actual: NC State 28-13)
Week 9: NC State 30, Florida State 20 (actual: NC State 28-14)
Week 10: NC State 38, Wake Forest 30 (actual: Wake Forest 45-42)
Week 11: NC State 34 Syracuse 23 (actual: NC State 41-17)
——
• Talk about NC State football inside The Wolves' Den
• Subscribe to our podcast on iTunes
• Subscribe to our YouTube channel
• Learn more about our print and digital publication, The Wolfpacker
• Follow us on Twitter: @TheWolfpacker
• Like us on Facebook