NC State football has long list of motivating factors for Friday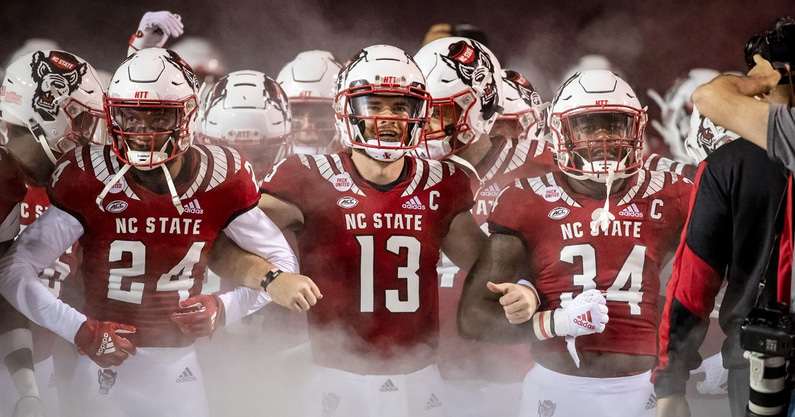 The list of motivational factors for NC State football in its game Friday at Carter-Finley Stadium in Raleigh against archrival UNC is a long one:
• Keeps alive a chance to win the ACC's Atlantic Division and play for the conference championship Dec. 4 in Charlotte.
• Gives NC State a ninth victory for the third time in five years, and it opens the door for a chance to have just the second-ever double-digit win total in program history.
• Secures the first undefeated home season at Carter-Finley Stadium since 1986.
• Ends a two-game losing streak in the rivalry in which the losses were by 31 and 27 points.
But for NC State football coach Dave Doeren, who repeatedly likes to note he can remember almost everything about his Senior Day at Drake in 1993, the opportunity to give his seniors one last triumph at Carter-Finley Stadium is at the top of the list.
RELATED: LB Isaiah Moore: 'I'm back'
RELATED: RB Ricky Person Jr. will enter NFL Draft
"As a coach, it's very, very important to me to do everything we can to send them out with a win," Doeren said.
It's a bit tricky identifying the seniors this year since the NCAA froze eligibility last fall. Six seniors are definitely playing their last game because they have no more eligibility: receiver Emeka Emezie, cornerback Chris Ingram, defensive end Daniel Joseph, tight end Dylan Parham, receiver C.J. Riley and offensive tackle Tyrone Riley.
Doeren confirmed that NC State is trying to get a waiver for injured guard Chandler Zavala, who otherwise also would be out of eligibility.
A lot of juniors have decisions to make about their futures, too.
"Some of them are going to walk, and not because they've made decisions [but] because they don't want to miss out on walking if that's the decision they make," Doeren clarified. "And I want to be very clear about that."
The coach noted the players will have to decide which button to push for themselves among the long list of motivating options, but Doeren also offered a hint that the rivalry aspect will likely carry the day.
"It is pretty resounding where these guys are at with this game and how they want to play and what they know they didn't do against our rival the last two years," Doeren admitted.
The team will have a Thanksgiving meal at Brasa Steakhouse on Wednesday, with Doeren joking the goal is to set the Guinness world record for most meat put down by a football team in one night.
Thursday will bring another team meal at the hotel with the families of the coaches.
Then comes one last go-around at Carter-Finley with this group.
"It's a great team to coach," Doeren admitted. "They're awesome guys. I am really lucky to be around them and the staff."
Which is why Senior Day remains Doeren's chief motivating factor for Friday.
"There's a million reasons to win a football game: rivalry week, one of our goals is to be undefeated at home, legacy opportunities," Doeren listed. "Being undefeated at home hasn't happened in 35 years. Having a chance to win 10 games if we win this, being alive for the ACC championship game if Wake Forest loses — there's a million of them, and they're all important reasons.
"But [its] Senior Day to me. Seeing those guys in the locker room after the game, it's going to be painful for them either way, and I want it to be where there's that smile on their face after a win."

Other NC State football tidbits
• Doeren is not a fan of the game being played Friday night. He noted his son was originally scheduled to play in a high school state playoffs game at the same time the Pack and UNC is kicking off.
"I'm completely against Friday night football until the high school season's over," he said. "I just don't think it's right.
"Doesn't matter what I think when it comes to TV revenue, but that's my opinion."
• In a press conference before Doeren's, UNC head coach Mack Brown suggested that the two rivals come up with a trophy that can be possessed by the winner of the game.
Doeren said that that has not been discussed before between the two coaches.
"I think it's a great idea though," he noted. "I think those trophy games are very meaningful. I've been a part of those at most schools I've coached at, and they mean a lot. We have the one trophy here now from our game with Clemson that sits in our lobby.
"I think it's a great thing for those games to have, and it will be a great conversation for me and Mack and our administration and their administration to put our heads together in the offseason, try to figure that out."
• UNC star junior quarterback Sam Howell did not play in the Heels' win Saturday over Wofford. Doeren noted that they'll review the film to get a scouting report on the backups, but he anticipates Howell will suit up Friday.
"He is a fierce competitor," Doeren said of the star quarterback. "He's tough."
——
• Talk about NC State football inside The Wolves' Den
• Subscribe to our podcast on iTunes
• Subscribe to our YouTube channel
• Learn more about our print and digital publication, The Wolfpacker
• Follow us on Twitter: @TheWolfpacker
• Like us on Facebook