What they're saying about NC State football and its win over Syracuse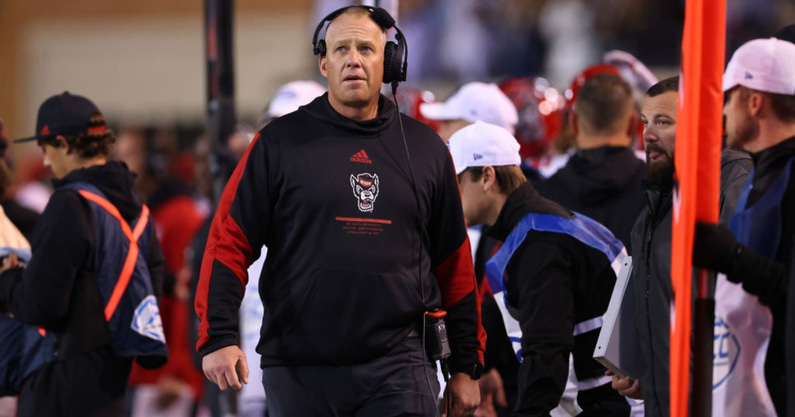 Here are some of the thoughts from those who covered NC State football in its 41-17 win over Syracuse at Carter-Finley Stadium in Raleigh.    
Matt Carter, The Wolfpacker — Column: NC State football gave too many inches to gain back in the end
The Wolfpack that prides itself on complementary football played the ultimate complementary football to finish the half.
"That quarter as good as it could be," head coach Dave Doeren said.
It was not a completely perfect ending. The defense gave up a 55-yard touchdown run by Syracuse star and likely All-American running back Sean Tucker in the middle of all that, but when the teams ran into the locker room for halftime, NC State was up 28-7.
The slog that was the first almost 24 minutes of the game was long forgotten.
So were any creeping thoughts that some kind of doomsday letdown was coming.
The end result was a 41-17 victory for NC State in what was its most dominant performance yet in an ACC contest. The type of performance that allowed Doeren to get true freshman quarterback Aaron McLaughlin a couple of snaps at the end of the contest.
Now it sets up a championship-like week. If NC State football can beat its archrival UNC on Friday, a 7 p.m. kickoff at Carter-Finley Stadium in Raleigh on ESPN, and if Wake Forest loses the following day in a noon game at Boston College, the Wolfpack is headed to the ACC Championship Game in Charlotte Dec. 4.
• Justin H. Williams, The Wolfpacker — Notebook: Explosive plays fuel NC State football past Syracuse, 41-17
On top of Leary's two passing touchdowns, the Wolfpack found the endzone on the ground, on defense and on special teams. And four of the Pack's five touchdowns came in the second quarter, including the pick-six by sophomore linebacker Drake Thomas and a touchdown return on a kickoff from sophomore running back Zonovan "Bam" Knight. 
"That's what complimentary football is," Doeren said. "It's setting up either side of the ball. It's gaining momentum for either side of the ball, with a special teams play. We've talked so much about it, the guys have embraced it.
"That quarter was as good as it could be."
Junior running back Ricky Person Jr. and Knight combined for 87 yards on 20 carries.
And each found the endzone. Person on a 15-yard sweep to the left for the opening score of the game, and Knight on the 97-yard kickoff return in the second quarter to respond to the Orange's only first-half score. 
What was most impressive about the Pack's offensive performance Saturday was its explosiveness, particularly in the passing game, against one the ACC's better defensive units. 
Prior to Saturday, the Orange were allowing opponents to 193.9 passing yards per game, good for third-best in the conference. 
Not only did NC State light the Syracuse secondary up for its worst pass defense yardage total in conference play, it was able to make every completion count. 
The Pack averaged 7.4 yards per play and 17.8 yards per pass completion, each marking season-bests against ACC competition. 
• Jonas Pope IV, Raleigh News & Observer — A 'dream come true' for NC State's Thomas brothers in the Wolfpack's win over Syracuse
It was the first time a pair of brothers scored in the same season since 1975, when Don and Dave Buckey did it. Drake, the emerging star at linebacker, and Thayer, the reliable receiver, hadn't found the end zone in the same game since Thayer's senior year in high school, when they both scored against Broughton High School. Drake, a full-time linebacker, was a part-time running back for Heritage High.
"As you saw tonight he's good with the ball in his hands," Thayer said. "I'm definitely used to seeing that on the field."
In the second quarter, Syracuse quarterback Garret Shrader threw the ball right into the hands of Thomas. It was the third interception of the season for the 6-0, 238 pound linebacker. Once he caught it, he showed the Orange why he rushed for 280 yards (5.6 yards per carry) and seven touchdowns as a senior. Thomas caught the ball, covering a slant pattern and cut to the right to avoid the first Syracuse defender. He made one more cut, this one clearing a path to the end zone.
For good measure, he led the team with eight tackles, but his touchdown was a momentum changer in the second quarter.
"We needed a play on defense to get some points on the board," Drake said after the game. "It was definitely helpful and helped us gain some momentum."
It was the first defensive touchdown for the team this season and first career touchdown for Drake. Thayer, who finished with four catches for 80 yards, said seeing his younger brother get in the end zone was "just a special moment."
• David Thompson, Fayetteville Observer — NC State football can control half of its ACC title aspirations, the rest is up to fate
The pressure is already on Wake Forest (9-2, 6-1 ACC). The division is its to lose, but there's no reason N.C. State can't apply more pressure with a win over UNC.
"Obviously, we'll be big Boston College fans this week," Doeren said. 
But it might be Drake Thomas who has the best approach. The sophomore linebacker, who returned an interception for a touchdown against Syracuse, didn't check his phone before the game. He seemed less than impressed that he and his brother Thayer had become the first siblings to score a touchdown in the same game since Gerald Ford was President. 
"I take the same approach no matter the circumstances," he said.
That's good, because the circumstances have changed significantly over the last 24 hours. History is still within reach for the Wolfpack if they take care of business —  and get a little help on the way.
• David Thompson, Fayetteville Observer — NC State keeps ACC title hopes alive with rout of Syracuse
N.C. State did its part to ensure a dramatic final week of the regular season.
The Wolfpack (8-3, 5-2) kept their ACC title hopes alive with a 41-17 win over Syracuse Saturday night, returning to form after last week's heartbreaker to Wake Forest while finding points in every phase of the game. 
No. 20 N.C. State can still take the ACC Atlantic Division with a win next week over North Carolina and a second-straight Wake Forest loss. The Demon Deacons lost to Clemson by 21 points earlier in the day to keep the division race alive. 
With the win, Dave Doeren becomes the first coach in program history to have five 8-win seasons. 
• Jaydan Harrington, Technician — Drake and Thayer Thomas: Hometown siblings spur NC State past Syracuse
While their performances against Syracuse were noteworthy, it's not the only reason they'll be remembered for years to come. Thayer's contributions in the slot and as a punt returner won't go overlooked, and neither will his work ethic. Neither Thomas brother is very vocal, but Thayer seems to have grown into a leadership role as an older member of the wide receiver corps.
Drake isn't too bad himself, either. With eight tackles, two sacks and that pick-six against Syracuse, he solidified his candidacy for ACC Defensive Player of the Year. Coming into this game, he ranked No. 4 in tackles, No. 12 in TFLs and had the third-most interceptions in the conference, all figures which should improve come Sunday. With one final, huge game against UNC, Thomas has yet another opportunity to prove himself to be one of the top players in the ACC.
"Just thinking about where me and my older brother have came from, all the way up, and this is a dream come true," Drake said. "To be able to make plays like that on a great stage is a great feeling."
The Thomas brothers' story is far from over, with a lot of football yet to be played to round out both the 2021 season and the remainder of their careers. Drake and Thayer will continue to be driving cogs in NC State's success, and even when they're gone, history would predict that current NC State commit Lex Thomas will make some noise of his own. It'll take a lot to go down as the best group of brothers to come through the Murphy Center, but the Thomas brothers are well on their way and they know the greatness that's preceded them. 
"I don't know," said Drake when asked if he and Thayer were the best sibling tandem of all time at NC State. "I gotta look at — I don't really know all the brothers necessarily, [but] I know the Holt brothers were pretty good, so."
• Tristan Tucker, Technician — No. 20 NC State football crushes Orange, keeps ACC title game hopes alive
The No. 20 NC State football team stomped the Syracuse Orange 41-17, keeping its ACC title game hopes alive, at the Carter-Finley Stadium on Saturday, Nov. 20.
It took a while for the Wolfpack (8-3, 5-2 ACC) to rip the Band-Aid off, but once it got going in the second quarter, there was no looking back. NC State scored 28 of its 41 points in a seven-minute span at the end of the second quarter, scoring on offense, defense and special teams in the period, keeping the Orange (5-6, 2-5 ACC) at bay for the rest of the contest.
"It's pretty cool to be in a game where you score [in] all three phases of the game," said head coach Dave Doeren. "To have an offense, obviously, we're going to score but [a] defensive touchdown with [sophomore linebacker] Drake [Thomas], a special teams touchdown [in] back to back games now for [sophomore running back Zonovan Knight]."
After dominating then-No. 12 Wake Forest quarterback Sam Hartman last week, the NC State defense kept the good times rolling against Syracuse quarterback Garrett Shrader. Shrader ended the lopsided game with a mere 40% completion percentage, 63 passing yards, zero passing touchdowns and one interception. Shrader finished with 70 yards on the ground and a score, though that touchdown came on a 48-yard gain midway through the fourth, bolstering his numbers a bit.
The defense's good day didn't stop there, with the unit registering five sacks and a whopping 14 tackles for loss. In addition to a big interception, a pick-six, Drake Thomas recorded two sacks. Linebackers redshirt junior Vi Jones and freshman Devon Betty, along with graduate end Daniel Joseph each came up with a sack of their own. Joseph, who went down three separate occasions last week with an injury, also had two and a half tackles for loss. The defense also held Syracuse running back Sean Tucker to his fourth-lowest rushing mark this season.
• Joe Giglio, WRALSportsFans.com — No. 20 NC State blasts Syracuse to keep ACC title hopes alive
NC State got some help from Clemson on Saturday and then helped itself.
The 20th-ranked Wolfpack kept its ACC title hopes alive with a 41-17 home romp of Syracuse.
Combined with Wake Forest's loss at Clemson earlier in the day, and the Wolfpack still has a chance to win the Atlantic Division.
NC State (8-3 overall, 5-2 in the ACC) needs to beat North Carolina on Friday and then have Wake Forest (6-1) lose at Boston College next Saturday.
That would create a three-way tie between State, Wake and Clemson, which would go to the Wolfpack based on its division record. But those last two steps wouldn't have been possible without Saturday's blasting of the Orange (5-6 overall).
• Brett Friedlander, North State Journal — Wolfpack routs Syracuse to keep Atlantic hopes alive
Given a reprieve by the Deacons, who lost earlier in the day at Clemson, the Wolfpack wasn't about to give away another opportunity.
Coach Dave Doeren's 20th-ranked team still needs some help to win its first ever division title and a trip to the conference championship game in Charlotte, but it kept its hopes alive Saturday with a convincing 41-17 victory against Syracuse at Carter-Finley Stadium.
"They were disappointed, upset, mad, all of the above (about) losing last week's game," Doeren said. "They knew that there were plays we left on the field. They're also a smart bunch of guys knowing … we weren't out of it. It was just a matter of getting back to what we can control, that was winning out at home. Right now we're one game away from doing that off."
State (8-3, 5-2 ACC)  must beat rival North Carolina and hope for a Wake loss at Boston College next week to forge a three-way tie with Clemson for the Atlantic title. It would then advance to the championship game on tie-breakers.
The Wolfpack put itself in that position by playing perhaps its most complete game of the season.
• Nate Mink, Syracuse.com — It all came apart in the 2nd quarter of Syracuse football's 41-17 loss at North Carolina State
For a while, Syracuse delivered on its intent to put a better effort on the field after a clunker last week.
By the end, the scoreboard didn't look a whole lot better, sending the Orange to its second-straight loss and into the final week of the season with the stakes as clear as ever.
Win and go bowling. Lose and end what has been a year marked by a star running back and a semi-resurgence of promise with a thump.
That's how it came apart here Saturday afternoon, with a 28-point flurry in the second quarter spearheading No. 20 North Carolina State's 41-17 victory at Carter-Finley Stadium.
After a scoreless opening quarter, the Wolfpack scored in all three phases of the game — offense, defense and special teams — kicking off the burst with a couple explosive plays for the game's first score.
• Chris Carison, Syracuse.com — Best and worst from Syracuse football's 41-17 loss at North Carolina State
North Carolina State has lost two of the ACC's better linebackers to injury this season. The lone remaining starter, Drake Thomas, was the star for the Wolfpack against Syracuse.
The Wolfpack's middle linebacker jumped a short route over the middle for an interception, racing 38 yards back down the field for a defensive score to give North Carolina State a 14-0 lead with 5:25 remaining in the first half.
He also stopped Syracuse's best drive of the first half with a tackle on Garrett Shrader and finished with eight tackles and 2.5 tackles for loss.
• Roshan Fernandez, Daily Orange — Garrett Shrader's passing struggles continue in blowout loss to No. 25 NC State
Things were going well for Shrader when he first took over the Syracuse starting job though. He was never an elite slinger of the ball, but instant success with his legs made up for missed throws. His first start against Liberty featured 77 yards passing and a 40% completion percentage, though he rushed for two scores. FSU was an improvement with 150 passing yards and three rushing touchdowns, and the Syracuse passing game picked up steam for the next three straight games, despite close losses.
Back then, there were more "give me" passes with fewer defenders in the box, Syracuse head coach Dino Babers said after the NC State game when asked what's changed with Shrader recently. Then against Boston College, Shrader started struggling again. He threw 3-of-13 in the first half, prompting Babers and the offense to throw the ball just once in the second half.
Louisville was a disastrous offensive outing, including the passing game, and NC State was more of the same. Opposing defenses from the past three games have used varying schemes, Shrader said, which changes which windows he tries to hit. But the bottom line is simple: "All those little things don't really matter if I don't hit open guys," he said.
"It is what it is," Shrader said after the 41-17 defeat. "(I'm) frustrated because I didn't help us win, or even compete, today."
——
• Talk about NC State football inside The Wolves' Den
• Subscribe to our podcast on iTunes
• Learn more about our print and digital publication, The Wolfpacker
• Follow us on Twitter: @TheWolfpacker
• Like us on Facebook